Iraya Reviving Salt Body Polish – Spirulina & Sea Salt Scrub Review
Hello Everyone,
I have been indulging myself in nature's goodness this month and trying out product that are herbal and have mainly natural ingredients. I have used Iraya White Lotus Body Wash which did a decent job and was quite gentle on skin and today I will be reviewing another skin care product from Iraya i.e. Iraya Reviving Salt Body Polish – Spirulina & Sea Salt Scrub.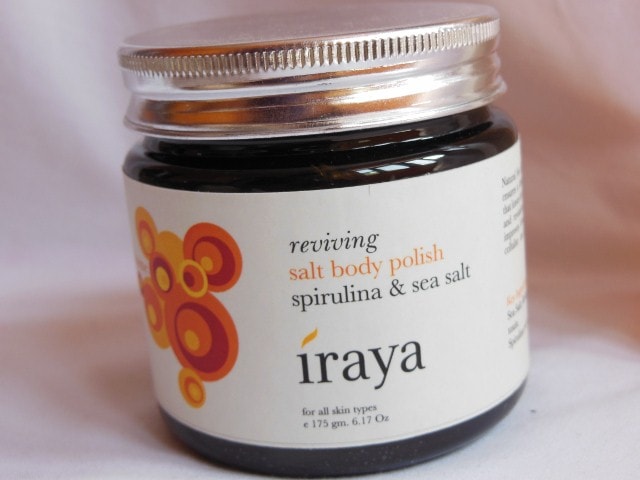 Product Claims:
Iraya Salt Body Polish consists of cold-pressed oils of Olive, Almond and Sesame and natural Sea Salt blended with spirulina to make a delectable Body Polish.
All natural, Iraya Salt Body Polish ensures a fantastic polishing experience that leaves the skin smooth, renewed and revitalised.
This Body Polish also improves blood circulation, helps fight cellulite and improves skin's texture
Direction for Use:- Gently massage onto moist skin using firm, circular movements till sugar has dissolved and oil has been absorbed into skin. For faster absorption and for sensitive skin, use a little water on the skin to dissolve the salt crystals.
Ingredients:- Sea Salt (Sodium Chloride), Vegetable Glycerine, Spirulina (Spirulina Platensis), Sea Kelp (Fucus Vesiculosus), Fragrance
Price:- Rs.595 for 200gms
Shelf Life:-2 years from the Mfg date.
Packaging:- Iraya Reviving Salt Body Polish comes in a plastic jar packaging which is sealed with a silver foil and a metallic tin screw lid. The jar is sturdy but the packaging isn't convenient to travel with and a see through Tube type packaging would have been better.
What is Spirulina and it's Benefits?
Spirulina is a natural algae (cyanobacteria) that are incredibly high in protein and nutrients. Spirulina is a "superfood" which possesses tremendous nutritional value. Being rich in vital nutrients, this plant offers high content of protein.
The cells of our bodies desire an uninterrupted supply of critical minerals to maintain optimum cell function and to maintain a youthful and vibrant appearance.
Spirulina is rich in all of these same critical minerals. It also treats flabby skin by eliminating the body's metabolic waste products and strengthening the body as a whole.
My experience with Iraya Reviving Salt Body Polish – Spirulina & Sea Salt Scrub:-
Iraya Reviving Salt Body Polish is a dark blackish green liquid with sea salts blended in the formula. When I first opened the tub I could see the liquid separation and all the salts were settled at the bottom, so I have to mix it all with my fingers to get an even consistency.
The texture of this body polish is on the runny side owing to the presence of natural cold pressed oils like Olive Oil, Almond oil, Coconut oil and more. The formula contains spirulina which has multiple skin benefits and fine sea salt granules that give a mild exfoliation as they dissolve pretty fast when scrubbed onto skin.
I use it once-twice a week to experience a pampering spa at home. It has a soft herbal scent which makes the whole shower-session very pleasant but I need to use quite a lot of amount for a single wash and I might end up finishing it sooner.
Results: The Body polish restores the moisture of the skin and makes it silky smooth adding a healthy shine. Skin feels rejuvenated and nourished. Plus, the oils in the formula balance out the skin dryness and I can skip on layering up with moisturiser post shower.
Don't Miss to Checkout:
Pros of Iraya Reviving Salt Body Polish – Spirulina & Sea Salt Scrub:-
Sea Salt Granules gives a mild exfoliation to skin
Mild pleasant scent
Rinses quickly
Doesn't leave any oily residue
Nourishing to skin
Skin feels soft and supple
Contains Cold pressed Natural oils
Gives a Spa at home experience to the skin
Cons of Iraya Reviving Salt Body Polish – Spirulina & Sea Salt Scrub:-
Bit pricey
Need to use a lot of amount
Salts settles at bottom so mix it well before usage
Recommendation:- Iraya Reviving Salt Body Polish – Spirulina & Sea Salt Scrub is an all natural body polisher which is infused with sea minerals and cold pressed oils which gently exfoliates skin while nourishing skin with the oils giving it a smooth, radiant look. It has a pleasant herbal scent which adds on to my experience. Since, it is a body polish it cant replace body scrubs which gives better scrubbing action. However, The Iraya Reviving Salt Body Polish gives an incredible spa like experience that uplifts my senses. Recommended!
Rating:- 4.5/5
Have you tried Iraya Reviving Salt Body Polish – Spirulina & Sea Salt Scrub? Do you prefer Body scrubs over Body Polishes?
PS: Product sent by Brand for Consideration