Iraya Manjistha Eye Contour Gel Review
Hello Everyone,
I had this notion that gel formula cannot be enough for my dry skin so I always opted for creamy compositions whether it is a face cream or an eye cream but off- late when some of the creamy under eye products failed to deliver expected results.. I am talking about Pond's Gold Radiance Under eye cream, I planned to venture into the "Gel world" and that's when this under eye gel landed in my hands. I was very happy with Iraya bath and body products so I put it to use without any doubts! Thanks to Fab Bag for including this in April subscription. Here is the review of this new member in my skincare regime, Iraya Manjistha Eye Contour Gel.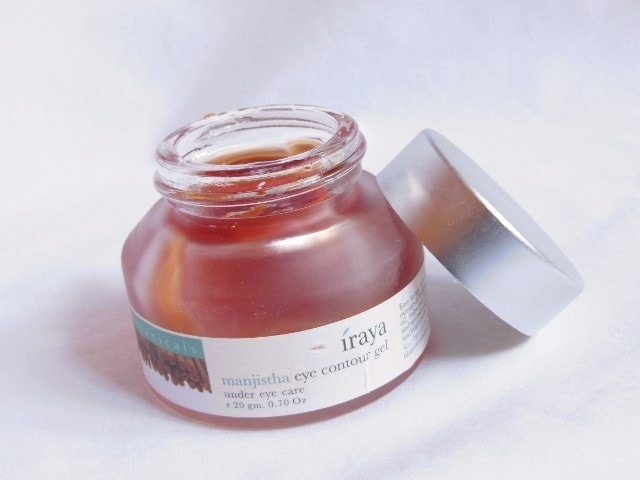 Product Claims: Easy to use, nutrient-rich Skin Care in a gel form. With the extracts of Indian madder (manjishta) and lavender essential oil, helps cool the eye area, reduce puffiness and swelling, and minimise dark circles and fine lines. Regular use protects and brightens the eye area.
Reduces dark circles, puffiness and fine lines around eyes.
Manjistha: The Manjistha plant grows well in hilly districts, and the root has tremendous medicinal values. Manjistha is considered to be one of the most valuable herbs in Ayurveda-the world's oldest health care system that originated in India. The ancient physician and sage, Charaka has categorized the herb as varnya or that which improves the complexion and helps to detox. It is also a well known rasayana – a rejuvenative.
Direction for Use:-Gently apply around the eye area, with smooth outward strokes. Ideal for all types of skin, it is recommended as an essential part of the daily ritual to prevent signs of fatigue.
Ingredients:- Rubia Cordifolia, Berberis Aristata, Aloe Indica, Vegetable Glycerine, Cellulose Gum, Xanthan Gum, Citrus Grandis, Phenoxyethanol, Fragrance.
Price:- Rs.395 for 20 gms
Shelf Life:- 2 years from the Mfg date.
Packaging:- Iraya Manjistha Eye Contour Gel comes in a heavy translucent glass jar packaging with a silver screw cap. The packaging is sealed with a silver foil initially to protect it form any contamination. I wish it come in a tube packaging or atleast with a spatula to pick up the product as it tends to fill in the nails every time I dip fingers in it to pick up the product.
My experience with Iraya Manjistha Eye Contour Gel:-
Iraya Manjistha Eye Contour Gel is a wine red colored gel formula in a thin, slightly runny consistency. It feels super light on skin and melts like water when applied and massaged into the skin. It gives a mild cooling sensation on application, like we get with metallic rollers which will help in reducing the puffiness.
Formula: I need a little amount of this gel and apply it with fingertips on both the eyes. It blends in effortlessly and within minutes gets absorbed completely leaving behind no traces. It doesn't feel greasy, sticky or oily and can be easily used under makeup.
Results: Though, it is a gel formula, it is immensely hydrating to my dry under eye area and even after hours of application my under eye area felt smoother and softer. It nourishes my dry skin really well and makes it appear healthier and brighter. I have seen light reduction in my under eye circles but it takes time to show significant difference.
The under eye gel has a 100% natural formula and is composed of herbs like manjistha, aloe vera which nourishes skin naturally. Being light and non-sticky it will work for all skin types and without any doubt be used in summers even during day time owing to its light weight formula.
It has a mild sweet fragrance which is soothing to the senses and fades off quickly after application, so won't bother sensitive noses. For the price, I really liked the quality and results of this under eye gel.
Don't Miss to Checkout:
Pros of Iraya Manjistha Eye Contour Gel:-
Runny gel consistency
Applies effortlessly
Slight cooling sensation on application
Small amount is enough for both eyes
Absorbs quickly
Leave behind no traces
Hydrates under eye area really well
Under eye area looks brighter and healthier
All natural ingredients
Mild sweet scent
Pocket friendly price
Cons of Iraya Manjistha Eye Contour Gel:-
The jar packaging is not hygienic to use
Doesn't work on fine lines
Recommendation:- Iraya Manjistha Eye Contour Gel is a herbal under eye gel with runny consistency that blends easily into the skin with slight massage and gives nourished and hydrated feel to the dry under eye area. It soothes under eye muscles with its cooling sensation and reduces puffiness. It's hydrating formula keep the under eye area soft and nourished whole day and works on improving and lightening dark circles making eye appear brighter. Overall, I loved the results on me and impressed with the quality provided at such affordable price. Highly Recommended!
Rating:- 4.5/5
Have you tried Iraya Manjistha Eye Contour Gel? Which is your favourite under eye gel?