Innisfree Its Real Green Tea Mask Sheet Review
Hello Everyone,
Who doesn't love a "At Home pampering session"!! The word Pamper is magical to my ears and I can see myself relaxing with a face mask on.. 😀
The mask sheet have been here for quite a long time but I have been staying away from these, as I find them pretty expensive for a single use. Though I really wanted to try these at least once so that I can test the efficacy on me and I am happy to get these Green tea mask sheet from Innisfree. Lets Checkout how it worked for me, Innisfree Its Real Green Tea Mask Sheet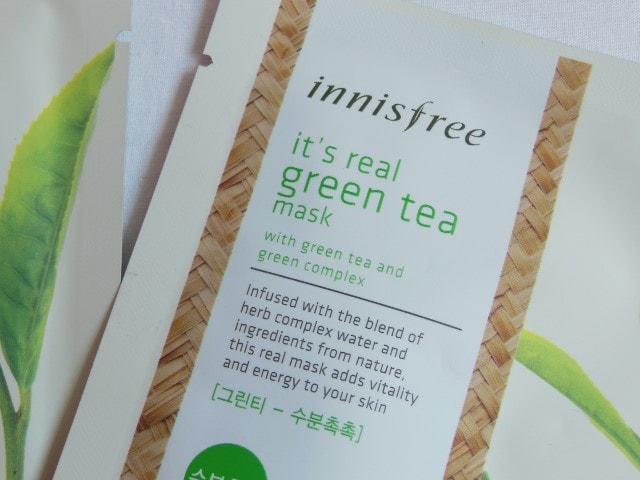 Product Claims: Infused with the blend of herb complex water and ingredients from nature, this real mask adds vitality and energy to your skin.
Directions:
After cleansing, use toner to refine skin texture.
Take out the mask from package and spread evenly over entire face, avoiding the eye and lip area.
Remove the sheet after 10-20 minutes and gently pat to allow the remaining formula to absorb into the skin.
Price: Rs. 100 for 1 sheet mask (20 ml)
Ingredients: Water, Glycerin, Butylene glycol, Nelumbo nucifera flower water, Lilium candidum flower water, Lavendula angustifolia flower extract, PEG, PPG-17/6 co polymer, Alcohol, Betaine, Citrus paradisi fruit extract,  Xanthum gum,PEG-60, Hygrogenated castor oil, Camellia sinensis leaf extract, Disodium EDTA, Phenoxyethanol, Fragrance, Sodium hyaluronate, Citrus unshu peel extract, Opuntia cocconellifera fruit extract, Camellia japonica leaf exract, Orchid extract.
Available in 15 variants:
Acai berry
Lemon Lime
Rose
Cucumber
Bamboo
Adlay
Green tea
Tea tree
Boccoli
Pomegranate
Manuka Honey
Avocado
Gold kiwi
Rice
Olive
Packaging: The Mask sheet comes in a satchel packaging with slight cuts at tops ends to cut open the packaging
My Experience with Innisfree Its Real Green Tea Mask Sheet:
Innisfree Its Real Green Tea Mask Sheet is a creamy white wet face sheet with 100% cotton fabric and is completely soaked in green tea infused serum. There are cuts for eyes n nose in mask but it can be a bit of task to adjust the sheet to face contours as it doesn't seem to fit perfectly on me.
The liquid is slightly thick and has gel like consistency which kind of stays in place and doesn't drip while the sheet is on the face. It has a strong green tea scent which takes time to subside and sensitive noses may find it overwhelming.
I had this mask sheet on my face for around 45 minutes and during that I could feel slight cooling sensation on my face but even after that the mask was wet. So I removed the sheet and squeezed out the remaining serum from the sheet and massaged it onto my face for another few minutes before washing it off.
The gel has a sticky feel so I just can't leave it on face and forget about it so I have to wash my face afterwards.
Results: It is a moisturizing face mask sheet that contains extracts of green tea which holds moisture better and my face never felt dry while the sheet was on. My facial skin felt smoother and softer with a beautiful hydrated glow. It looked fresh and plumped but nothing extraordinary.
 Don't Miss to Checkout:
Pros of Innisfree Its Real Green Tea Mask Sheet:
Mild formula
Doesn't irritate skin
Infused with green tea extracts
Makes skin smoother and softer
Beautifully hydrated the skin
Has cuts and flaps for eyes, nose
Perfect travel companion (especially long hour flights)
Formula is free from parabans
Cons of Innisfree Its Real Green Tea Mask Sheet:
Results lasts only a day
Slight wastage when the mask is removed
Strong Scent
Not easily available online.
Recommendation: Innisfree Its Real Green Tea Mask Sheet is a ready to use mask sheet, infused with green tea extracts that works on improving the texture of the skin. The sheet is soaked in serum that hydrates skin and leaves it soft and smooth. These sheets are easy to use and can be perfect for on the go pampering whether at home or during travel. It doesn't do anything dramatic for skin but are great for instant radiant looking skin. I have tried these for the first time so can't compare with any other mask sheets buy if you have used any please do share your favorites! I would love to indulge myself in these!
Rating: 3.5/5
Have you tried Innisfree Its Real Green Tea Mask Sheet? Would you prefer a leave-in serum than a Masksheet?