INGLOT Lipstick #103 Review, Swatch, LOTD
Hello Everyone,
Today, I have a really bold and bright shade to share with you and if you are a MLBB person than you might get scared away by first look at the lipstick. Though, I am a sucker for bright shades, this is one lip color that is even brighter for my taste. I have tried a lots of Orange, Reds , Orange based reds but INGLOT Lipstick #103 is the brightest Red/Orange I have ever tried.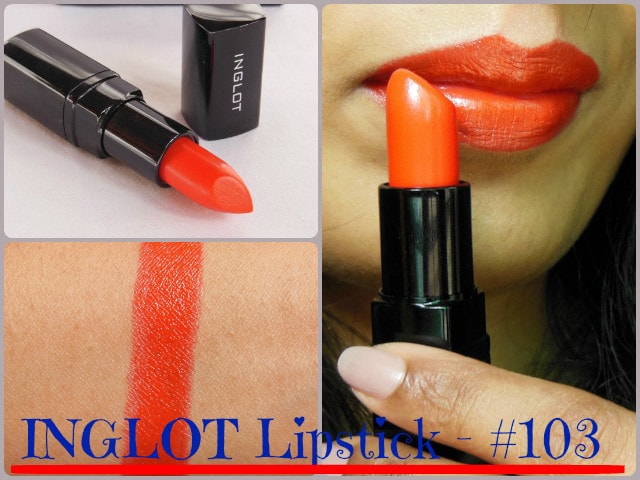 Product Claims:
Vitamin E and apricot kernel oil moisturizing formula.
Solid and elegant metal case.
PARABEN FREE FORMULA
NOT TESTED ON ANIMALS
Price:- Rs.850 for 4.5
Shelf Life:- 3 years from the Mfg date.
Packaging:- The lipstick comes packed in a matte black card box carrying all the information about the lipstick like ingredients list, shade and best before. The bullet is encased in a square-shaped glossy black metal packaging, absolute luxury! The shade details are mentioned at the bottom but there is no shade indicator on the body, so I have to look at the bottom to identify the shade.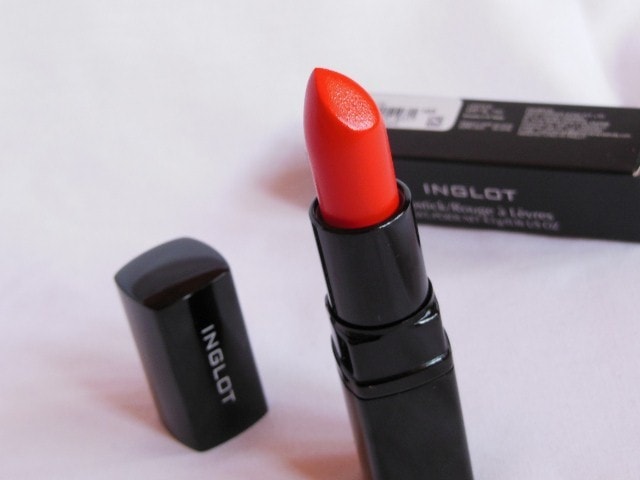 My Experience with INGLOT Lipstick #103:-
Shade: #103 is a bold medium orange shade with strong red undertones and satiny crème finish. The shade stands out on lips and draws all the attention to lips. With #103 you dare to be ready to get asked what you are wearing on your lips. . It leans more red than orange, but it's not full-on red though it clicks more orangey :-/. #103 lipstick is perfect for evening parties, pair it with golden, bronze/brown eye shadows and peachy blush. The shade is quite close to MAC Lady Danger.
Texture: The bullet slips nicely on lips owing to its buttery smooth texture. The formula feels light-weight which applies evenly and feels moisturizing to lips for long. It doesn't sets to slightly drying semi-matte finish like INGLOT Freedom System Lipstick refills as the wet shine remains there for 3-4 hours.
Pigmentation: The lipstick is saturated with color pigments and has very rich color payoff. There is very slight translucency in single swipe but it build up beautifully to provide full coverage in 2-3 swipes. You can wear it sheer for tinted red lips or build up to opaque finish for glamorous Red lips.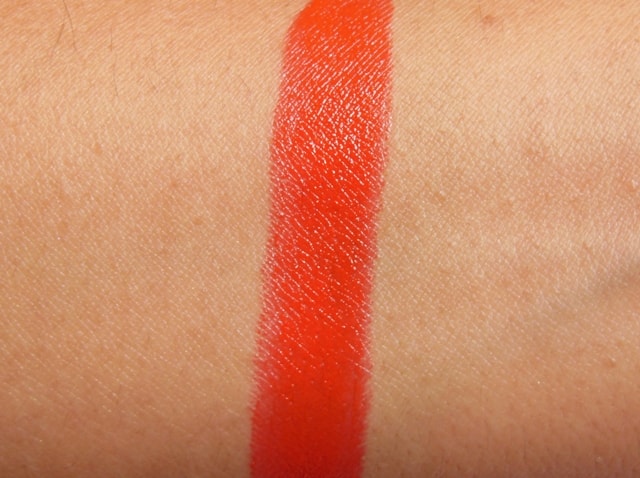 Staying:  The lipstick has a long wearing formula which stays on for 5-6 hours without any fading. It wears off to leave a bright red tint on lips which stays on for another few hours. The formula is prone to bleeding, so its advisable to wear a lip liner underneath.
Pros of INGLOT Lipstick #103:-
Smooth creamy formula
Glides smoothly
Awesomely Pigmented
Hydrating to lips
Doesn't settle in fine lips
Stays for 5-6 hours on me
Fades evenly
Leaves a reddish stain behind
Contains Vitamin E and Kernel Oil
Mild fruity fragrance
Perfect pick for glamorous bold Red lips
Cons of INGLOT Lipstick #103:-
High maintenance shade
Transfers easily
Prone to bleeding and smearing
Expensive
Not for everyone
Recommendation:- INGLOT Lipstick #103 is a bold, bright Orangey-Red shade in satin creamy finish which is definitely not everyone's cup of tea. The lipstick is love at first sight for bold lip lovers, a show stopper shade which draws all the attention to your lips but you ought to be comfortable with yourself to pull of such a bright red lipstick. The formula is richly pigmented, with buttery smooth texture and lovely creamy sheen finish which leaves behind a reddish tint on lips. The shade is not for the weak-hearted and if you are a fan of bold and bright reds, do check this out!
Rating:- 4/5
Have you tried INGLOT Lipstick #103? Do you like such bold Red lipsticks?