INGLOT Lip Duo Lip Gloss Vanilla 44 Review
Hello all, INGOT Freedom System collection are one of the treasured products in my makeup stash. Unmatched quality at pocket friendly prices in every possible shade.. be it Eye shadows, lip refill pans, blushes, concealers to name few. Though, the rest of the INGLOT makeup collection isn't as affordable as the Freedom System and I need to save a lot before making up my mind for an INGLOT haul and pick up my favorites.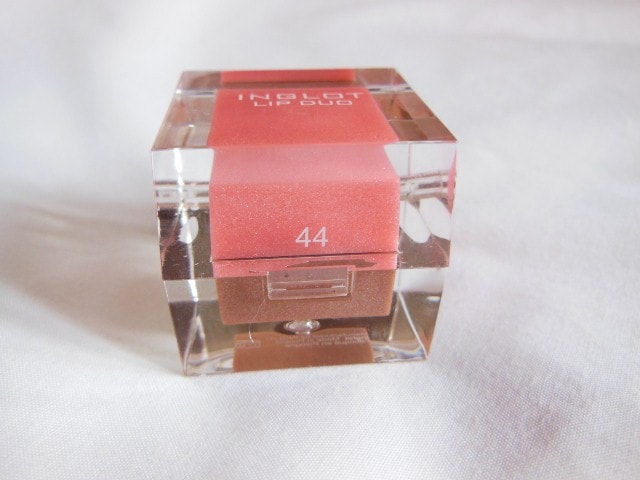 Till then lets checkout this INGLOT Lip Duo Lip Gloss in Vanilla 44, that I received as a prize for winning Independence day Inspired Eye makeup on INGLOT Facebook Page.
Product Claims: Vitamin E nourishes this cream-gel consistency lip gloss which comes in two complimentary colors to give extreme shine.
Price:- Rs.720 for 8gm
Packaging: INGLOT Lip Duo is one of the cutest looking makeup product I own after Physician's Formula Blush. It comes in a see through cube shaped packaging. The material feels like a glass but it must some hardened plastic. The lip gloss formula is filled in the pots both sides and could turn a bit messy as it doesn't have any divider between the colors. The packaging is compact and can be carried around easily as it doesn't open on it own. It has hinges at one end and Tick lock on the other side which shuts tightly. (just like compacts)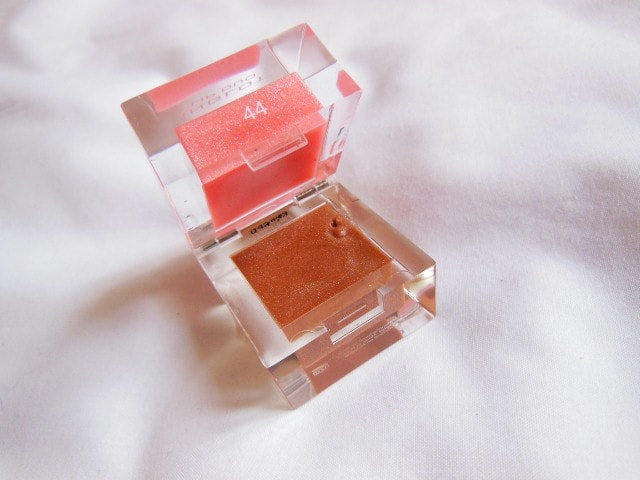 My experience with INGLOT Lip Duo Lip Gloss Vanilla 44:
INGLOT Lip Duo Vanilla contains two lip glosses one in a chocolaty brown shade and other a gorgeous bright pink loaded with iridescent multi-colored shimmers. The shimmers aren't chunky or gritty but are well blended in the formula. It has a mesmerizing vanilla fragrance which can make you lick your lips immediately. The scent is mild but wouldn't go unnoticed on lips.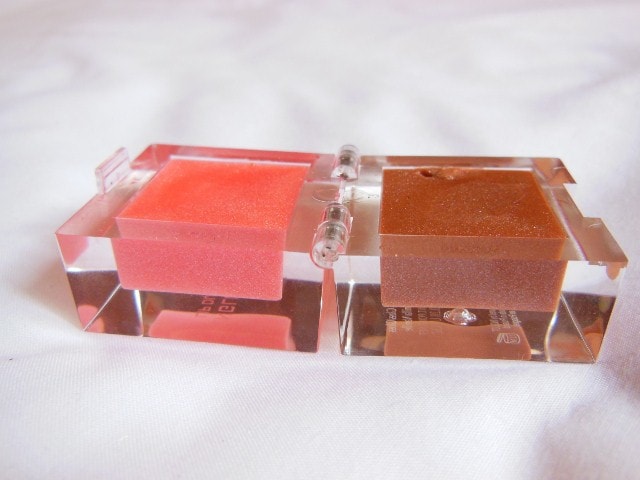 The pigmentation however is quite disappointing and provides no coverage/color on my slightly pigmented lips. They come out really sheer and color is too subtle to be worn on Indian Skin tones.
These are like creamy glosses (if that makes sense..) with tad thicker formula and slight stickiness in the texture. They feel bit heavier than regular liquid lip glosses on lips with subdued glossy finish but are extremely moisturizing just like a lip balm.
Swatch: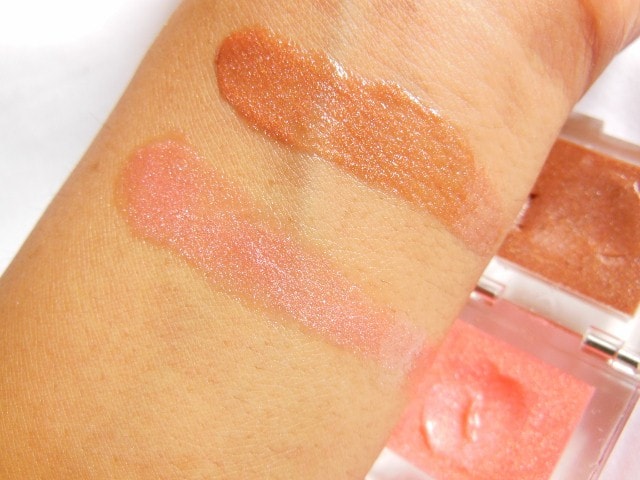 As the lip gloss is in semi-solid form, it needs to be applied with fingers or a lip brush, I prefer brush as with fingers it gets stuck in nails.. eww!!
Surprisingly, the formula stays pretty long, 6-7 hours easily (may be due to its sticky texture) and even survives meals as I can feel the stickiness when I press the lips together but the lips stay moisturized which is a major plus. Out of the two I like the Chocolate brown shade more. 🙂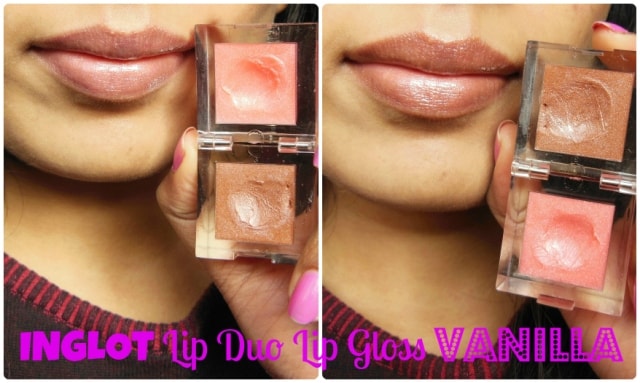 Pros of INGLOT Lip Duo Lip Gloss Vanilla:-
Yummylicious Vanilla Fragrance
Feels buttery on lips but there is slight stickiness as well
Moisturizing to lips
Gives a glossy shine
Shimmers are smooth and blended well in the formula
Cute cube box packaging
Easy to carry and travel with
Paraben-free and cruelty free formula
Lots of shades to choose from
Also available in Lip Stain and Lip Gloss Combo
Cons of INGLOT Lip Duo Lip Gloss Vanilla:-
Expensive
Almost zero color coverage
Need to carry a lip brush for application
The texture may melt off in summers causing a mess
Sticky Formula
Recommendation:- INGLOT Lip Duo Lip Gloss in Vanilla 44 has moisturizing formula comparable to a lip balm but has a glossy finish and stickiness like a gloss. The lovely packaging, long lasting moisturizing formula and delicious vanilla fragrance are the goods but the stickiness and no color coverage are some disappointing facts. I have used INGLOT Eye Shadows, INGLOT Freedom System lipsticks and have loved them totally but this Lip Duo Lip Gloss though failed to impress.

It's not a must have product but if you adore cute packaging, then you can get yourself one of these. They also have a lip stain and lip gloss combo which would be a lot better than this as you will have the color and the gloss both. 
Rating:- 3/5
Have you tried INGLOT Lip Duo Lip Gloss Vanilla? Would you like to try it just for the packaging?