INGLOT Freedom System Powder Blush #27 Review
Hello Everyone,
Today I will be sharing my first INGLOT Freedom System Powder blushes with you. I have loved the INGLOT freedom system eye shadows and the opportunity to create my own palette with affordable eye shadow refills. I own so many of them and still need many more to please my eye shadow urge ;). For a change I tried the other products from the freedom system range which have concealer and blushes. So starting with blushes today I have a pretty powder blush from the range INGLOT Freedom System Powder Blush #27. I got hold of this blush somewhere around last year and have been using it on and off but I almost forgot to share my love for this blush on the blog so here it is!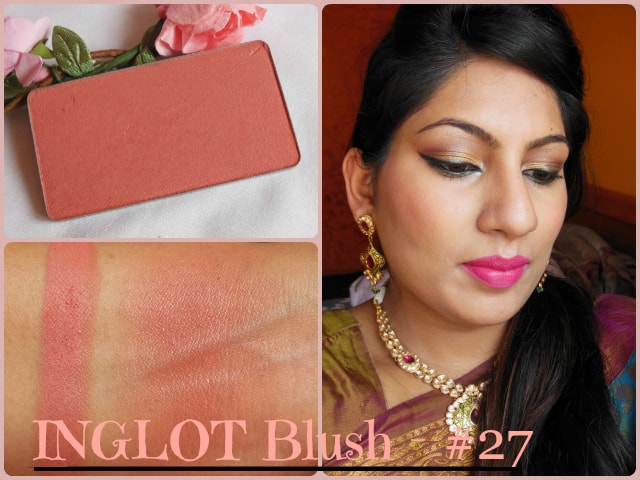 Product Claims:
Classic face blush that adds healthy colour to ones face. Rich formula allows smooth application and buildable colour.
The unique Freedom System allows you to mix and match products and colours to make your own custom designed palette of almost any size. All INGLOT Freedom System products come in eco-friendly reusable palettes.
Price:- Rs.450 for 6gms
Shelf Life:- 3 years from the Mfg date.
Packaging:- The INGLOT Freedom System Blush comes in a rectangular flat pan packaging. This is a refill so you need a palette to store it in you makeup drawers.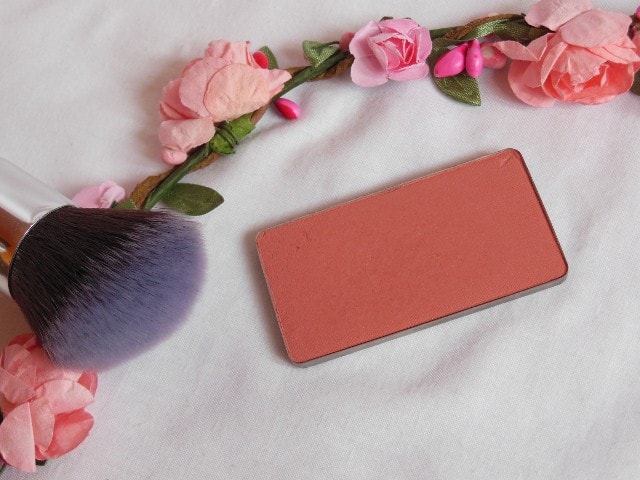 My experience with INGLOT Freedom System Powder Blush #27:-
Shade : Blush #27  is a medium pink blush with lots of warm peachy undertones. It goes really well on the the Indian skin tones and when blended gives a hint of blush to the cheeks, kinda natural pinky-peachy tint. The shade is really easy to pull off and is not as sudued as most of the peachy blushes.
Texture: INGLOT Freedom System Powder Blush has silky smooth texture and doesn't have chalky/powdery feel that is common in matte blushes. The formula is really soft so if pressed hard lots of product gets kicked out in the pan
Pigmentation: The formula has a rich color pay-off and gives an intense color in single stroke but it blends out so easily without going patchy that it doesn't bother me at all. The soft finely milled texture makes the blending effortless and you just can't go wrong with it. Even if you happen to apply excess of it just blend a bit more and you are sorted
Finish: It is matte blush but it doesn't give that flat matte look on the cheeks but adds a bit of satiny sheen which I absolutely love about it.
Staying Power: The wear time of the blush is also good and with a base with lasts for 6-7 hours on me after which it starts fading a bit. However, without a base it might fade early but still it does a good job and doesn't completely vanish from the cheeks.
Don't Miss to Checkout:
Pros of INGLOT Freedom System Powder Blush #27:-
Super smooth texture
Imparts a natural peachy pink color
Richly Pigmented
Blends like a dream
Doesn't look patchy
Gives a satin sheen to the cheeks
Lasts 6-7 hours on me
Nice everyday kind of shade
Affordably priced
Cons of INGLOT Freedom System Powder Blush #27:-
Lots of products buffs out in the pan
Refill needs to be stored in a palette
INGLOT products are not easily available
Recommendation:- INGLOT Freedom System Powder Blush #27 is a beautiful peachy pink blush with  more pink than peach. The formula is finely milled and has a satiny smooth feel which applies and blends easily on the cheeks. It is intensely pigmented but blends quickly to give soft natural pinkish-tint to the cheeks. I love that it doesn't have flat matte finish but a satiny sheen that looks a lot better. Overall, a great option if you are looking for quality blushes at affordable price. Highly Recommended!
Rating:- 4.5/5
Have you tried INGLOT Freedom System Powder Blush #27? Which is your favourite drugstore Powder blush?