Inglot Freedom System Lipstick 73 Review
Today I will be reviewing my first Inglot lipstick Refill pan from My first ever Inglot Haul. These refills have been quite a craze round the blogging world and I too fell prey for these little cutie lip colors. So, here is my experience with Inglot Freedom System Lipstick 73.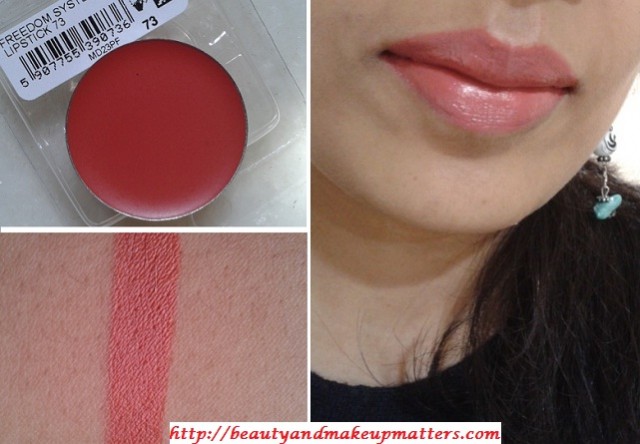 Price:- Rs.250 for 1.2 gms
Shelf Life:- 3 years from the Mfg date.
Packaging:- The lipstick case is housed in a plastic pouch and the sturdy plastic case holding the pan has a scissor lock and can be used for holding the pan until you wish to shift it to the empty palette. The plastic case would keep the pan safe and protects the lipstick from any sort of damage, The name of the lipstick shade is pasted at the bottom of the pan.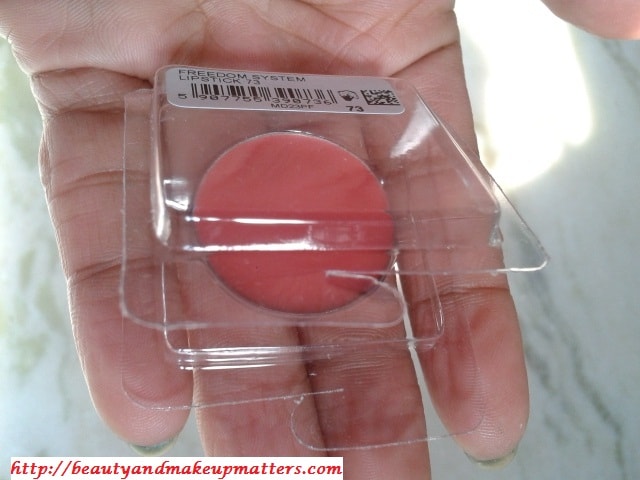 My experience with Inglot Freedom System Lipstick 73:-
Inglot Lipstick #73 is beautiful coral lip color with an overdose of orange undertones. The shade looks like a rich pink lip color with subtle orange undertones but when swatched the results changes for the better and orange tones dominate this gorgeous coral lip color. It makes a pretty coral shade with hint of pink but is more on the warmer side. Maybelline Moisture Extreme Lipstick in Bronze Orange  is Orangey and warmer than this one minus the pink undertones.  Revlon Colorburst Lipgloss Papaya is quite close just a touch brighter.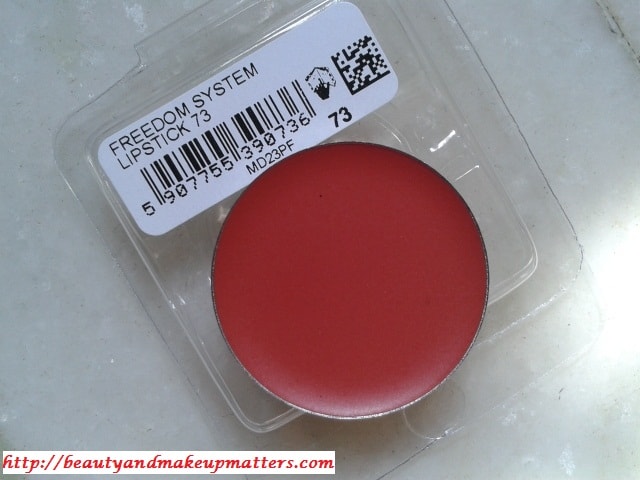 It has a buttery smooth creamy texture which will make you fall in love with it once again. The light-weight creamy formula glides smoothly over the lips and never feels heavy. It's soft creamy texture is slightly moisturizing to my lips. The color pay off is amazing and settles to a lovely creamy (leaning towards matte) finish. As, these lipsticks are contained in tiny pans and not the bullets so using a lip brush is mandatory with them. It requires quite a lot of swipe with a lip brush to build the color and get a nice opaque coverage, so be patient. The staying power is impressive as the color lasts long and I could see enough color on lips even with a mini-meal break. It stays for 5-6 hours easily on me and even after that I could see hint of color on my lips. It transfers only slightly due to its creamy texture but stays pretty much intact and doesn't slip. It does flake and settle in fine lines after full meals but fades away evenly.
Don't Miss to Checkout:
Swatch–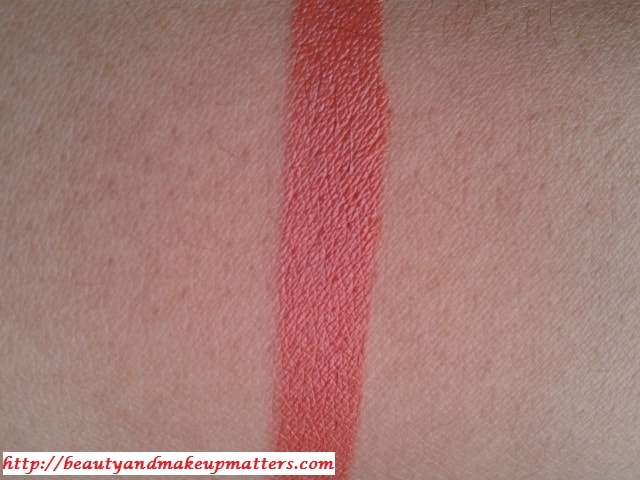 It is a bright a coral shade but has enough warm tones to work for fair/medium skin tones. It might not be a good choice for dusky skin tones but it gives a refreshing fresh look on fairer skin tones. I would love to pair this with coral as well as pink blushers.
LOTD:- I have topped it with Revlon Colorburst Lipgloss – Papaya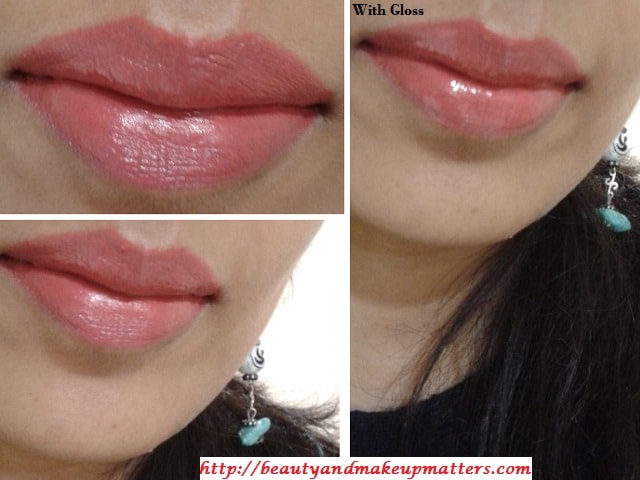 Pros of Inglot Freedom System Eye Shadow Lipstick 73:-
Gorgeous Coral lip color
Smooth creamy texture.
Color payoff is excellent
Moisturising to dry lips
Lasts for 6-7 hours on me
Doesn't settle in fine line
Fades evenly leaving a good hint of color on lips
Extremely affordable
Huge array of shades to choose from
Cons of Inglot Freedom System Eye Shadow Lipstick 73:-
Requires lip brush for application
Not travel friendly
Ingredients list is not mentioned.
Not easily available
Recommendation:- Inglot Freedom System Eye Shadow Lipstick 73 is a lovely warm orangey coral shade with pink undertones. The shade brings freshness to the face which makes it a great choice for bright sunny summer days. The smooth creamy texture and amazingly pigmented formula provides an almost opaque coverage to the lips. I just love its semi-matte finish and brilliant staying power. If you are comfortable using a lip brush for application than I would suggest to and grab these pans in your favorite colors but skip you are willing to take the pain of carrying the lip brush with you. Highly Recommended!
Rating:- 4.5/5
Have you tried Inglot Freedom System Lipstick 73? Do you lip brush for lipstick application?