INGLOT Freedom System Lipstick 27 Review
Today, I am reviewing a bright shade of Red lipstick, INGLOT Freedom System Lipstick #27.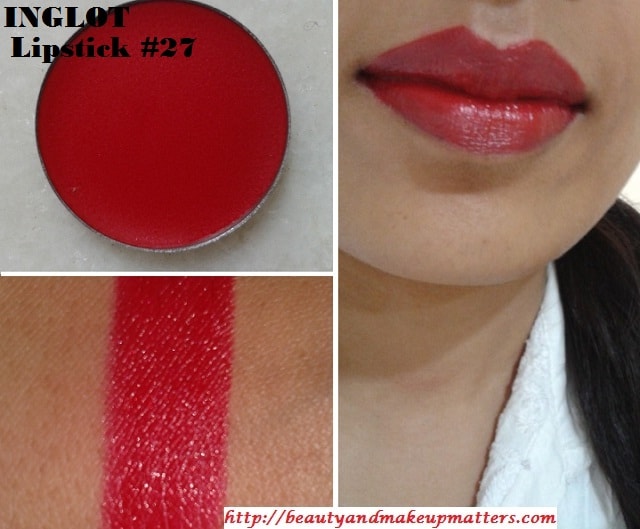 Price:- Rs.250 for 1.2 gms
Shelf Life:- 3 years from the Mfg date.

Packaging:- The lipstick case is housed in a plastic pouch and the sturdy plastic case holding the pan has a scissor lock and can be used for holding the pan until you wish to shift it to the empty palette. The plastic case would keep the pan safe and protects the lipstick from any sort of damage, The name of the lipstick shade is pasted at the bottom of the pan..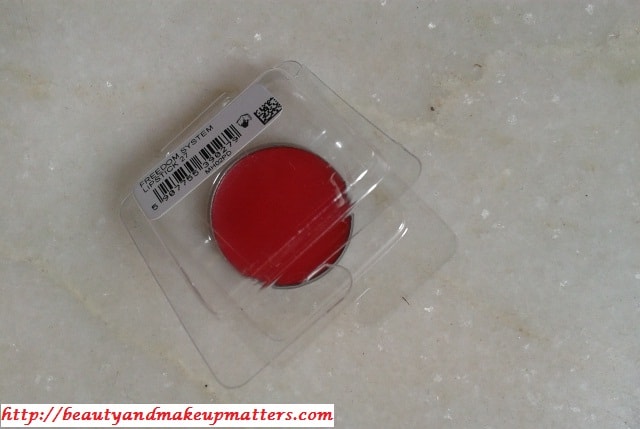 My experience with Inglot Freedom System Lipstick 27:-
#27 is an intense blue based ruby red lip color with strong fuchsia pink undertones. It is vibrant shade of Red and wouldn't be everyone's cup of tea.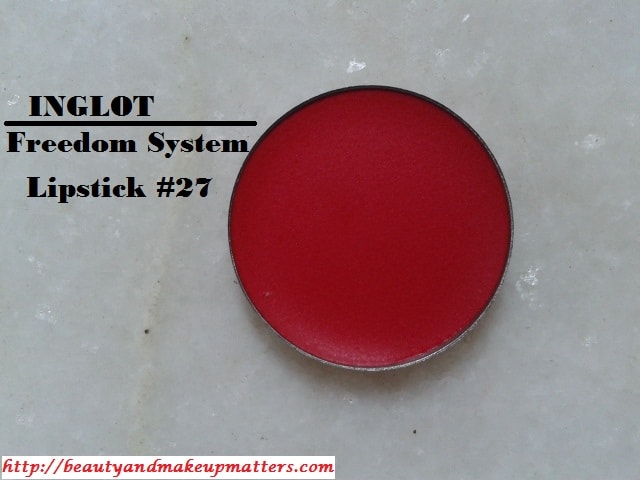 Maybelline Jewels Rubylicious is close but has a sheerer formula. It is a bold shade of Red and is made for those who like bright lip colors. It makes a great for wedding season/party-wear shade and definitely not for the weak-hearted :).
Swatch Comparison –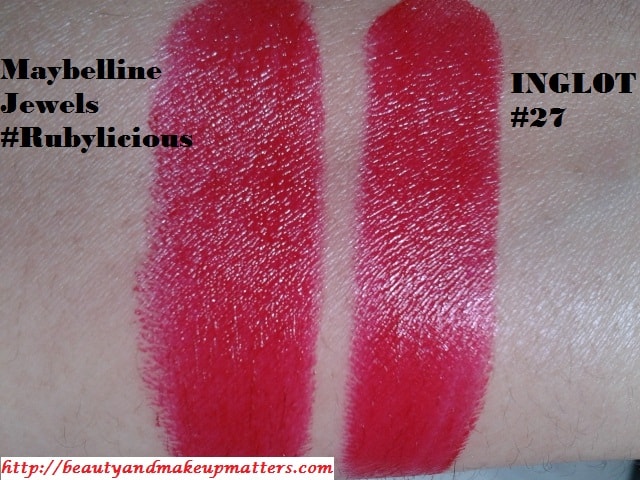 The lipstick is superbly pigmented and its nice creamy formula turn's kiss-proof once blotted with the tissue. For a softer Red look blot the lipstick with a tissue and top it with a gloss for a wearable glossy Red lips. Unlike INGLOT Lipstick Refill #19 and INGLOT Lipstick Refill #53  it gave an effortless application providing an even and opaque finish with minimal brush strokes and sets to a semi-matte creamy finish. The color pay off is by far the best and richer than the rest of Inglot lipstick refills.
The formula doesn't feel moisturizing but it isn't drying either. It is lightly hydrating to the lips and its non-slippery, transfer proof formula doesn't smudge or smear either. The shade lasts 7-8 hours on me despite having meals with it on my lips. It fades off evenly leaving behind a pretty deep reddish-pink stain. I would suggest pairing it with clean face with all the blemishes and imperfections nicely concealed and just well-tight lined eyes.
Don't Miss to Checkout:
LOTD:-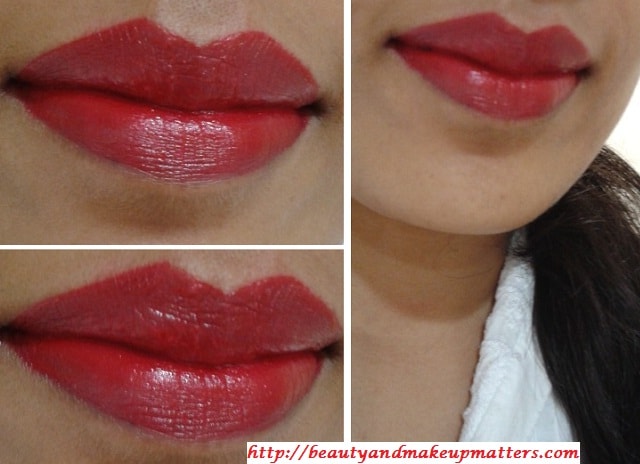 Pros of Inglot Freedom System Lipstick 27:-
Hot Ruby Red lip color with fuchsia undertones
Nice creamy formula
Trouble-free application
Intense color pay off
Soft creamy semi-matte finish
Gives opaque coverage
Pocket friendly price
Transfer proof formula
Long lasting
Doesn't bleed
Leaves a deep pinkish-red stain
Cons of Inglot Freedom System Lipstick 27:-
Require lip brush for application
Ingredients list missing
It's a bold lip color which might not be liked by everyone
Recommendation:- Inglot Freedom System Lipstick 27 is a bright bluish Red with strong fuschia pink tones and makes a great winter, bridal wear shade. It is creamier in the pan but goes semi-matte on application. It's light staining formula makes it last whole day as they easily survive meals and leaves a good hint of color on lips. If you dare to wear such bright red lip color than let yourself loose and grab this shade.
Rating:- 4.5/5
Have you tried INGLOT Freedom System Lipstick 27? Would you dare to wear such bold Red shades?