INGLOT Freedom System Lipstick 19 Review
Today I am reviewing my 2nd Orange Lipstick,  "INGLOT Freedom System" Lipstick Refill#19.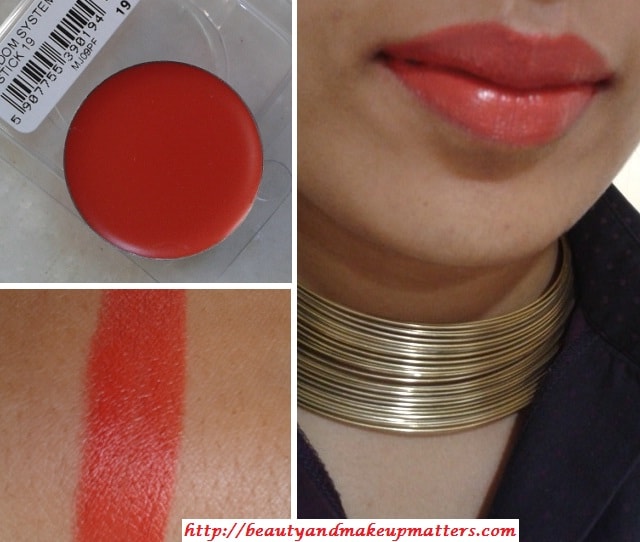 Price:- Rs.250 for 1.2 gms
Shelf Life:- 3 years from the Mfg date.
Packaging:- The lipstick case is housed in a plastic pouch and the sturdy plastic case holding the pan has a scissor lock and can be used for holding the pan until you wish to shift it to the empty palette. The plastic case would keep the pan safe and protects the lipstick from any sort of damage, The name of the lipstick shade is pasted at the bottom of the pan..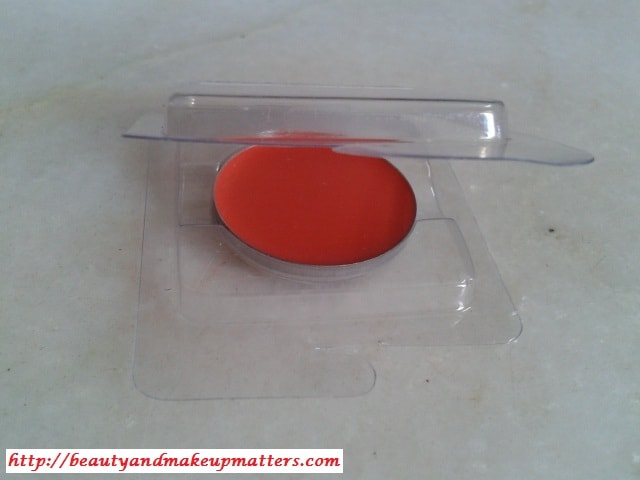 My experience with Inglot Freedom System Lipstick 19:-
Inglot Lipstick #19 is a pretty cool-toned bright orange lip color with weak red undertones. #73 has more pink and coral than #19. Maybelline Moisture Extreme Bronze Orange is browner and deeper than this. #19 may washout duskier skin tones but makes a brilliant summer/spring shade for fairer skin tones. I got a bit upset to look at the shade for the first time and thought it wouldn't work on my medium-fair skin tone but surprisingly it looked nice neither loud nor bright.
The smooth creamy formula which isn't thick feels like silk when swiped over lips. I tried using fingertips for application but it comes out really sheer and with all the stained fingers eerrggghhh…I would prefer a lip brush rather than fingers. With slight effort and multiple brush swipes I was able to get a decent coverage on lips. The formula is well-pigmented but it takes some time to give even-opaque coverage on lips.
The finish is somewhere between creamy-matte as it gives a slight creamy sheen and is hydrating to lips but refuses to budge and survives meals just like matte lipsticks. The color fades away evenly and even after a wear time of over 6 hours it leaves a stain behind which can be topped with a gloss for a fresh look. These are best-in-quality lipsticks if you are long lasting creamy lipsticks in an affordable price range and smooth creamy formula.
Don't Miss to Checkout:
LOTD –
Pair#19 with light grey-black smokey eyes and it gave just the right amount of brightness to my face. I used it here with clean eyes and liner only on lower lash line and it looked adorable. Hope you guys like it too.. !!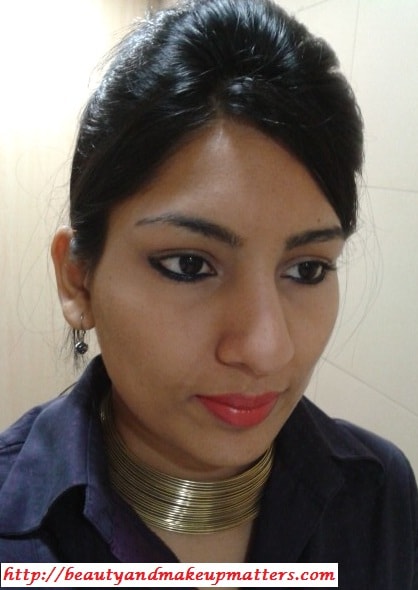 Pros of Inglot Freedom System Lipstick 19:-
Bright Orange lipcolor
Buttery smooth formula
Super-pigmented
Doesn't dry my lips
Lasts long
Leaves a pretty stain on lips
Doesn't bleed or feathers
Incredible shade selection
Great spring/summer shade
Cons of Inglot Freedom System Lipstick 19:-
Requires lip brush for application
No mention of ingredients
Recommendation:- Inglot Freedom System Lipstick 19 is a true bright orange shade with non-greasy buttery formula. They have a nice creamy texture which doesn't feel drying on lips. These pigmented lipsticks also wouldn't let you down either with color pay off or longetivity as they lasts long and never bleeds or settle in fine lines. I like these lipstick refills a lot as they are cheaper than most of inexpensive lipsticks and the huge collection of drool-worthy shades is enough to make you.

If you like wearing bright colors than you will definitely be floored by this Inglot Freedom System Lipsticks refill #19 but if you prefer neutral or browns than skip this for sure. I am in love with bright orange/coral/pink colors these day and #19 fits well into the requirement.
Rating:- 4.5/5
Have you tried Inglot Freedom System Lipstick 19? Would you like to wear such bright orange shades?