Inglot Freedom System Eye Shadow 65 AMC Review
Today I am reviewing another Inglot eye shadow from My First Inglot Haul, So here is my first official black eye shadow Inglot Freedom System Eye Shadow 65 AMC .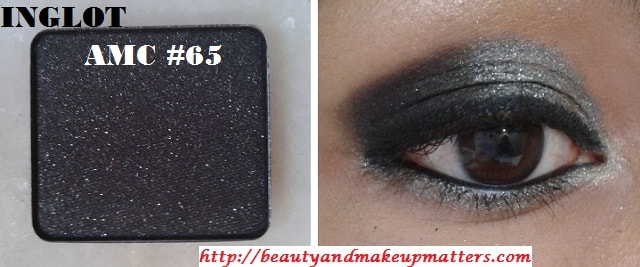 Ingredients:-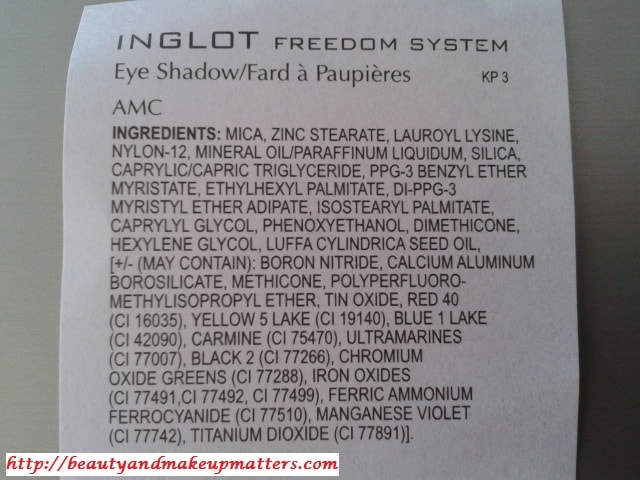 Price:- Rs.300 for 2.7 gms
Shelf Life:- 3 years from the Mfg date.
Packaging:- The eye shadow comes in a simple black box packaging and is sealed in a plastic cover which protects the powder from any sort of damage, The box mentions details related to the shade like name, finish and manufacturing dates at the bottom and also contains a paper mentioning the list of ingredients. The metallic pan holding the eye shadow also has shade name engraved at its bottom.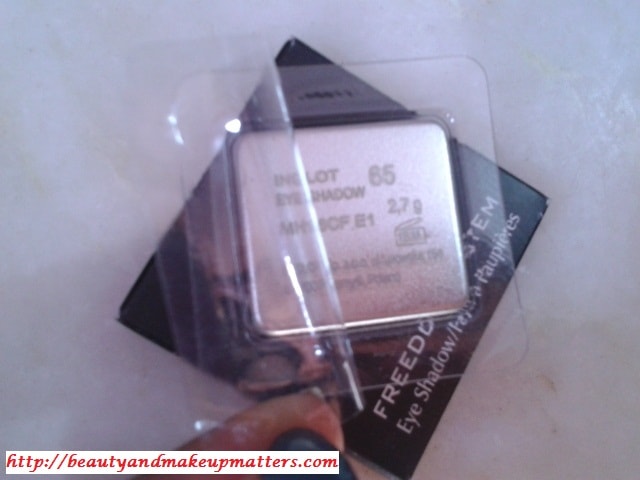 I used to pierce the back of the plastic case holding the pan but actually the thin plastic sheet at its base can be peeled off as it is only pasted over the plastic box. So, until you buy a pan, you can use this plastic box for storage.
My experience with Inglot Freedom System Eye Shadow 65 AMC:-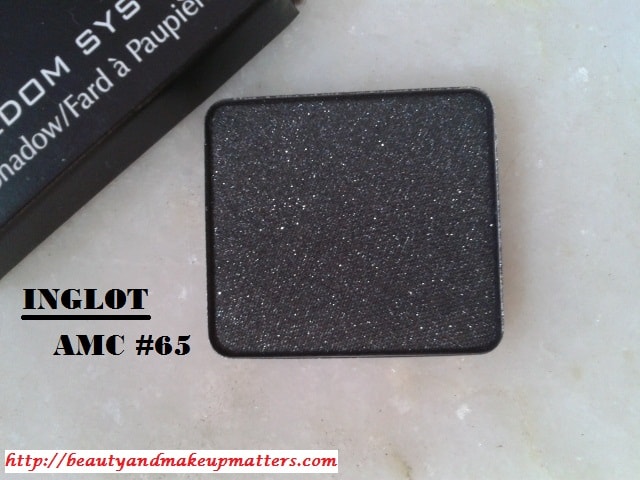 AMC 65 is a dark grayish black eye shadow with silver/grey colored shimmers and when observed carefully I could detect few specks of blue and pink too. The shimmers are ultra-smooth which never felt scratchy or chunky when applied but they are not blended with the base and sort of sprinkled over the basix black eye shadow.
The eye shadow belongs to AMC finish of the Inglot Freedom System Eye Shadows and has soft shimmery finish with a subtle sheen. I find the texture of this AMC finish eye shadow softer compared to pearl finishes. The texture is soft and gives a rich color with a slightest touch of finger. The silky smooth formula is very easy to work with and the eye shadow blends like a dream. It is extremely pigmented and gives a nice black color when patted directly on the lids but moves towards gray when blended.
It looks much shimmery in the pan but on the lids the shimmers doesn't look that prominent and just give a hint of shine and few silver flecks here and there. It does falls out a bit during application and I could see silver shimmers on my face black powder under my eyes area. It falls out a little while I have worn it on my eyes. Without an eye primer the eye shadow starts creasing on my lids after 3-4 hours of wear and creases considerably by 7-8 hours with a slight fading.
Don't Miss to Checkout:
EOTD:- I used INGLOT AMC #65 on the outer corners of the lids. On the inner half of the lid applies Maybelline Color Tattoo Eye Shadow in Audacious Asphalt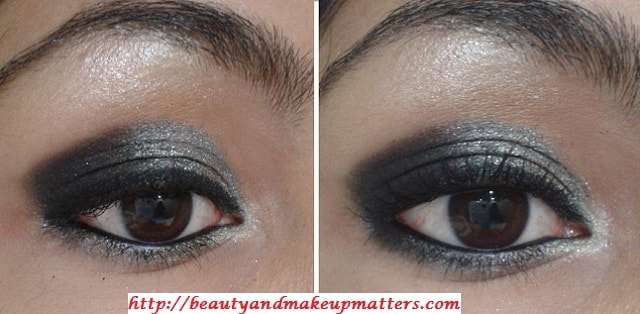 Recommendation:- Inglot Freedom System Eye Shadow 65 AMC is a dazzling dark grayish black eye shadow with beautiful flecks of silver and blue shimmers. The soft texture, smooth shimmers, blendable formula and tremendous color pay-off makes it one of the best quality eye shadows available at this amazing price tag. The eye shadow creases without a primer underneath on oily lids but not awfully. I would be pairing with Maybelline Color Tattoo Eye Shadow in Audacious Asphalt for soft shimmery black smokey eyes.
Rating:- 4.5/5
Have you tried Inglot Freedom System Eye Shadow 65 AMC? Which is your favorite Black Eye shadow?