Inglot Freedom System Eye Shadow 51 AMC Review
Today I will be reviewing 2nd Orange eye shadow in my stash from Inglot Freedom System Eye shadows collection #51 AMC.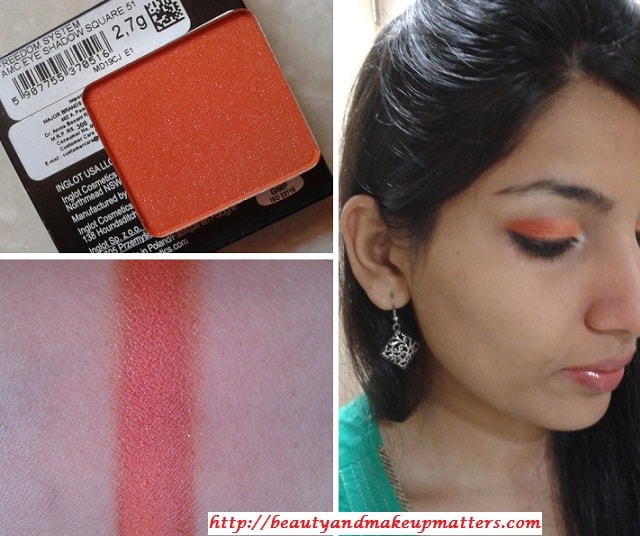 Ingredients:-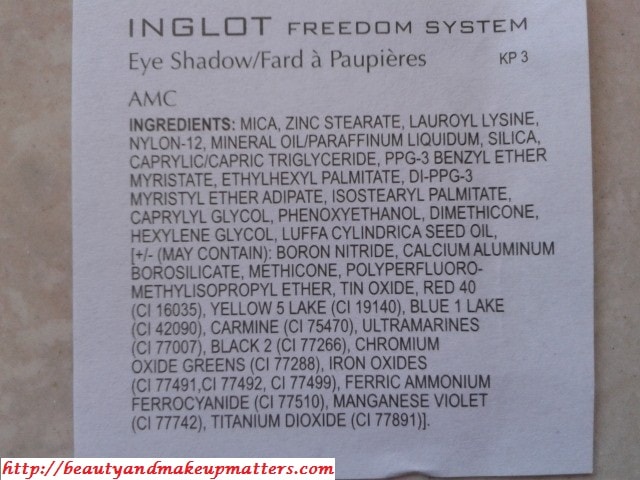 Price:- Rs.300 for 2.7 gms
Shelf Life:- 3 years from the Mfg date.
Packaging:- The eye shadow comes in a simple black box packaging and is sealed in a plastic cover which protects the powder from any sort of damage, The box mentions details related to the shade like name, finish and manufacturing dates at the bottom and also contains a paper mentioning the list of ingredients. The metallic pan holding the eye shadow also has shade name engraved at its bottom.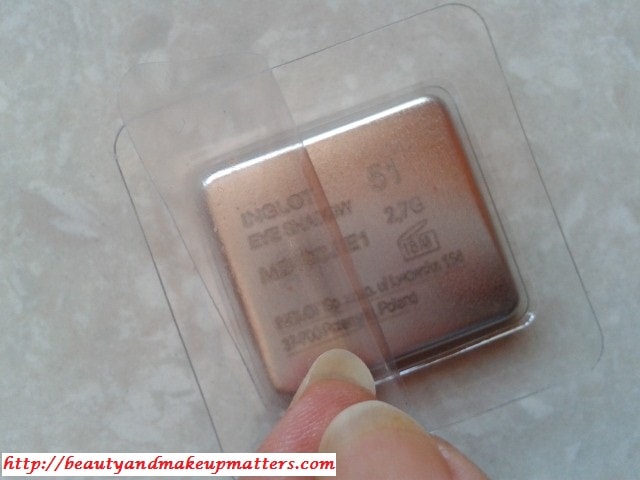 I used to pierce the back of the plastic case holding the pan but actually the thin plastic sheet at its base can be peeled off as it is only pasted over the plastic box. So, until you buy a pan, you can use this sturdy plastic box for storage.
My experience with Inglot Freedom System Eye Shadow 51 AMC:-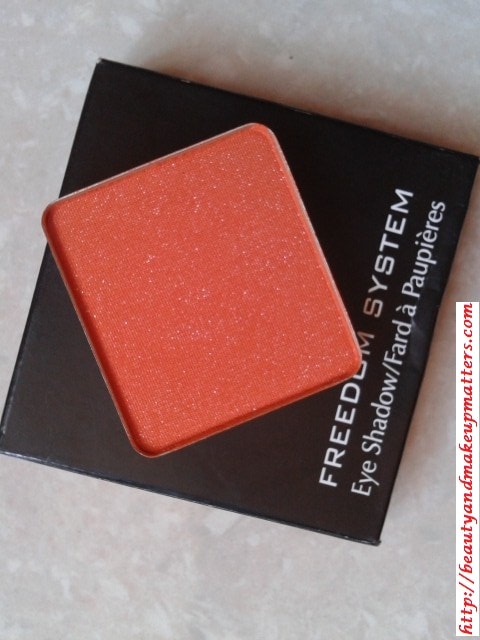 #51 AMC is a medium-bright Orange eye shadow with some rusty undertones and lightly sprinkled silver shimmers all over the pan. The eye shadow appears deeper and warmer in the pan but comes up brighter against my skin tone. Maybelline Fiery & Tangy is much lighter, yellower and has fine golden specks.

#51 will pair well with Maybelline Fiery & Tangy Color Tattoo Eye Shadow  for bright tangy orange eye Makeup but I would also like to use it with yellows for brilliant sunset eye look.
I find the texture of this eye shadow is a bit hard compared to other eye shadows but only slightly. It feels fairly soft and smooth to touch and wouldn't turn powdery or loosen up when hit hard with the brush which is unlike other INGLOT eye shadows that are much softer but I am not complaining as it does gets applied smoothly and evenly over the lids. It's slightly firm texture doesn't come in the way of blending and it blends easily like the rest of the INGLOT eye shadows
The eye shadow has good color payoff but I have to pack it on to obtain an opaque coverage It goes sheer and looses its intensity when blended so I have to build the shade by patting the color rather then swiping. It looks shimmery in the pan but on application it goes almost matte with silver specks scattered sparingly.
I was surprised to see its almost no-fall out slightly during application, Only silver shimmers could be detected under eye area but no colored powder so you don't need to clean up much once done with application. The color has some staining pigments which leaves a tint of tangy orange shade behind which will require a creamy cleanser or oil based makeup remover to get off the lids completely . The shade lasted for 3 hours without any fading but color starts receding and shows signs of creasing after 6-7 hours without primer. I believe it will show better color payoff and last long when worn over a primer.
Don't Miss to Checkout:
EOTD-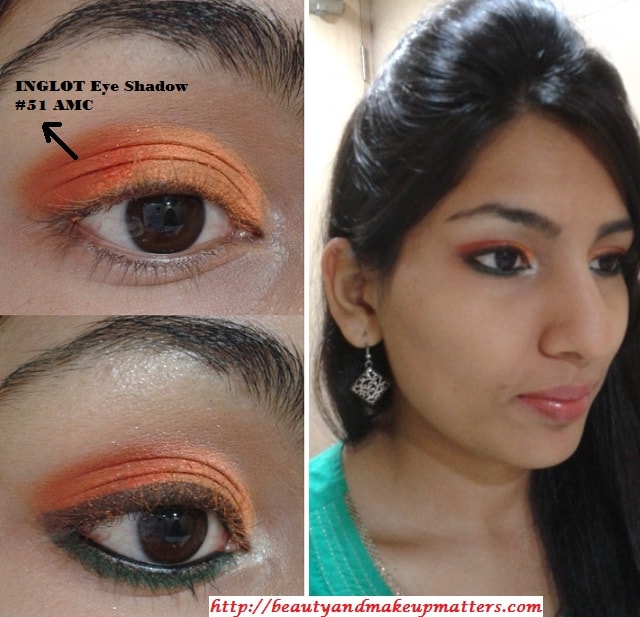 Recommendation:- Inglot Freedom System Eye Shadow #51 AMC isn't incredibly bright and makes a gorgeous warm toned Orange shade. The shimmers are barely visible on application and I like its matte finish with scattered silver shimmers. The texture isn't buttery soft but smooth enough to give an even application and blends nicely. It has decent pigmentation but it sheers out on blending and requires being build up by layering. The eye shadow has some shimmery fallout but nothing major and requires a base or primer underneath for long lasting stay. Overall, it is a great shade for summers and autumn season and would suit Indian skin tones very well.
Rating:- 3/5
Have you tried Inglot Freedom System Eye Shadow 51 AMC? Would you like to wear these bright orange eye shadows?