Inglot Freedom System Eye Shadow 439 Pearl Review
Another pearl finish Eye shadow from INGLOT Freedom System Eye Shadows, part of my Inglot Haul. After browns/neutrals its lovely purple-blue eye shadow Inglot Freedom System Eye Shadow #439 Pearl.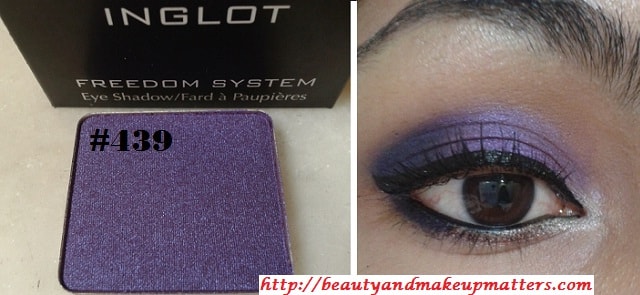 Ingredients:-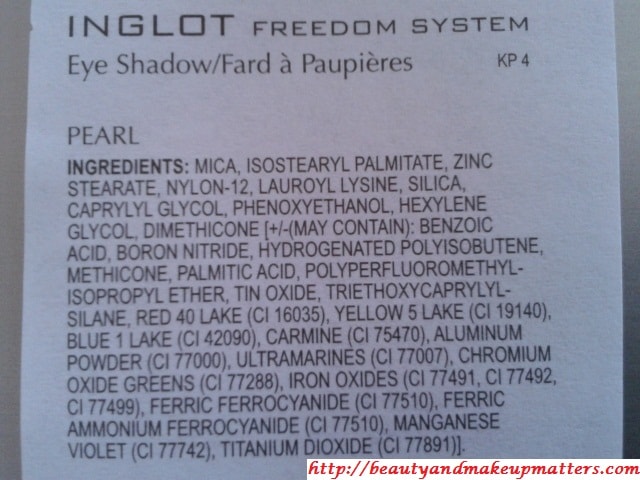 Price:- Rs.300 for 1.4 gms
Shelf Life:- 3 years from the Mfg date.
Packaging:- The eye shadow comes in a simple black box packaging and is sealed in a plastic cover which protects the powder from any sort of damage, The box mentions details related to the shade like name, finish and manufacturing dates at the bottom and also contains a paper mentioning the list of ingredients. The metallic pan holding the eye shadow also has shade name engraved at its bottom.
I used to pierce the back of the plastic case holding the pan but actually the thin plastic sheet at its base can be peeled off as it is only pasted over the plastic box. So, until you buy a pan, you can use this sturdy plastic box for storage.
My experience with INGLOT Freedom System Eye Shadow – 439 Pearl :-
439 Pearl is a medium-purple eye shade with lavender under tones and Bluish pearly shimmers which gives it a frosted pearly-metallic sheen.
The eye shadow has satiny smooth texture which almost feels like a cream eye shadow but isn't as creamy as #421 or #402. It has buttery soft texture but not powdery and hence almost negligible fall out during application. The formula is pigmented but has a buildable finish and I need to layer up the color to get the shade true to the eye shadow pan. The eye shadow adhere to the lids well and I don't see any fallout while I wore this eye shadow but it has a tendency fade within few hours of wear. I did notice slight creasing after 405 hours of wear. So, use this eye shadow over a primer to maintain its intensity and extend its wear ability.
Don't Miss to Checkout:
EOTD-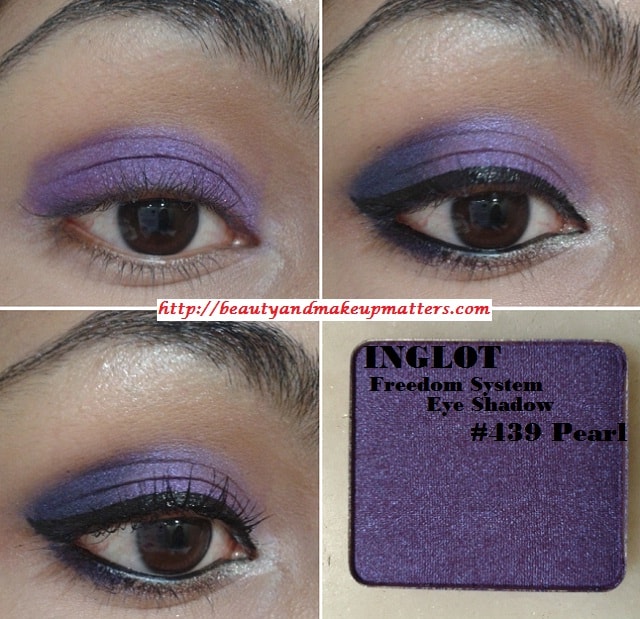 Recommendation:- INGLOT Freedom System Eye Shadow #439 Pearl is a gorgeous bluish-purple eye shadow with frosted metallic sheen and smooth, creamy texture. It gets applied and blends well but has tendency to fade away without a primer and requires to be layered up to get to its full opacity.
Hope you like the Look 🙂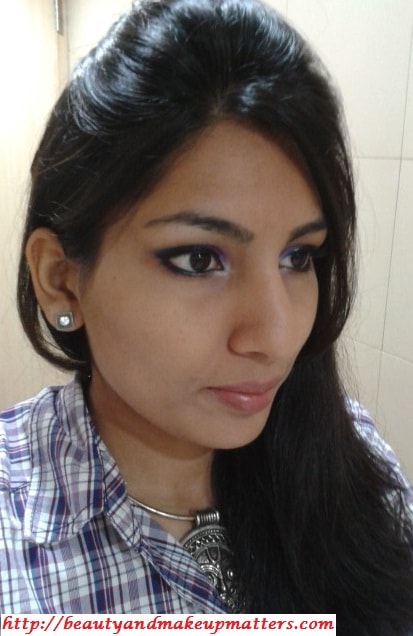 Rating:- 4/5
Have you tried Inglot Freedom System Eye Shadow – 439 Pearl?