Inglot Freedom System Eye Shadow 421 Pearl Review
Today I will be reviewing another neutral eye shadow from my Inglot Freedom System Eye shadows collection. #421Pearl.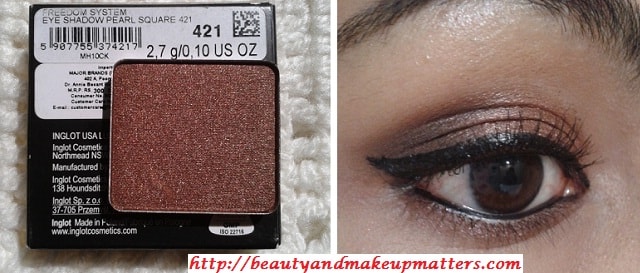 Ingredients:-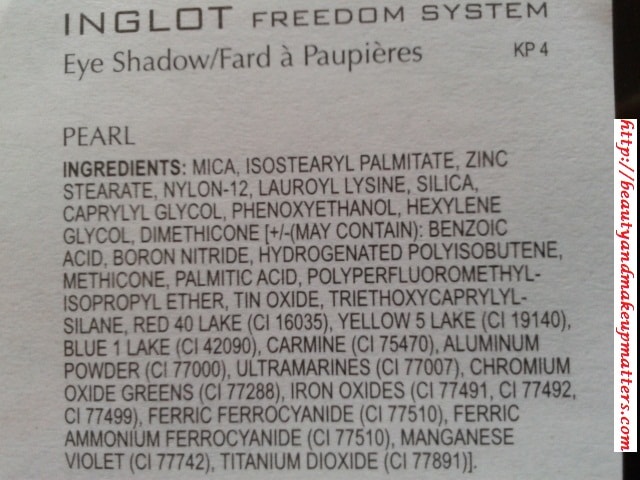 Price:- Rs.300 for 2.7 gms
Shelf Life:- 3 years from the Mfg date.
Packaging:- The eye shadow comes in a simple black box packaging and is sealed in a plastic cover which protects the powder from any sort of damage, The box mentions details related to the shade like name, finish and manufacturing dates at the bottom and also contains a paper mentioning the list of ingredients. The metallic pan holding the eye shadow also has shade name engraved at its bottom.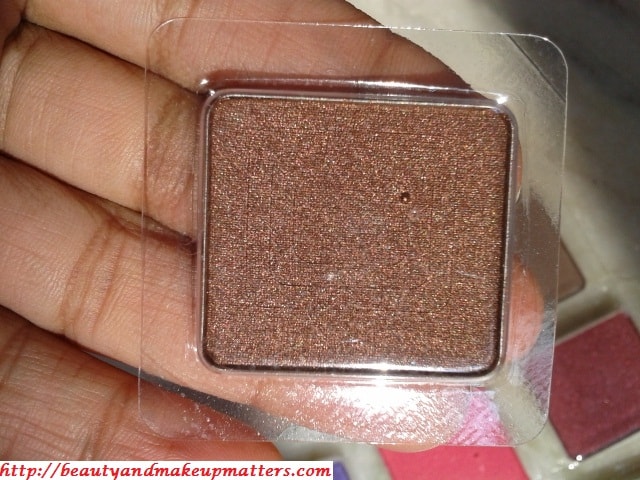 I used to pierce the back of the plastic case holding the pan but actually the thin plastic sheet at its base can be peeled off as it is only pasted over the plastic box. So, until you buy a pan, you can use this sturdy plastic box for storage.
My experience with Inglot Freedom System Eye Shadow 421Pearl:-
#421 Pearl is a dark copper-brown shade with frosted shimmery bronze finish. It is pretty pearly brown shade that can be worn either as an all over lid color for on outer crease area for smokey brown eyes.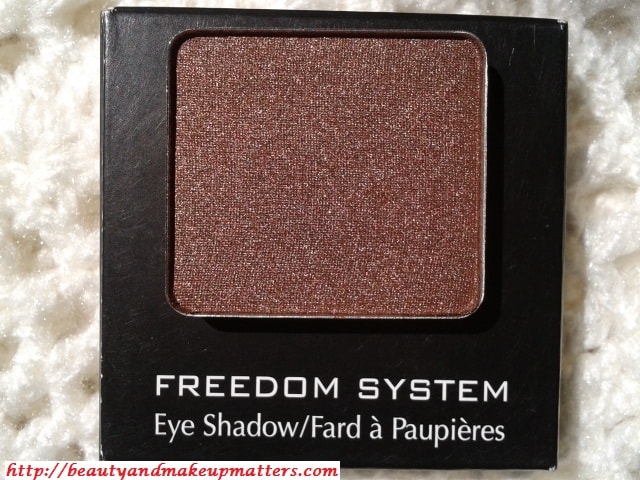 It's silky soft texture and buttery smooth formula gives an illusion of creamy eye shadows. Pigmentation is awesome and they show up really well even on darker skin tones. The color pay off is so rich that builds to an opaque finish within 2-3 strokes. It can be worn dark or sheered out to softer brown tones with slight blending. The formula gives even application and blends beautifully.  The pearly sheen isn't overpowering but adds just the right amount of shine to the lids.
It doesn't turn patchy or shows any signs of creasing for 4-5 hours without a primer underneath. It can be made absolutely crease-free with a primer and the color will stay true and can be seen in its full glory even after 7-8 hours of wear.
Don't Miss to Checkout:
EOTD-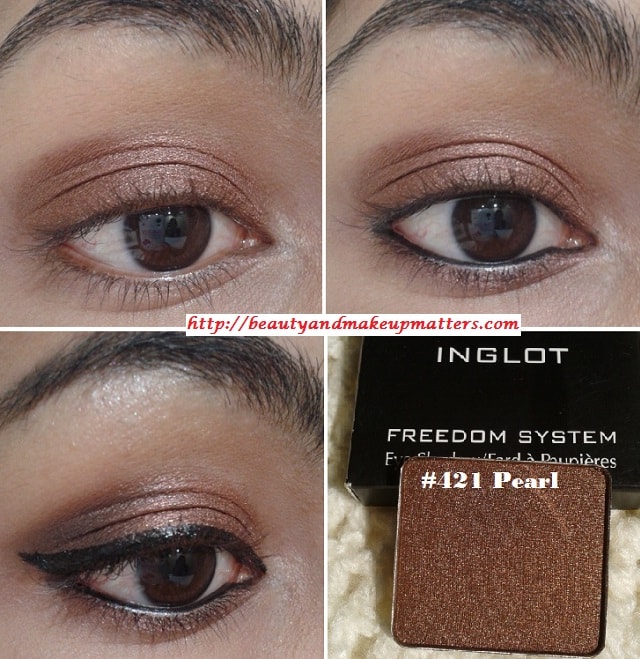 Recommendation:- Inglot Freedom System Eye Shadow #421 Pearl is jewel toned dark brown shade with copper undertones and frosted pearly bronze finish. It has soft and easily blendable texture with long lasting formula which stays vibrant whole day. Inglot delivers high-quality eye shadows at an affordable price range and each shade looks so gorgeous that now I am thinking of building my own neutral palette with these gorgeous eye shadows but not able to decide how large! Each shade looks so irresistible and the vast shades and finishes don't help either. Highly Recommended!
I did a light bronzy-brown eyes with a little black smudged on outer corners. I paired with my favorite Red Lipstick, L'Oreal Color Riche Red Rhapshody (Review Here). 🙂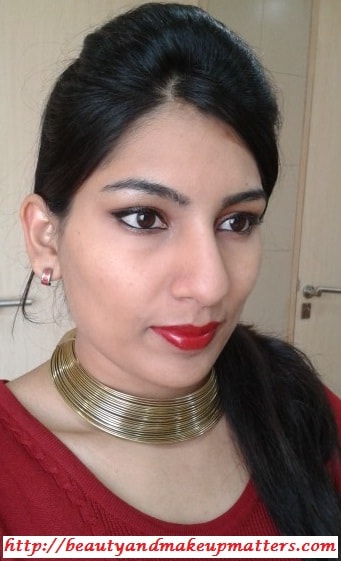 Rating:- 5/5
Have you tried Inglot Freedom System Eye Shadow 421 Pearl? Which is you favorite brown eye shadow?