Inglot Freedom System Eye Shadow 382 Matte Review
Today I will be reviewing first Matte eye shadow from my Inglot Haul , its Inglot Freedom System Eye Shadow #382 Matte.
Ingredients:-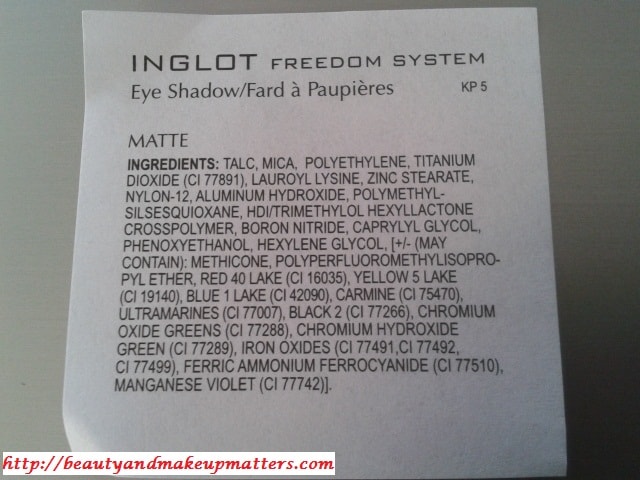 Price:- Rs.300 for 2.7 gms
Shelf Life:- 3 years from the Mfg date.
Packaging:- The eye shadow comes in a simple black box packaging and is sealed in a plastic cover which protects the powder from any sort of damage, The box mentions details related to the shade like name, finish and manufacturing dates at the bottom and also contains a paper mentioning the list of ingredients. The metallic pan holding the eye shadow also has shade name engraved at its bottom.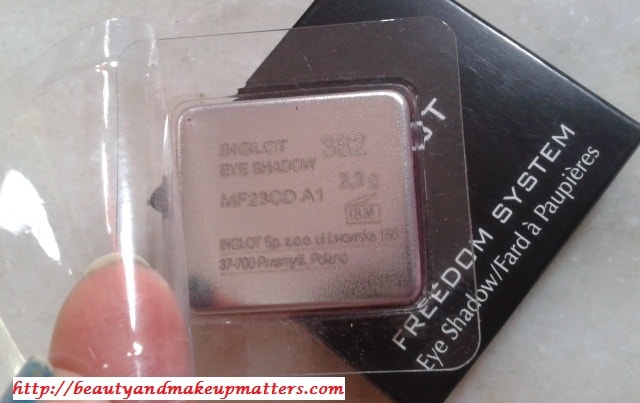 I used to pierce the back of the plastic case holding the pan but actually the thin plastic sheet at its base can be peeled off as it is only pasted over the plastic box. So, until you buy a pan, you can use this sturdy plastic box for storage.
My experience with Inglot Freedom System Eye Shadow 382 Matte:-
Matte 382 is a medium pinkish-red eye shadow with slight blue tones and an absolute matte finish with no sheen or shimmers. The texture is satiny smooth and feels like silk when swiped. These eye shadows are soft to touch and not chalky or powdery but if swatched with heavy hand you will see the excess powder being sprinkled out of the pan. It should be used with light hands and as the soft powdery texture of the eye shadow may break or loosen up if poked with heavy brush strokes.
The eye shadow is heavenly pigmented and gives an intense color in a single swipe. The soft texture supports smooth application and hassle-free blend ability. It gets applied evenly and blends nicely all over the lids without going patchy but it looses its intensity on blending. So I need to pack my eyes with lot more eye shadow to build it to the true shade.
It has decent staying power as its intensity reduces and it starts creasing after 2-3 hours of wear without a primer. The life of the eye shadow increases over the primer or an Eye shadow base. The eye shadow falls out only slightly during application but stays put whole day without transferring or falling out. The formula is slightly staining and it leaves a light pinkish red-stain on skin. I just love this shade and might use it as a blusher too for its long staying and staining formula.
Don't Miss to Checkout:
EOTD:-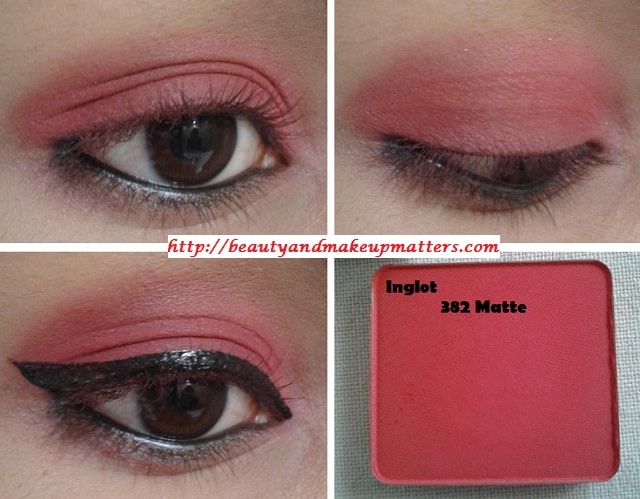 Dupe:- #382 is an exact dupe and matte version of #495 in DS finish
Recommendation:- Inglot Freedom System Eye Shadow 382 Matte is a gorgeous reddish-pink eye shadow in matte finish i.e. free from any sort of shine or shimmers. The buttery smooth texture and satiny soft formula blends beautifully over the lids and never looks chalky or patchy. It has a great color pay off and gives a rich color to the eyes even with gentle brush strokes. I find this eye shadow shade a bit staining but negligible fallout, long staying and affordability of these eye shadows make them stand out of the rest. If you are looking for a matte red blush, you might like to give this a try.
Rating:- 3.8/5
Have you tried Inglot Freedom System Eye Shadow 382 Matte? Do you use blushers as Eye Shadow or Eye Shadows as blushers?