Inglot Freedom System Empty Palette – 10 Rounds Review
Hello Everyone.. Most of you would be aware of my INGLOT love these days.. (telling you right away!!). I am still drooling over the fabulous FREEDOM SYSTEM eye shadows and lipsticks. Along with them (Here), I also ordered an empty Palette from Majorbrands.in to store and stack these beauties. I wanted a Palette for Square eye shadow Pans in a travel friendly size, so decided to get the 10 pan Palette… (Aaahhh.. OOOpps) I made a mistake here by overlooking the details and see what I actually got 10 Round Pan Empty Palette.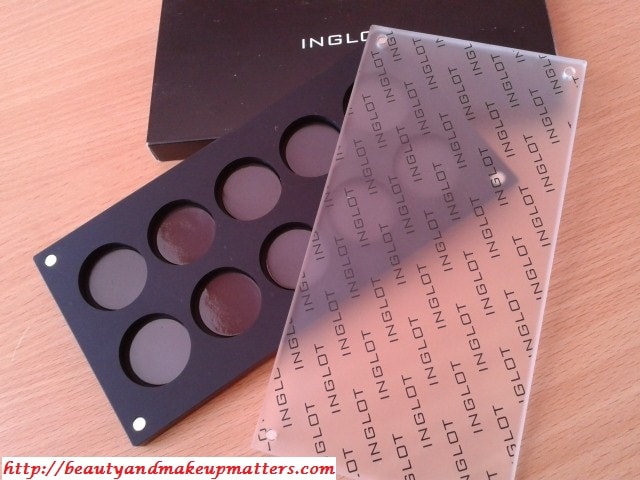 These are magnetic palettes with a sturdy metallic base and a translucent glass lids with magnets fitted at all the 4 corners of both of them. Remove the eye shadows form the plastic cases they come with and stack them on the empty rounds of the palette. To rearrange or get the pan out of the palette use the tiny magnets at the corners of the lid to pull the pan out of the palette and place your eye shadows where ever you want. I wouldn't recommend using nails or any other sort of pointed material to the pull the pans as slight deflection can land you on the eye shadow powder in the pan which would get spoiled like nobody's business. So, use only the magnetic ends of the lid to get the pan out. Due to the tiny size of the magnet sometimes it takes time but will definitely come out with a bit of patience.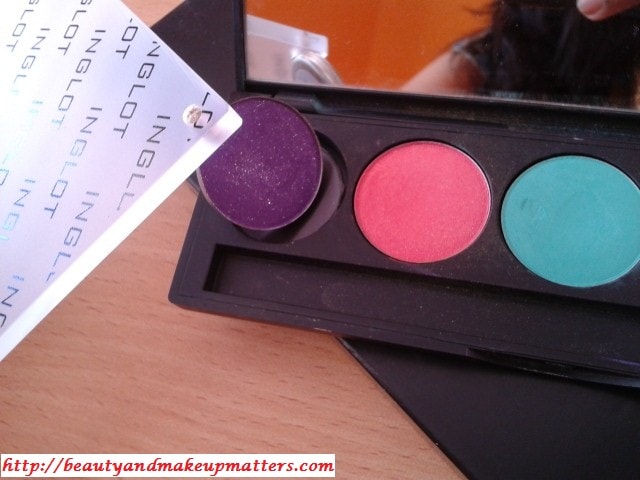 The palette is sturdy and heavy. I like its matte finished black body with a translucent lid having INGLOT printed all over it. The translucent lid indicated the color of the eye shadows lying beneath. The magnets on the lid connects perfectly with the pan base and wouldn't move until handled manually, the eye shadows pans are not going to move or slip from their positions easily until they are forced to get out by the magnetic lid. The palette is great for travel-purposes and will keep all your eye shadows safe and secure. Its sleek design and matte black casing will just stole your heart away.
Don't Miss to Checkout:
These Freedom System empty palettes are available in 2, 3, 4, 5, 10, 20 and 40 pan palettes size both with round and square shaped pan places. (And I ordered the only round palette available on Majorbrands.. this is called bbadluck!!! :-X ) . I also have one with 5 Rounds(Again Round@@@ with an attached lid just like a geometry( schoool timee.. ) which is opaque but sturdy and easy to use.
Anyhow, no more moaning and complaining, I will just have few more round Eye shadow to complete my 10 Round pan palette and a brand new for all my Square shaped eye shadow pans.. that means more shopping.. (woohhooo..)
Recommendation:- Inglot Freedom System Empty Palettes are a great way to store refill pans and make it easy for you to travel with them but their price is on the expensive side. No doubt that their lavish look and heavy sturdy body justify their price but I wouldn't be buying them until they are on sale. I am on a hunt for an inexpensive substitute to these empty palettes and save some bucks.. 😛
Rating:- 4.5/5 (-.5 deducted just for their price)
Have you tried Inglot Freedom System Empty Palette – 10 Rounds? How you store you eye shadow or lipstick refill pans?