INGLOT AMC Liquid Face Blush #81 Review, Swatch, FOTD
MUFE HD Blushes have been loved and raved by everyone but the price tag might not suit everyone's pocket so lets lookout for some more pocket friendly options that will provide similar quality and results. Today's review is about one such blush from INGLOT which is also my first blush from the brand, the INGLOT AMC Liquid Face Blush #81.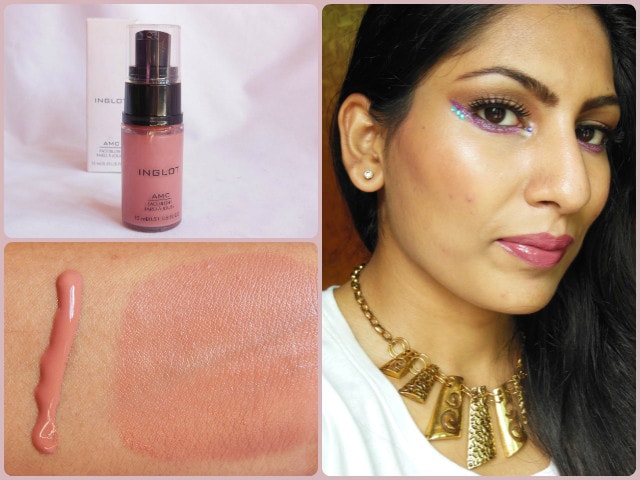 Price:- Rs.1200 for 15ml
Shelf Life:-  30 months from the Mfg date.
Packaging:-The blush comes in a cute glass bottle packaging with pump dispenser and see-through glass cap. The pump provides good control over the amount to be dispensed and hence reduce wastage of the product but be careful while using it or you will end up wasting. To start with, do not go for full pump but release it almost half way, dispense more if required. It might take 2-3 times to get the hang of the amount required. The packaging is pretty convenient to use and carry along.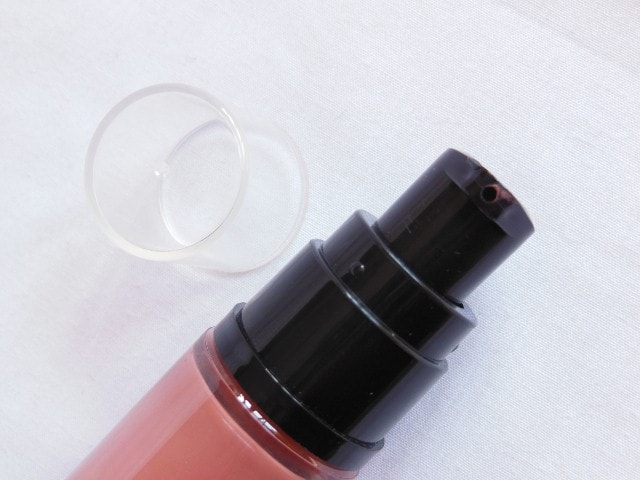 My Experience with INGLOT AMC Liquid Face Blush #81:-
Texture: INGLOT AMC Face Blush #81 has a rich whipped cream kind of texture and is not exactly liquid. The consistency is somewhere between cream and liquid blushes which makes it easy to apply and it blends effortlessly into the skin without giving patchy, uneven application.
Shade: #81 is a deep peachy brown in the bottle with plumy pink undertones but on cheeks it transforms to a gorgeous peachy pink blush with plum tones which is extremely wearable and will work for almost all skin tones.
Pigmentation: The blush looks intensely pigmented in the bottle, full of color pigments but I loved the way it blended into the skin leaving behind a beautiful natural looking peachy pink glow which made the blush a lot easier to deal with and I don't to struggle to tone it down. A tiny drop is enough for single cheek application. You can layer it up but start with less and the build up to desired intensity.
Finish: The formula is creamy but on the contrary it dries to a semi-matte finish. It doesn't give any dewiness that is expected from cream/liquid blushes but the lovely satiny matte makes it apt for oily/combi skin as well. I could spot some microscopic pink pearls milled in the formula that must be responsible for its satiny finish but they are barely visible on application.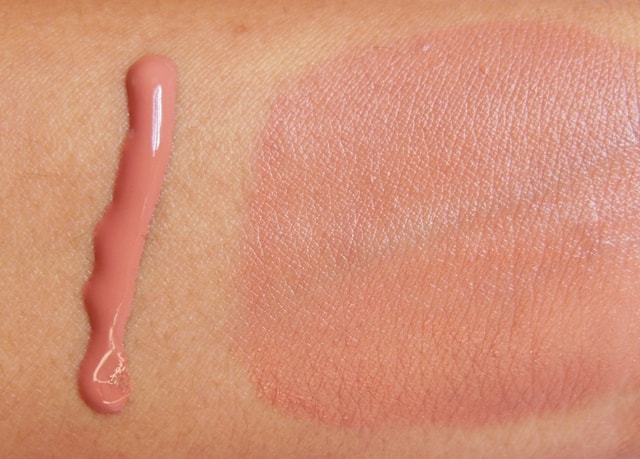 The price is definitely on the higher side for a blush but the combination of quality and quantity INGLOT has to offer is good. I am highly impressed with the performance of this blush and in love with it soft powdery finish.
Pros of INGLOT AMC Liquid Face Blush #81:-
Whipped cream like texture
Blend beautifully
Extremely pigmented
Dries to a semi-matte finish
Non-streaky, even application
Lasts for 4-5 hours on me with a base
The bottle is going to last me long
Suitable for all skin types
Convenient to use pump dispenser packaging
Paraben Free formula
Available in 8 different shades
Cons of INGLOT AMC Liquid Face Blush #81:-
Expensive but the quality is worth the price
If more than required amount is dispensed, there is no way to put the liquid back
Recommendation:- INGLOT AMC Face Blush #81 has a rich creamy formula but it never feels heavy on skin and blends like a dream giving a smooth, even application. The formula is excellently pigmented but it quickly tones down to wearable, natural plumy pink on application and dries to a semi-matte finish which makes it suitable for all skin type be it oily/combi or dry. It can be used as a base for powder blushes to improve the longetivity of the shade. It works fine with both fingers and brush; just make sure you do it with stippling motion and not swiping it across the cheeks. A good pick for those who are looking dupes of MUFE HD blushes. Recommended!
Rating:- 3.8/5
Have you tried INGLOT AMC Face Blush #81? Which is your favorite type of Blush Liquid/Cream/Powder?