INGLOT AMC Eye Shadow Shine #49 Review
Hello Everyone,
I have been reviewing quite a lot of lip products these days but trust me I have put myself on a complete ban of any purchase of lipsticks, lip glosses except lip balms (yes I just got a Maybelline one). So, today for a change I have an Eye Shadow under review. I have loved INGLOT Freedom System Eye Shadows and I have a full sized INGLOT Eye shadow, INGLOT AMC Eye Shadow Shine #49 to share with you.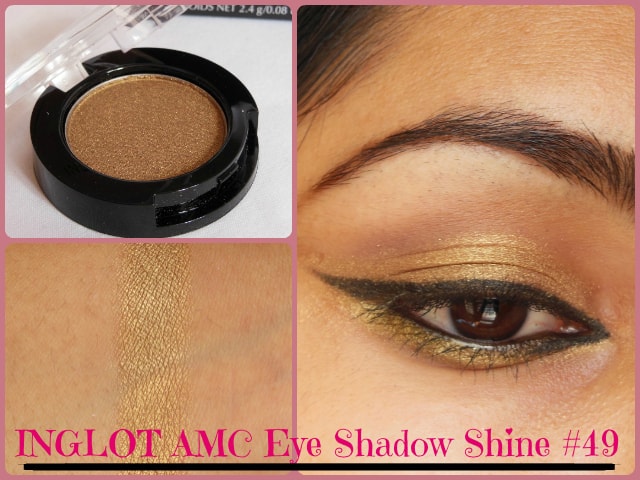 Product Description: Eye shadow that contains special silicones and treated pigments. It boasts high lubricity and a silky touch combined with easy, smooth, long lasting, and crease resistant application.
Price: Rs. 750 for 2.4 gms
Packaging: INGLOT AMC Eye Shadow Shine #49 is a single Eye shadow which comes in a round plastic pan with a clear glass lid and a click lock mechanism which I find easier to use than the removable screw lids. Shade details are mentioned below the case.
My Experience with INGLOT AMC Eye Shadow Shine #49: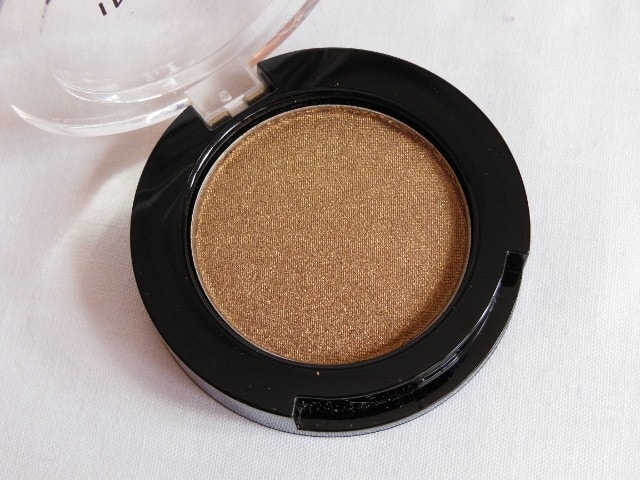 Shade: AMC Shine #49 is a mustard yellow toned gold eye shadow with shimmery metallic finish. It contains micro-fine gold and green colored shimmers which adds a sparkling touch to the finish. It can be great shade for adding that instant shine and glam to the eyes. The shade can work on it's own if you are not in a mood to do a heavy eye makeup but a hue of gold on lids. It makes a great shade for party/wedding look.
Texture: INGLOT eye shadow has smooth texture and doesn't feel powdery or chalky. The formula is finely milled which is silky smooth to touch. It blends quite beautifully but the color starts disappearing pretty fast so have to blend it with soft hands to keep the color in place and let it show after blending.
Pigmentation: The color pay-off is good and gives a rich gold color in a single swipe but the color takes some more swipes to show up on lids. It needs to be built up in patting motion to give that bright yellow shine on eyes.
Finish: INGLOT AMC Eye Shadow has a gorgeous pearly shine with micro fine shimmers which doesn't feel gritty or coarse on application. It appears more shimmery in pan but gives satiny metallic shine to the lids.
Staying Power: The eye shadow does have some shimmery fallout both during application and while it is worn on the lids so, using a primer underneath will give a better hold to the formula and it will adhere well to the lids. Primer will also increase the lasting powder of the eye shadow as it starts creasing in 2-3 hours on oily lids.
Don't Miss to Checkout: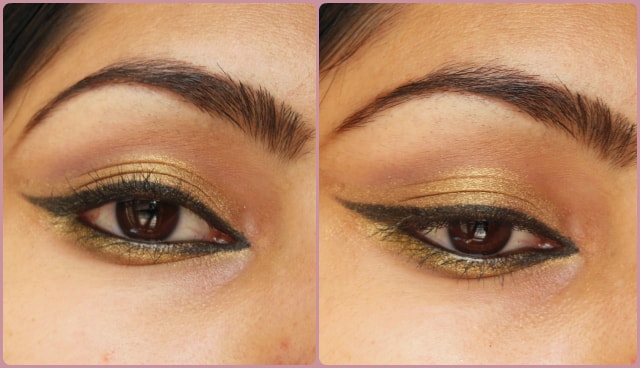 Pros of INGLOT AMC Eye Shadow Shine #49:
Satiny smooth texture
Finely milled shimmers
Beautiful metallic shine
Blends easily
Lovely pigmentation
Makes a good party-wear shade
Paraben Free formula
Cons of INGLOT AMC Eye Shadow Shine #49:
Slight shimmery fallout
Stays better with a primer
Creases easily on oily lids
Expensive for a single eye shadow
Recommendation: INGLOT AMC Eye Shadow Shine #49 is a gorgeous gold shade with a beautiful metallic shimmery finish. The shade is extremely wearable and will work for everyone. The lovely metallic finish makes it a great party wear shade. The formula is smooth and well pigmented but needs some amount of building to show up on lids. For the price paid, I wish there was no fallout and it had stayed better on lids without a primer.
Rating: 3.5/5
Have you tried INGLOT AMC Shine Eye Shadow #49 ? Which is your favorite Single Eye Shadow?