IN2IT Eyeshadow Pen in Silhouette Review, Swatches, EOTD
Brand:- In2It is a cosmetic brand from Malaysia. However, ever I wasn't able to locate the details about this eye shadow pen on the website which I got as a free gift with online shopping from a Blog sale.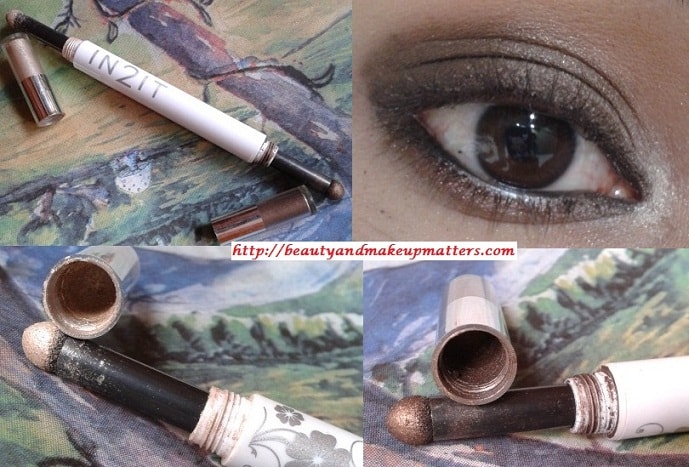 My experience with IN2IT Eye shadow Pen in Silhouette:-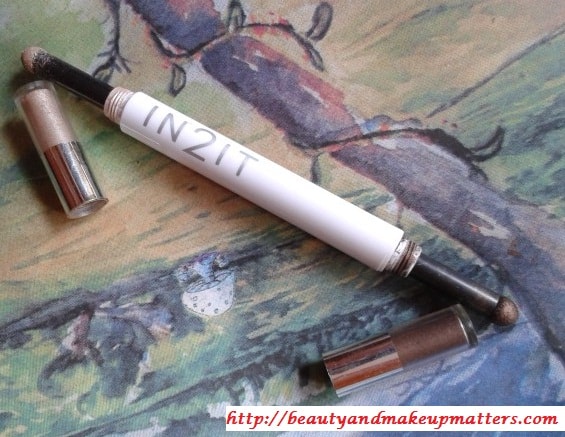 The eye shadow comes in an unusual pen shaped packaging which has beautiful floral design on a white plastic case. It is dual side pen with small caps contains the eye shadow powder in a compressed form. The glass caps give an insight to the color as well as the quantity of the eye shadow left in it. It is the most handy and convenient eye shadow packaging I have ever used. Ideal for those small sized clutches and handbags.
The pen tip has spring based mechanism which comes out with a jerk when the cap is unscrewed. It is a round spongy smudger like tip which is to place the eye shadow powder over the lids.
Apply the eye shadow with the applicator tip provided with the packaging and then blend it with a nice fluffy brush.
Eye shadow description:-

Metallic Brown:-It is a dark brown eye shadow with fine gold flakes. The golden shimmers give a nice bronzy metallic finish to the color. The shade is superbly pigmented and just one stroke of it gives good enough color to the lids.

Pearly Beige:– It is an off-white shade with subtle silver shimmers. The shimmers give a gorgeous pearly finish to the shade. It is a highlighter shade which is intensely pigmented and gives a sparkling shine to the inner corner of the eyes. It one of my most favorite highlighter shades.

As described above, it contains two eye shadows a dark and a light one which can be best used to create an easy and simple smoky look
The eye shadows have soft and smooth texture which blends easily over the lids. Shimmers in both the shades are fine which doesn't spread or move over the eye lid.
Both the shade stays good on my eyes throughout the day. Without a base it creases a bit but when applied over a base it doesn't fade and keep the eyes glistening bright even at the end of the day. Even the highlighter shade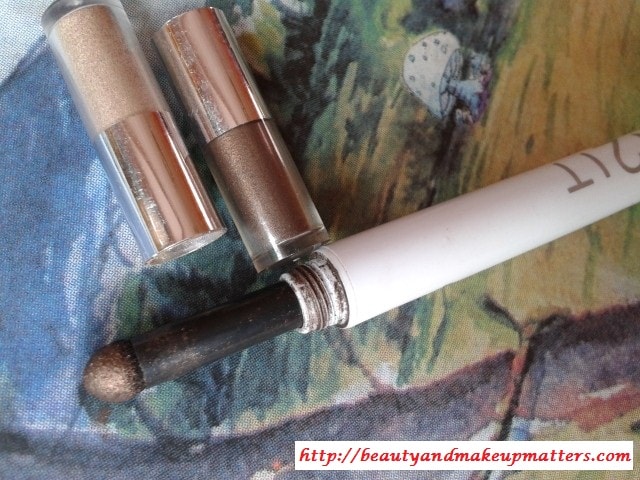 Swatches:-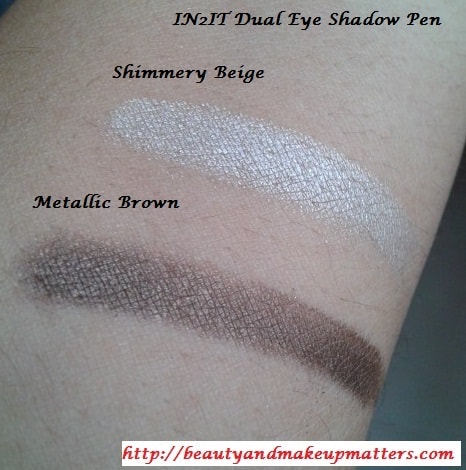 With Flash:-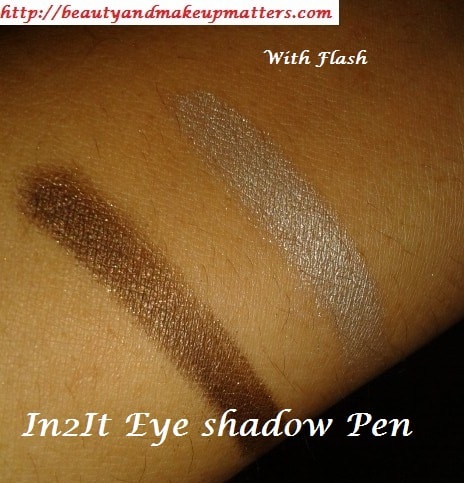 EOTD/Look:-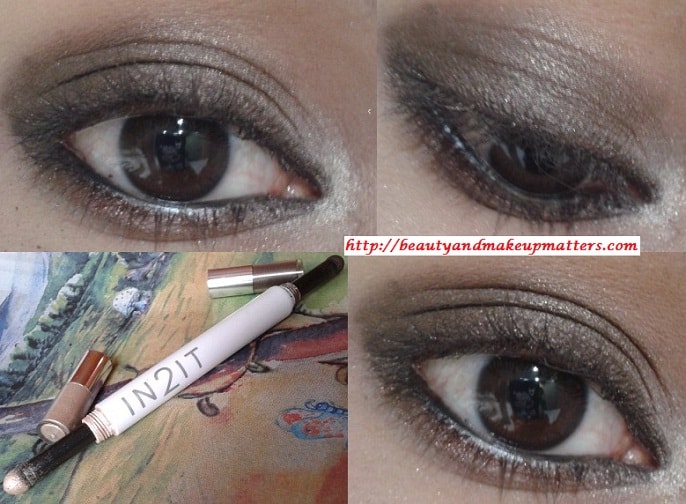 Recommendation:- IN2IT Eyeshadow Pen in Silhouette has a dark metallic brown shade with gold shimmers and a pearl finish cream shade. Both the shades have a smooth texture which gets picked up nicely by the round of the applicator which is fitted with spring mechanism into the small caps filled with eye shadow powder. It is the easiest to carry eye shadow packaging I have ever used. The eye shadows are extremely pigmented and barely have any fallout. A simple smoky look can be easily created using just with these 2 shades but you will need a nice blending brush to even out the color on the lids.

It is a lovely product but it isn't available anywhere other than Malaysia, which give me one more reason to pester my hubby for a trip to Malaysia as I  would love to try products from this brand.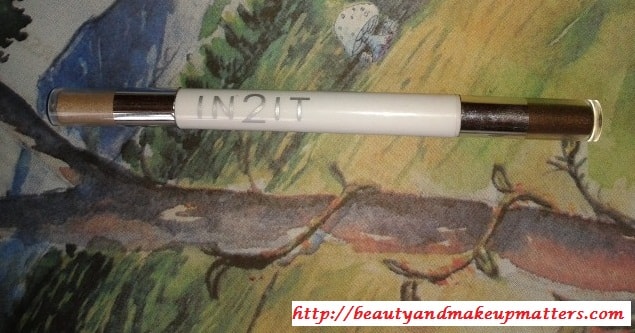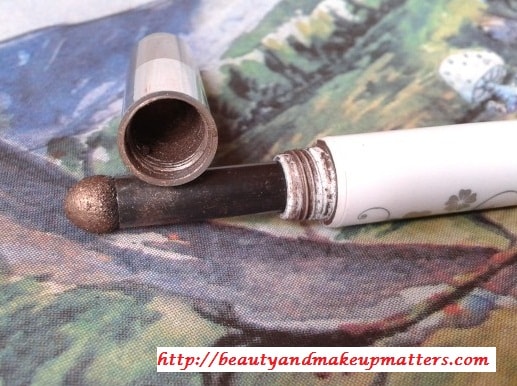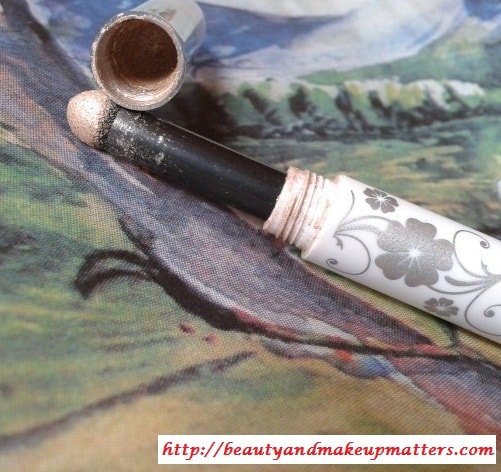 Rating:- 4/5
Have you tried IN2IT Eyeshadow Pen in Silhouette? Have you used IN2IT products?