I Won't Move: Plum Goodness NaturStudio All Day Wear Kohl Kajal
Hello Gorgeous,
I am always on the lookout for long lasting smudge proof kohl and with summers kicking in its almost a must have daily makeup routine because who like to wander around with panda eyes :P. Finding a smudge proof, rich black kohl in affordable category could be task but Plum made it easy for us by launching it's new, Plum Goodness NaturStudio All Day Wear Kohl Kajal.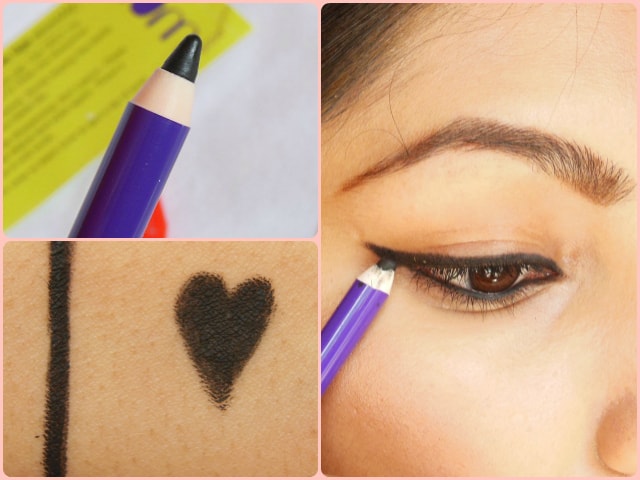 Product Claims: For the first time in India, an ophthalmologically approved kajal pencil with a gel-liner like performance. 100% smudge-proof, water-proof single-swipe brilliant black kohl-cum-liner that's also gentle on your eyes.
Welcome to NaturStudio. Where it's all about the glam, minus the harm. Get the look of a gel liner in a simple pencil format. Easy to use, studio finish & filled with goodness.Soft, creamy, gel-based single-swipe darkest black. 
♥ 100% smudge-proof and water-proof
♥ Brilliant black that looks "just applied" even after 12 hours.
♥ Preservative-free, paraben-free, mineral oil-free, paraffin-free 
♥ Dermatologically and ophthalmologically tested & approved
♥ Rich in Vitamin E for care and protection
♥ 100% vegan formula, not tested on animals
♥ Full-size 1.2g pencil – 4 times the kajal found in twister kajals (which contain 0.31g). Lasts at least twice as long.
♥ Made in Germany
Directions for Use: Safe for use as a liner and as a kohl-kajal. Go ahead, create looks to your heart's content!
Price: Rs 425 for Kohl/ Rs 499 for Kohl + Sharpener
Ingredients: Hydrogenated Castor Oil, Rice Bran Wax, Natural Vitamin E
Packaging: Plum Goodness NaturStudio All Day Wear Kohl Kajal comes in a sharpenable pencil packaging with a purple colored body and cap and a black colored band at the bottom. The pencil is made with PVC-free plastic barrel which requires high-quality cosmetic pencil sharpener and it is recommended to use Plum Flip-Tip Sharpener to sharpen it properly. Using loose-fitting sharpeners or stationery pencil sharpeners will damage the tip and the pencil.
My Experience with Plum Goodness NaturStudio All Day Wear Kohl Kajal:
Plum Goodness NaturStudio All Day Wear Kohl Kajal has a buttery creamy texture which glides on beautifully on lids but isn't melting soft so it doesn't crumble during application. It doesn't have any waxy feel so it gives an even application. The formula is richly pigmented and in 2 swipes I get an intense black color on the eyes. It is a gel liner based formula and has soft matte finish.
It does smudge when touched immediately after application, so you have a chance to do smokey eyes but let it set for a minute or two and it will become transfer-proof. I tried rubbing it hard and it refused to budge in arm swatches but it does flake when rubbed on eyes. Though it won't transfer to upper lids for good 7-8 hours and even more. It claims to be water proof and it does last pretty well on my waterline, 4-5 hours before showing signs of fading and survives splashes of water easily. Even at the end of the day I can still see the traces of kohl on my waterline.It can be used both as liner and Kohl but I prefer to use it more as a kohl than liner.
The best part is the liner is manufactured by Schwan-Stabilo Cosmetics, Germany which is the same lab where some of the best makeup brands get their products made like Lakme, MAC and more. It is sharpenable pencil so there is slight wastage during sharpening but it has more quantity than twist up kajals, so in the end you will be having more product and also sharpenable packaging is good for hygienic reasons and will keep the tip germ free.
Recommendation: Plum Goodness NaturStudio All Day Wear Kohl Kajal has a soft creamy gel like texture which glides effortlessly on lids without any tugging or pulling. The formula is beautifully pigmented and set to a transfer-proof finish in few minutes but it will fade and flake if rubbed on eyes, so just don't touch your eyes and it will last whole day. It doubles up as liner and if you are looking for a long lasting kohl/liner for your super watery eyes, this is one of the best. I wish it would have come along with sharpener at this price because one has to shell out Rs 125 to buy the sharpener separately ( you can go for the combo offer on their website though). it is definitely one of the best affordable Kohl Kajal in Indian market. Recommended!
Have you tried Plum Goodness NaturStudio All Day Wear Kohl Kajal? Which is your favorite Kohl?
PS: Product sent by Brand for consideration