I Got You Covered: L'Oreal True Match Pressed Powder
Hello Dolls,
There is one thing in makeup that I always struggle with.. and that is powder compact. I know the market is flooded with Pressed Powders and compacts but almost 99% of them doesn't work for my dry skin and end up looking way too powdery or clings to dry patches. Today I have one from L'Oreal and lets see how it fares, L'Oreal True Match Pressed Powder.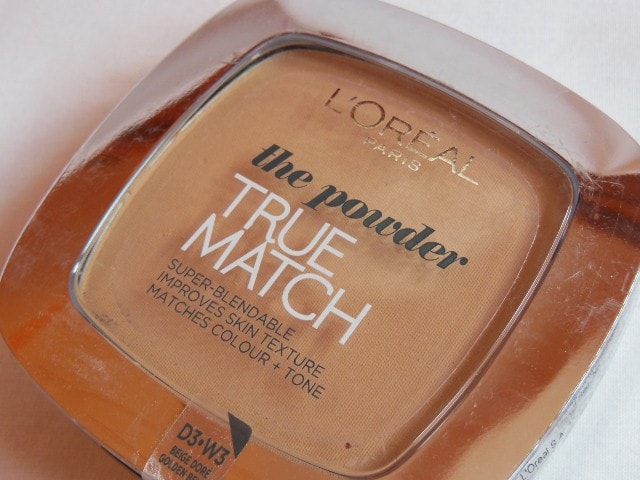 Product Claims:
A super-blendable powder to precisely match your skin tone, with soft smooth powder that's great to keep in your pouch for touch up.
'True match Press Powder is a fine, soft and lightweight powder that blends perfectly with your complexion for a flawless finish. Discover your true match from amongst 6 flawless shades.
True Match's Opti-Match technology contains ultra fine pigment match every skin tone and texture with extreme precision.
Super-blendable formula gives a freshness finish that does not cake or streak.
Best used after True Match Liquid Foundation or by itself.
Price: Rs.975 for 9gms
Shades Available:
W6  – Honey
W3 – Golden Beige
N4 – Beige
C3 – Cream Beige
C2 – Rose Vanilla
W7 – Caramel Beige
W5 – Golden Sand
Packaging: L'Oreal True Match Pressed Powder comes in a squarish silver packaing with a see through lid. There are 2 compartments in there where the top one carries the pressed powder and the 2nd one down under has a mirror and the sponge/puff. The quality of the puff is pretty good as it is soft nice and fluffy so I can actually see myself using it instead of a brush to apply powder on face.
My experience with L'Oreal True Match Pressed Powder:-
Shade: W3 is described as a golden beige shade which is a nice yellow toned shade. It is a tad bit lighter than my actual skin tone but it adjusts itself on me quite nicely giving a bright and even complexion. (NC 40), I feel N4 can also be a great pick for someone with similar complexion but slightly neutral understones.
Formula: L'Oreal True Match Pressed Powder has satin smooth formula and doesn't feel even a bit powdery. The texture is finely milled and it blends in effortlessly into skin. I have a dry skin and I absolutely love how it goes on my skin. This is the only powder that I can afford to apply on my face during winters without looking like someone who forgot to dust-off her baking face.
Coverage: The compact doesn't give much of coverage but a light veil of color which reduces the redness around nose and pimples. I tried but I didn't see much of a difference while layering it on my skin so the coverage is not buildable at all.
Longevity: In summers, it doesn't last for more than 3-4 hours on me especially on the T- Zone while in winters I can pretty much go without touch for 7-8 hours.
L'Oreal True Match Pressed Powder is pricier than the regular compact but it does have such a gorgeous texture and feel to it that is missing in budget compacts.
Also, I love that there are 7 shades to choose from which ranges from cool to warm and also covers olive skin tones with its darker shades, so everyone can find their closest match in this collection.
Recommendation: L'Oreal True Match Pressed Powder is silky, smooth powder which blends in beautifully into the skin and doesn't look powdery or chalky. The coverage is light but it does reduce redness, and evens out the skin tone giving me a brighter complexion. They have a wide shade range with cool and warm undertones to match majority of people. However, it is not a super long lasting compact and definitely needs a touch up in 3-4 hours on oily areas.

I don't feel it is perfect compact for dry skin and I still like the finish of INGLOT Pressed Powder more but when applied on a nicely moisturized skin it does a good job!
Rating:4/5
Have you tried L'Oreal True Match Pressed Powder? Which is your favorite Pressed Powder/Compact?