I Am The Best: New Maybelline The Colossal Kajal Super Black
Hello  Gorgeous,
Today, I will be sharing another new launch from Maybelline and its their new version of the Colossal Kajal, Maybelline The Colossal Kajal Super Black. I have been very much much loving Maybelline The Colossal 12 hr formula and their bright yellow packaging but this time they reversed the looks by packaging it in a black body with yellow details.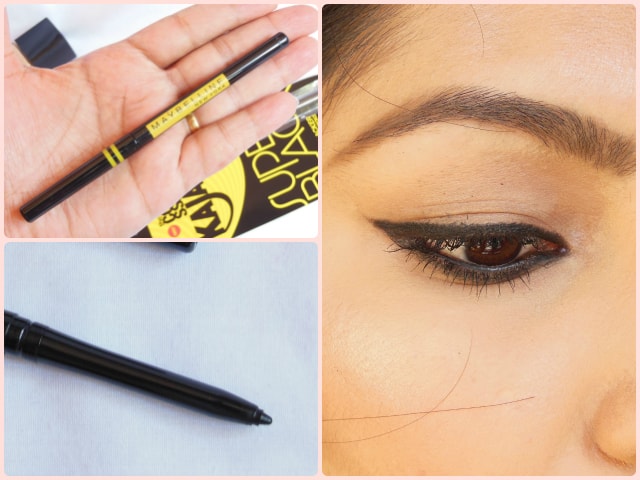 Product Claims: New Maybelline Colossal Kajal Super Black:
It gives you a 2X blacker look in one smooth stroke that stays intense for up to 16 hours!
With light absorbing pigments, the formula delivers 2 times more blackness* for double the intensity.
Enriched with oil for super smooth application, it glides on effortlessly, adding a rich, glossy sheen color that stays waterproof and smudgeproof for up to 16 hours.
Here's why you'll love it:
2X Blacker* and Bolder
16 Hour Intense.
Suitable for sensitive eyes and contact lens users.
Price: Rs.300 for 0.35g
My Experience with Maybelline The Colossal Super Black Kajal:
I have tried every Kajal from Maybelline The Colossal range including those Colored Kajal's out of which Maybelline The Colossal Turquoise is my Favorite. Maybelline make tall claims like 2Xblacker look in just 1 stroke, 16 hours staying and water proof formula.. which is everything we look for in a kajal but rarely we get such products in a budget :P. But, as it is coming from Maybelline you can be assured of the prices. Though, it is slightly expensive at Rs 300 but if it provides everything it claims.. I am happy!
Also, the Kajal/Kohl is manufactured in the Germany lab where high end brand products are made, including the Indian drugstore Faces Long Wear Eye Liners and Plum NaturStudio All Day Wear Kohl so quality is definitely one of the best..
Texture:
Maybelline The Colossal Super Black Kajal has definitely the creamiest and smoothest texture ever It literally glides on like butter on lids but its not crumbling soft which is awesome. It has a gel like texture which makes it suitable for using as eye liner as well.
Pigmentation:
The formula is packed with pigments and it gives an intense black color payoff on waterline in 2 swipes. I usually had issues with Maybelline The Colossal Kajal's about being not so intense on waterline but this one surpasses all. It is super dark and intense in a single swipe in swatches and on eyes when used as eye liner.
Finish:
It has a creamy matte finish which works perfectly for a kohl.
Longevity:
The Kajal sets to a smudge proof finish almost instantly and wont budge even if rubbed hards. The formula claims to be waterproof and it actually lasts quite long on my watery eyes when used as Kohl. It stays intense for 3-4 hours after which it fades slightly from the corners but I can see it on waterline quite dark even after 12 hours ( when every other kohl fades).. so it really lasts long on me. On upper lash line it stays intact whole day without any fading.
Recommendation: Maybelline The Colossal Super Black Kajal is the darkest black kohl/kajal I have ever used. It standout from the previous Maybelline The Colossal Kajal by a great distance. The formula is super creamy, pigmentation is intense which needs just one stroke to give that bold black look. It is much blacker, creamier, smoother and long lasting that its previous versions. It applies beautifully on the water line and stays strong for hours even on watery eyes. It also makes a great eye liner for upper lids with its creamy matte finish in case you don't want to risk it with gel Eye Liners. It's  smudge-proof, water-proof, long lasting formula at an affordable price tag of Rs 300 makes it the best Kajal available in India. Highly Recommended!
Rating: 5/5
Have you tried Maybelline The Colossal Super Black Kajal? Which is your favorite Kajal?
PS: Product sent by brand for Consideration.. Honest Opinion!