Hygiene on the Move with Everteen Natural Intimate Wipes
Hello Everyone,
Let's talk about something as personal as intimate hygiene. There are only a handful brands that offer intimate hygiene products and I feel we deserve more because Personal hygiene is of utmost importance to all of us. I have been regular with intimate washes but haven't tried intimate wipes before because seriously I didn't know they were available here. I love Everteen Intimate Wash and it is my go to these days but it can't be used on the go because it's a wash thingy. I am excited to share that the wait for intimate wipes is finally over as Everteen has came up with one that are all natural.. so Yaay!! These are also going to be good to Mother Nature as well while keeping you fresh and clean as they are 100% biodegradable. Let's read on about what else I liked about these Intimate Wipes, Everteen Natural Intimate Wipes.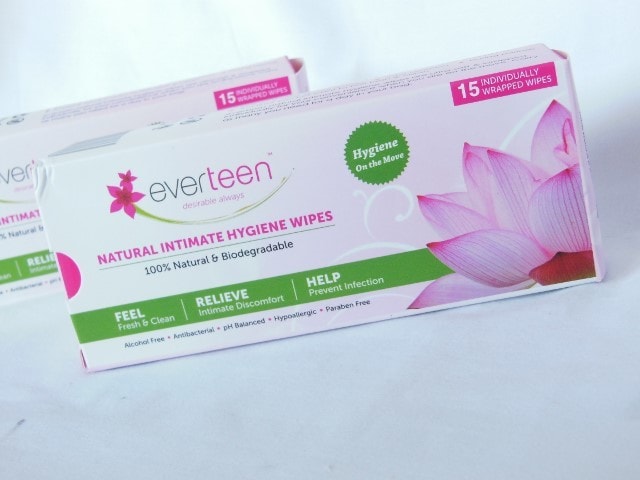 Product Claims: Everteen natural intimate hygiene wipes which are clinically & dermatologically tested. everteen natural intimate hygiene wipes provides you relief from intimate discomfort while helping you feel fresh & clean with its mild cleansing properties.
Every wipe is ultra-soft which is made of 100% natural & biodegradable cloth.
The key ingredients used in the liquid are derived from natural plant extracts.
Mild formula of everteen natural intimate hygiene wipes is entirely free from alcohol, SLS & parabens.
Ingredients: Listed in Pic below 🙂
Price: Rs.99 for 15 wipes
Shelf Life: 12 months from the Mfg date.
Packaging: Everteen Natural Intimate Wipes comes in a pack of 15 with all the wipes individually packed in slim sheets carrying all the details including usage printed on them. I loved the thoughtful packaging where each of the wipe is packed separately so one doesn't need to carry the whole wipes pack along and individual sheets are much more hygienic to use. The sheets are so slim that they can easily fit in your pants for the occasions when you are not planning to carry a bag with you. Also, I feel wipes tends to get dry soon in the big packaging's so individual ones will keep them as good as new for long :). Full marks on packaging!!
My experience with Everteen Natural Intimate Wipes:
Everteen Natural Intimate Wipes are made of softest wash cloth fabric which is dipped in an alcohol free, paraben and SLS free solution, hence extremely gentle on skin. It is also dermatologists tested so no need to panic about allergy or sensitivity in the delicate area with these wipes.
The sheets feel really soft on skin and have a light flowery fragrance which kinds of adds to the freshness. They are moist enough to gently cleanse the area without any tugging or scratching the skin. They also have antibacterial ingredients that reduce the chance of having any vaginal infections. I wish I had these during my pregnancy as they would have saved me from that uncomfortable feeling so much. They will be a go to during those days of the month when one can't wash the area throughout the day after having a shower in the morning. These intimate wipes will clean up the area very well giving just that same refreshing feeling as we get after the shower.
Everteen Natural Intimate Wipes are soft, gentle and 100% natural so they are ideal for everyday use. These are bio degradable so no need to worry about disposing them off.. Kudos!!
Why and When to use Intimate Wipes:
Everybody here knows the pain of using a public toilet, so keep these handy and once you are done give a final cleanse with these wipes and you are good to go!
Having a vaginal infection or are prone to infection carry these with you and stay germ free and fresh for long.. bye bye Infections .. 😀
Those days of the month when you start feeling discomfort and get smelly use these and you will be sorted for next few hours.
During pregnancy when there more than the usual discharge, these could save you from all the uneasiness.
If you are going on a trip which involves long hour travel, I will suggest carrying these in bags as they will be your perfect companion and make you feel better at any point of time.
I have listed just a few reasons here but these can be used anytime when you face any sort of discomfort and feel like having a clean and fresh skin.
They don't cost you a bomb and costs around Rs. 7 for a single piece which isn't bad as going by the qualit, all the packaging and good stuff it does it is great deal. When one can spend so much on clothes and makeup why to keep intimate hygiene on a backfoot!
Recommendation: Everteen Natural Intimate Wipes are made of softest washcloth kind of material dipped in a mild liquid which is natural and free from Alcohol, Parabens and SLS and other harmful chemicals. They are moist enough to wipe the place gently giving you a clean and fresh feeling at any point of the day that lasts for hours. They have a pleasant floral fragrance and the formula is infused with antibacterial properties which will keep infections at bay. The wipes are super convenient to carry along with individual wrapping so I don't need to carry the big bulky box when I need just one or two. The wipes are 100% natural and biodegradable so no harm to nature. The wipes can be used after pee, during periods, pregnancy and just anytime you are feeling uncomfortable and want that clean and fresh feeling again. Highly Recommended!
Rating: 5/5
Have you tried Everteen Natural Intimate Wipes? Would you like to give these a try?
PS: Product sent by brand for consideration