NYKAA So Matte Lipsticks Review
UPDATE: April 2018. I have started noticing that the lipsticks have started itching my lips and gives a burning sensation when worn for long. Also, the bullets have developed some bumps which I feel talks about the poor quality formula. So I would say be careful while buying these lipsticks. I am sorry if you bought some after reading this review and facing the same situation. 🙁
I am obsessed with lipsticks these days and I am sure you can make it from my regular lipstick reviews. I tried Sugar Smudge Me Not liquid Lipsticks few days back and then came the newbies from Maybelline , Maybelline Colorsensational Creamy Matte Lipsticks. Not to miss the stunning L'Oreal Gold collection Lipsticks from L'Oreal Paris Bold In Gold range and today I am going to talk about another affordable Matte lipsticks launch in India, NYKAA So Matte! Lipsticks.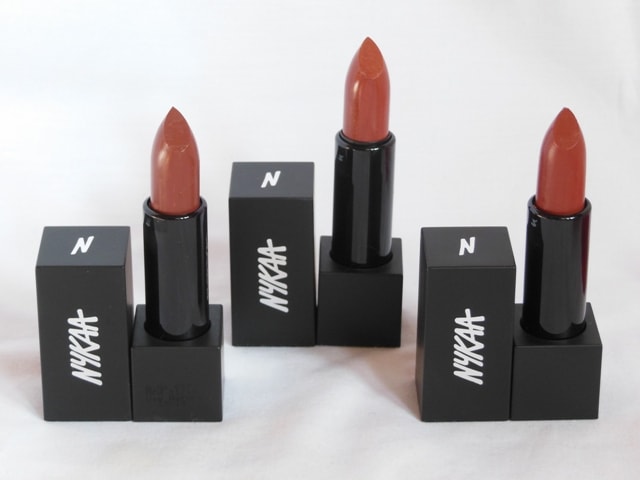 Review + Lip Swatch Video:
Price: Rs 399
Shades Available:
Caramel Mocha 21M
Royal Honey 22M
Hot Cocoa 23M
Praline Cookie 24M
Haute Fudge 25M
Bon Bon 26M
Coffee Mousse 27M 
Chocolate Truffle 28M
Shades Details:
Nykaa So Matte! Lipstick- Praline Cookie 24M : Nykaa So Matte Lipstick in Praline Cookie is the sugar rush to your sweet tooth! Go, ahead and give in to this beautiful brown toned shade. Let your lips look absolutely delish in this stunning hue. If this shade doesn't excite you, we don't know what will
Nykaa So Matte Lipstick- Haute Fudge 25M : Baby, you are the It girl with the Nykaa So Matte Lipstick in Haute Fudge. Rock it all night and all day with this brown hue. We promise, this shade is sure to put you in the middle of spotlight! Who's complaining about that, right?!
Nykaa So Matte Lipstick- Coffee Mousse 27M : Coffee plus dessert, who can say no to that! Nykaa So Matte Lipstick in Coffee Mousse is what dreams are made of! This light brown-toned hue is sure to fashionably kick-start your day! Go ahead, swipe this baby on, we know you can't resist it!
Packaging: Nykaa So Matte Lipsticks comes in a pretty pink cardboard box with all the details. The lipstick bullet is housed in a classy satin Matte black square case with magnetic closure which make it feels totally luxe. The packaging is on chubbier side but there is a shade indicator at the bottom which makes it easy to identify the shade. Least to say that I absolutely love the packaging!
My experience with Nykaa So Matte Lipsticks:
Neutral is the color of the season for me. I am obsessed light neutral lip colors this year and when I saw NYKAA coming up with this collection, it was hard to resist. So, I got hold on 3 shades from this lipsticks collection and this is the first time I was trying NYKAA Lipsticks so wasn't sure what to expect. But here is what I felt about these beauties.
Nykaa So Matte! Collection has eight utterly delicious shades that delight every neutral lip lover!
Shade: This Necessities collection is full of gorgeous neutrals and I had a hard time picking just a few because everything looks so pretty. But finally I managed to zero down to just 3 shades:
Praline Cookie 24M – A peachy golden shade with warm brown undertones. It contains fine gold shimmers which add a glistening shine to the lips without looking frosty. Love this shade.. never liked a lipcolor so much especially with shimmers.!
Haute Fudge 25M – A medium chocolaty brown shade in crème finish. I have never worn such shades but excited to try it!
Coffee Mousse 27M – It is a medium peachy brown with warm orange undertones. It looks like a darker version of Praline cookie minus shimmers. Another favorite from the collection. It will suit so many skintones. On lighter skin it might pull more like a ginger orange shade.. 🙂
Texture: Nykaa So Matte Lipsticks have a buttery creamy texture which glides on beautifully on lips giving a smooth and even application. They remind me of Maybelline Color Sensational Creamy Matte Lipsticks, may be a little more creamier than those.
Formula: These Nykaa Matte Lipsticks have a light weight creamy formula. They smooth out the lips and makes them look smoother and better. They feel moisturizing to the lips which makes them perfect for dry lips. It doesn't stick to dry patches or look flaky at all and give a very flattering finish to the lips.
Pigmentation: These Nykaa So Matte Lipsticks are intensely pigmented and gives a rich color in a single swipe. They provide complete coverage to the lips. The finish is however nowhere near matte. They give a beautiful satin creamy finish which feels comfortable on lips.
Longevity: These so called Matte lipsticks have quite a long lasting formula which totally surprised me.  The lipsticks last for 5-6 hours on me and after that it leaves a light stain on my lips. The lipstick never sets to a transfer-proof finish and will transfer to anything which gets close to lips. So, its best to pat them with translucent powder for a matte finish and longer wear. I love that they don't settle in fine lines and looks smooth even after hours of wear. Love their comfortable creamy formula.
Recommendation: Nykaa So Matte Lipsticks has totally bowled me over with their stunning shades and creamy texture. I wonder why they are marketed as Matte because they are pretty much creamy lipsticks only. But nevertheless, I am in love with their luxurious packaging and the soft crème finish. Never came across a full on neutral lips collection that works for Indian skin tones. And all of this at super affordable price tag. Definitely there is a neutral shade for everyone here. HighlyRecommended!
Rating: 4.5/5
Don't Miss to Checkout:
Have you tried Nykaa So Matte Lipsticks? Which is your favorite shade from this collection?
 PS: Products bought by me with my own money!