Honest Review: First Impression of PAC Cosmetics Makeup
Hello Gorgeous,
Today, I am going to share my first impression with PAC Cosmetics Makeup products. If you are a makeup addict and follow makeup bloggers than you would already know that PAC cosmetics is Professional Makeup Artists brand and have recently rose to fame after some bloggers shared how much they love its products.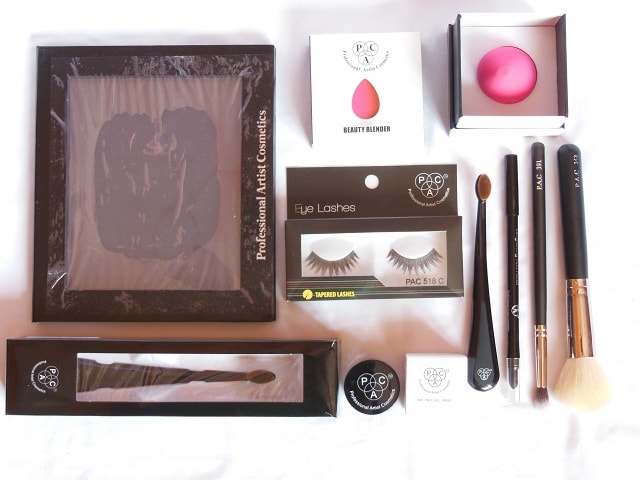 PAC stands for Professional Artists Cosmetics and is used by many celebrity makeup artists. The brands has a huge range of makeup brushes including the much famous Beauty Blender. Also, they have Liners, Kohl's, Lip Liners, Lipsticks, Eye Shadows, Empty Palettes, Eye Lashes and what not. Basically they have full collection of makeup products that you would expect from any Makeup Brand.
The PAC cosmetics Makeup products are available on Amazon but can also be bought from their store in Mumbai.
Products I ordered from Amazon:
PAC Brush FSml – Rs 650
PAC Brush 391 -Rs 585
PAC Brush 342 – Rs . 585
PAC Pro Gel Liner – Rs 550
PAC Eye Lashes PAC 518C – Rs 165
PAC Longlasting Kohl Pencil – Rs 350
PAC empty magnet Palette Small – Rs 850
PAC beauty blender sponge pink – Rs 485
Packaging: I must say that i was slightly disappointed with the packaging as there was absolutely no bubble wrap rather thermocol was used to secure the stuff. My products have arrived safe but what if there had been eye shadows in there.. I am sure they would have crushed. I never had issues with amazon orders but this one was not up to the mark.
My Experience with PAC Products:
PAC Brush FSml – Rs 650 : It is tooth brush kind of a brush and can used to do nose and cheek contouring. You can call them as a dupe of super expensive Artis Brushes. The bristles feel soft and brush is nicely built but the body is made of plastic which makes it little tricky to handle owing to its slim neck and needs to be handled with care.
PAC Brush 391 -Rs 585: It is a Duo fibre Eye Shadow blending brush. The brush looks good with bristles firmly packed and a sturdy handle. I haven't washed it yet but it looks good. No Issues.
PAC Brush 342 – Rs . 585 : It is a face brush which can be used for blush or powder. This is the most disappointing product of all. Even before putting it to use, the bristles are falling apart. I just brushed it over my hands and I could see insane amount of shedding. BIG NOoooo!! Though I am not sure if the bristles will hold up well post wash which is recommended by the manufacturer so you can go ahead and give it a try.
PAC ProGelLiner – Rs 550: It is a regular Gel Eye Liner which comes in a Pot type packaging. I am not sure what to say about the formula because I didn't use it at all and that's because when I opened the box the pot was all open and the cap was lying around. I don't know how it happened but Gel liners dry out soon if left open, so I returned it as is. Disappointed with careless handling and packaging.
PAC Eye Lashes PAC 518C – Rs 165: These are affordable eye lashes and are as good as any other Eye Lashes you get from US drugstore but as we don't have such options here, they make a good one.If you are looking some good eye lashes in India these can be a great pick.
PAC Longlasting Kohl Pencil – Rs 350: It is a Kohl that comes with a smudger tip, something similar to Lakme Absolute Kohl. It is creamy but not super intense. I let it settle for few seconds but it smudges easily. It is not a long lasting kohl ans is as good as any other Kohl which isn't smudge proof or waterproof.
PAC Empty magnet Palette Small – Rs 850: It is an empty eye shadow palette and I bought it to keep my Makeup Geek Eye Shadows. The palette looks some local cheap stuff as it feels filmsy and isn't sturdy at all. It is made of a thin cardboard and even the transparent sheet is just a thin plastic which might come off if handled roughly. I earlier had one from INGLOT which is slightly pricey but it is much sturdy and tough.
PAC beauty blender sponge pink – Rs 485: Last but not the Least, the Beauty blender from the brand. The blender is quite soft and does a good job at blending the foundation but it is slightly delicate and might tear off if handled carelessly. Though mine is doing good after a wash but if you aren't careful while using it, it will tear apart. The quality is good but wish it was more durable.
So, overall it hasn't been a good experience. The brushes could be a Hit or a Miss and you have to be careful in picking only the good one for you. Other than that, I feel the brand should handle the products more sensibly and pack them properly so that they doesn't get ruined because of poor packaging (e.g the gel liner). Though I might try some more makeup from the brand to give it another shot but in a while. Do let me know if you are looking for any specific product review.. I would love to do it for you!
Have you tried anything from PAC Cosmetics? How was your Experience?