Hit or Miss: Maybelline Baby Lips Candy Wow Lip balms
Hello Gorgeous,
Undoubtedly, Maybelline is my favorite drugstore brand because not only it is affordable but also comes up with amazing stuff every now and then. It hast been long that they launched their Velvet Matte Lipstick ( Though they aren't Matte) and they have Wowed us with Candiess.. !! I got so excited to these cuties here that I almost rushed to grab all of them at once but the sanity prevailed and I restricted myself to just one while 2nd one was sent to me by brand. If you aren't aware of these then here you go, Maybelline Baby Lips Candy Wow Lip balms.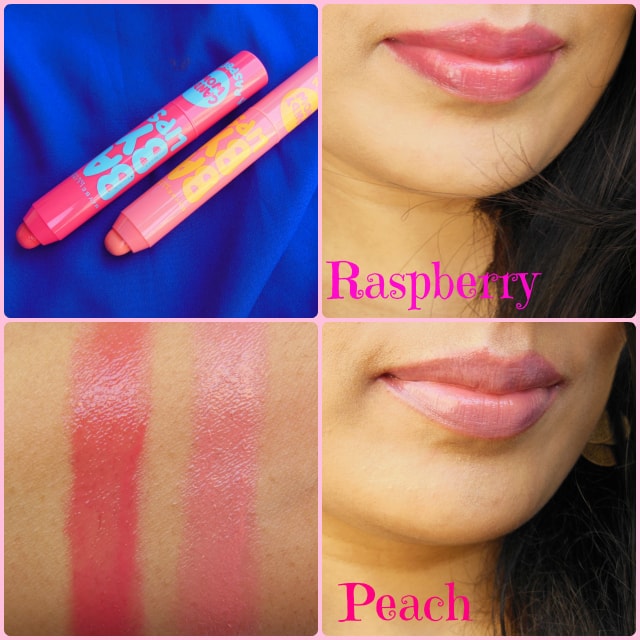 Product Claims: Give Your Lips A Candy Treat With Baby Lips Candy Wow.
Maybelline New York, the world's #1 make up brand and the brand behind everyone's favorite lip balm Baby Lips launches Baby Lips Candy WOW with candy-inspired colors that will give you soft, supple, yummy lips.
With every application, your lips are reborn and feel supple, plump, moisturized, giving you intense care with the fun and sweetness of a candy. Baby Lips Candy WOW comes in a new retractable crayon format with delicious flavors – Raspberry, Mixed Berry, Orange, Cherry and Peach.
The chubby stick is enriched with Vitamin E that helps keep your lips hydrated for long and keep them protected even in harsh winters.
The crayon format makes it easy to apply and glides on smoothly. Everyone will go WOW with this pop of colour, glossy shine, yummy candy flavor and the tinge of style.
Price: Rs.275 for 2 gms
Available in five variants:
Raspberry,
Mixed Berry,
Orange,
Cherry and
Peach
Packaging: Maybelline Baby Lips Candy Wow Lip balms comes in colored sticks with swivel packaging so no more fuss over sharpening. The packaging matches to the shade of the bullet and I can tell which one is which even from far away! I loved the packaging more so because these Candy Wows comes in yummy candy shades only.
My experience with Maybelline Baby Lips Candy Wow Lip balms:
Maybelline Baby Lips Candy Wow Lip balms are basically lip crayon but not the matte ones rather super-moisturizing and with tinted formula to leave you with nourished lips and a hint of color. The formula is infused with Vitamin E which will keep the lips soft and supple even in dry winters
I have 2 of the beautiful shades from the collection ( rest 3 are still calling me) namely Raspberry and Peach
Maybelline Baby Lips Candy Wow Lip Balm Raspberry is a light pinkish berry shade which goes quite sheer initially but deepens slightly over my pigmented lips in 2-3 minutes.
Maybelline Baby Lips Candy Wow Lip Balm Peach is actually a pale baby pink shade which looks like it will wash me out, in the tube but it turns out pretty good on lips. After 4-5 swipes I get a nudish pink color on lips which I soft but gorgeous.
Hits:
Formula is a Bomb, love the way it goes on my lips and instantly makes them feel soft and supple
They have a delectable sweet scent and they actually smell like Candies.. yumm!!
The color payoff amazed me.. it build up from sheer to medium and love the fact that even peach shows up so beautifully on my pigmented lips.
Love the balmy glossy finish it give to my lips.. Shine baby shine 😀
The colorful packaging is fun to flaunt
With such a buttery formula, I wasn't expecting it to last long but it does. It lasts for aroung 4-5 hours and even leave slightest tint behind so lips never feel nude. If you have your meals carefully and not using too much of lips, it will survive that too.
Misses:
It melts and crumbles in the packaging because of its soft buttery formula.. a mess in short
It detaches from base super quick and I can just imagine the havoc it will create in summers.
The quantity is just 2 gms for the price which is higher than the original ones ( though I don't mind that)
Recommendation: Maybelline Baby Lips Candy Wow Lip balms in Raspberry and Peach are beautifully moisturizing Tinted lip balms with buttery smooth texture. They give a super glossy shine to the lips and with more swipes builds up in color to give good coverage even on pigmented lips. Even with all awesomeness they do I have mixed feeling about these. I like that fact that they are cute, have super chic packaging, comes in delicious shade and have yummy fragrance but I don't like how they melt in the stick in just first application and creates a mess there. Also, they get detached from the base even if you apply them with ultra precision. So, if you are all about cute packaging go ahead and grab these but you are more of a practical peep, the original Maybelline Baby lips that comes in colored coded tube packaging's is a better option. So, its nearly a hit but.. 😛
Rating: 4/5
Have you tried Maybelline Baby Lips Candy Wow Lip balms? Which is your favorite Baby Lips Version?
PS: One of the Product here is sent by brand for Consideration.