HipHop Skin Care Strawberry Scrub Review
I bought this scrub to serve the purpose of a body scrub for me. I don't mind spending a fortune for facial scrubs and bit apprehensive about using such low-priced products which mentions only key ingredients on face (It's a matter of personal choice). But I really don't like spending a much on body scrubs and even if I get any expensive body scrub, I will use it meagerly, just to make sure that I shall not run out of it soon.
The HipHop scrub comes at such a cute price that I don't mind using a generous amount of it.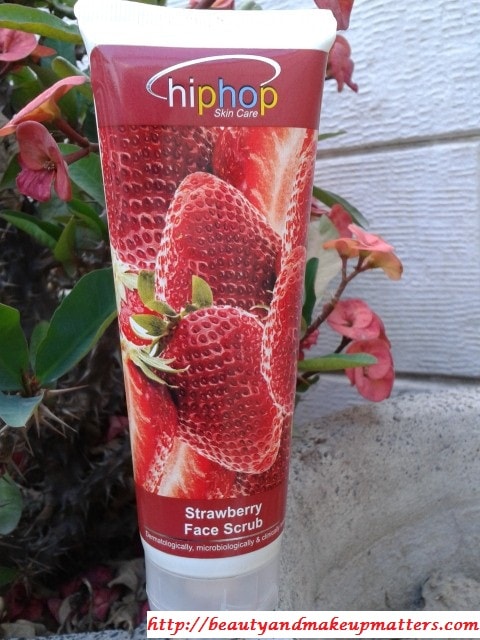 Product Claims: Strawberry exfoliating scrub contains extracts of real strawberry and vitamin C. A unique and advanced scrub specially formulated with microgranules to gently dead skin cells, dirt oil and impurities from deep within the skin, refining scrub to new clarity , safely and gently, good for all skin types.
Directions for Use:Moisten face and neck. Gently massage for a minute in circular motion with fingertips avoiding eye area. Rinse well with water and pat dry.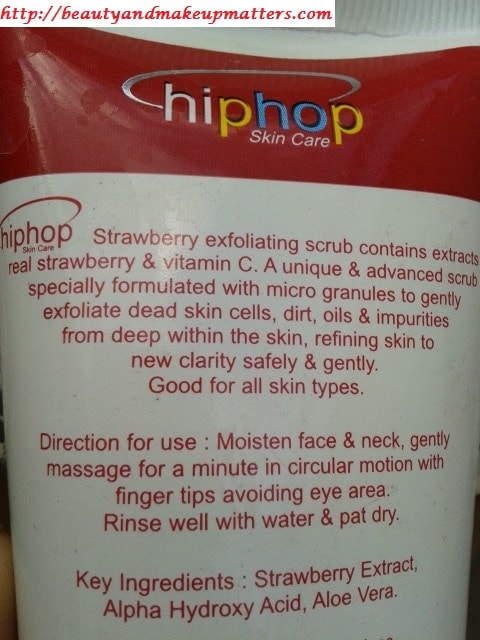 Key Ingredients:Strawberry extract , alpha hydroxy acid , and aloe vera.
Price:- Rs. 80 for 120 g. ( Also available in 60gm and 250 gm packaging's)
Shelf Life:-  3 years from the Mfg date.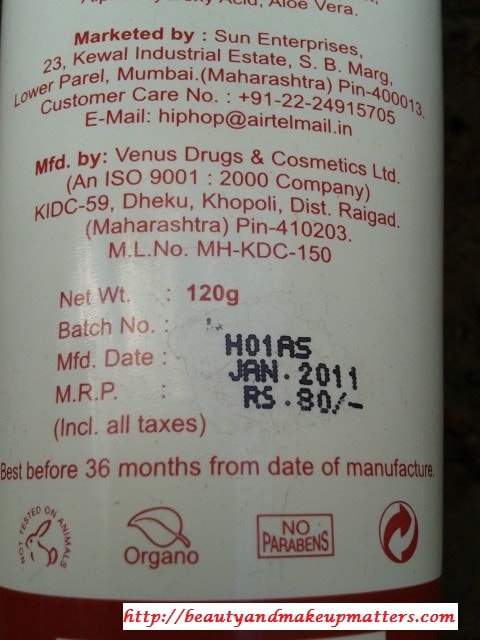 Other Variants Available:-
HipHop skin care Coffee Scrub
HipHop skin care Kiwi Scrub
HipHop skin care Apricot Scrub
Packaging: The scrub comes in an opaque plastic tube type packaging with a flip-cap. The tube carries mouth watering pic of strawberries. The cap shuts tightly with a click sound and can be easily carried in handbag. The scrubs are also available in smaller tubes (60gm) so no need to carry any bulky or messy packaged scrub.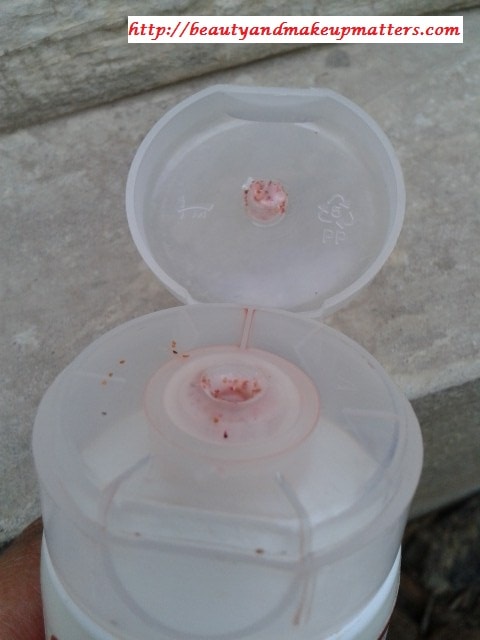 My experience with HipHop Skin Care Strawberry Scrub:-
HipHop Strawberry Scrub has a rich creamy texture. The scrub appears to be reddish-pink in color with pink, brown and black colored exfoliating granules. The scrub does smells of strawberries but nothing natural about the scent. It smells like 1 strawberry is dipped in bowl full of sugar which is overtly sweet almost candy like.
The scrub granules are not gritty or harsh on skin but mild and coarse enough to do their work effectively and remove all the impurities from the skin. 3-4 (coin sized) squeezes of this scrub are enough for one time use when used as a body scrub. I believe only a coin –sized amount will be enough when used as a facial scrub. The scrub gets washed off easily and doesn't leave any greasy film on the skin.
It effectively removes dead skin cells and gives a clean and fresh feeling to the skin. It makes my dry skin soft and smooth and didn't give any dry or stretchy feel to it even after patting it dry. I am extremely satisfied with the results. It is one of the non-expensive items that do what it claims.
 Swatches:-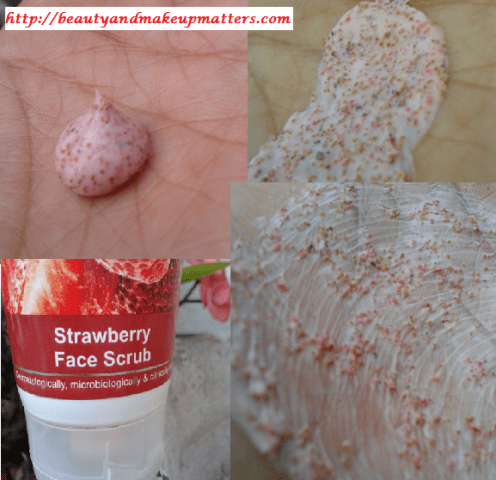 Pros of HipHop Skin Care Strawberry Scrub:-
The scrub granules are aptly sized to be used as a facial scrub. The granules are not harsh on skin but coarse enough to remove dead skin cells from the skin.
It has a nice creamy texture which is neither thick nor runny and spreads easily.
It doesn't make my skin oily or dry but leaves it clean and smooth.
Extremely low priced.
At such a dirt cheap price, it makes a suitable body scrub. Use it lavishly and don't worry about finishing it up soon.
Hygienic and travel friendly packaging.
It is dermatologically, microbiologically and clinically tested.
Parabens Free and Cruelty Free
Available in 3 other variants kiwi, coffee and apricot.
Cons of HipHop Skin Care Strawberry Scrub:-
It has an artificial strawberry smell which is overtly sweet. The fragrance may not be liked by everyone.
The scrub is not much effective on elbows and knees but this is a facial scrub and you need something harsh for these areas.
It mentions only key ingredients. It claims to be Paraben free and doesn't mention complete ingredients used in this product.
The scrub is not available in stores at least I haven't seen it in any. However, it is available on most of the online shopping websites
Recommendation :- HipHop Skin Care Strawberry Scrub is one of the cheapest yet effective scrub. I don't mind experimenting with such Pocket friendly scrubs and if you are looking a decent Body Scrub at a steal away prices than this is the one. I have been using it 2-3 times a week since last month and still left with half of the tube. I am currently loving my Lotus WhiteGlow Scrub for face. May be I can try it on face when I am finished with the Lotus one but I think it will take me some more time and convincing to use this as a facial scrub.  🙂

Overall, I love using it as a Body Scrub and have already ordered its other two variants kiwi and Coffee.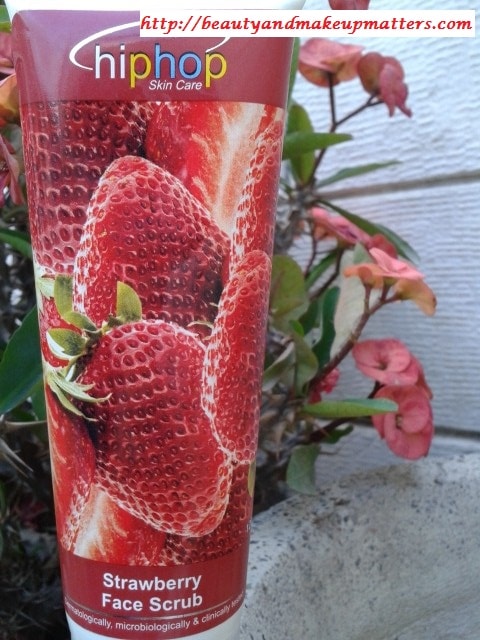 Rating:- 3.5/5
Have you tried HipHop scrubs? Do you prefer to use these as facial scrubs or body scrubs?