HipHop Hair Removing Strips – Green Tea Review
Today I am going to review a very useful product and yet inexpensive product the HipHop Hair Removing Strips in Green Tea.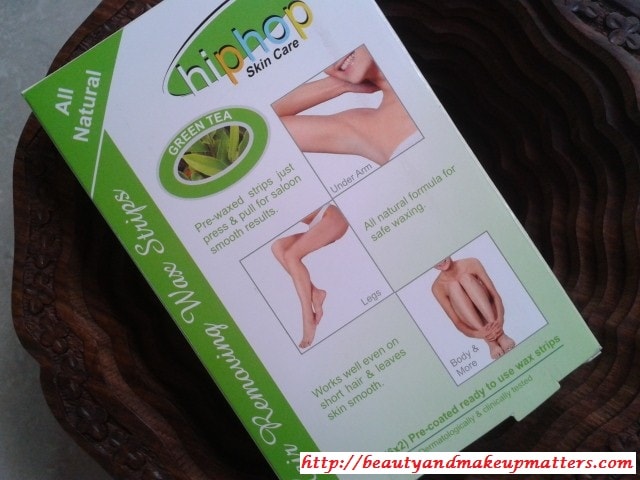 Product Claims:- Hip Hop skin care wax applied double strips remove unwanted hair from roots and leave your skin smooth & silky for several weeks. Please refer to the enclosed instruction leaflet before use.
Resuable:- Hip hop wax strip is all Natural with no side effects, no skin
Direction for Use:-
Warm double sided strip between palms.
Slowly peel apart, use one strip at a time.
Place on the area to be waxed, press it over & zip back against the direction of hair growth.
Do Not pull the strip in an upward motion (towards hair growth)
Wipe off with after depil Towelette to remove traces of wax.
Key Ingredients:- Gum, Wax, Oil
Contents:- 6×2 Wax applied double sided strips(12), 1 after depil Towelette.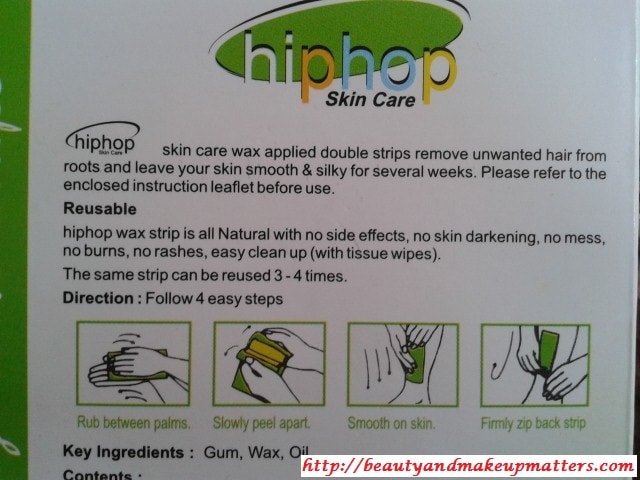 Price:- Rs.60 for 6*2(12) stripes
Shelf Life:- 2 years from the Mfg date.
My experience with HipHop Skin Care Hair Removing Strips – Green Tea:-
The pack contains 6 strips pairs with a post wax towellette. It also contains an instruction card to follow the steps before using the strips.
The strips must be rubbed properly so that the wax coated on them gets heated enough so that the strips separates easily, if you skip this stripe or do it half-heartedly then the wax will either stick to either of the strips leaving the other trip with a bare area and hence wastage. Instead of rubbing it between palms which is slightly cumbersome I follow an easy way just put the stripe on a table and then rub it's both sides one by one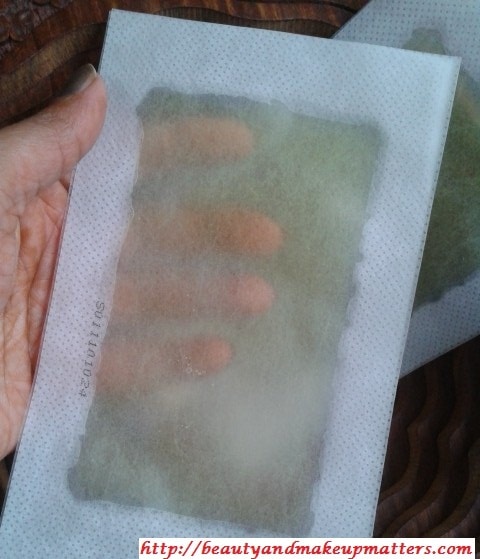 Place the wax-coated single stripe on clean and dry skin and press it against your skin in the direction of hair just like normal wax strips and them pull it against the hair growth direction. The stripes works best on small areas like chin.
I would suggest exfoliating the skin before using these strips as it yield better results on exfoliated skin. The stripes do pretty good job at removing medium length hair but tend to break the larger ones. The applied area needs to be cleansed properly, preferably with soap so that the wax gets removed completely from the skin.
A single wax-coated strip can be used 2-3 times. Though it isn't 100 % successful and gives a super smooth felling like normal waxing on arms and legs but it definitely rescues me in emergencies when I don't have time to go for proper waxing session or pay a visit to parlor.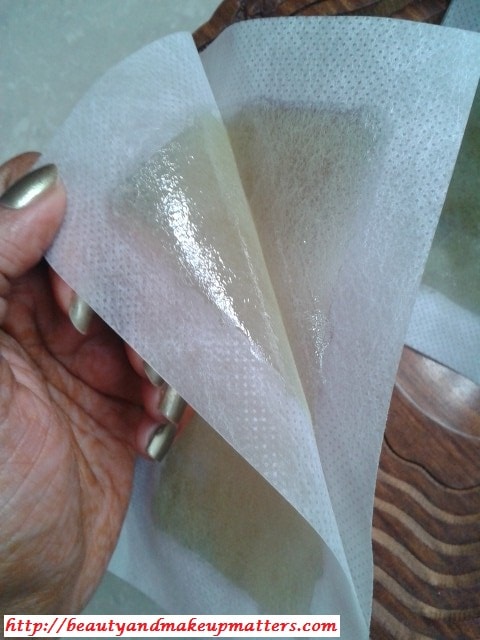 One disadvantage that I feel is that you have to use 2 strips at one go and if you need to use it for a small area like Chin then the rest of it gets wasted.
Caution :- Make sure not to drop these strips on floors as the wax sticks badly to the flooring which can be a pain to remove.
Don't Miss to Checkout:
Pros of HipHop Skin Care Hair Removing Strips – Green Tea:-
Great for emergency use
Effectively removes hair from small areas like chin
Single strip can be used 3-4 times till it stops sticking to the skin.
After wax wipes are also provided with the pack
Very reasonably priced.
Dermatologically tested
Doesn't contains parabens
Cons HipHop Skin Care Hair Removing Strips – Green Tea:-
Needs to be patient while rubbing the strips
Not good enough for regular use
Breaks longer hair and doesn't remove small ones easily.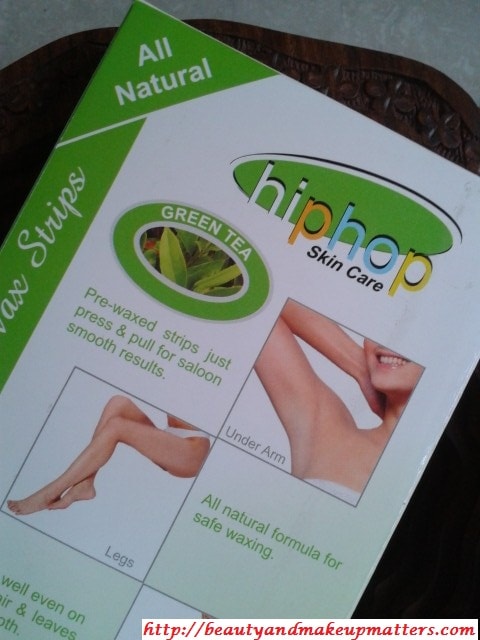 Recommendation:- HipHop Hair Removing Strips – Green Tea are ready to use wax strips. Rub them with your hands to warm up the wax, separate, apply, press, pull, wash and you are done. No chip –chip no jhik- jhik like normal wax removal. Though you get that super smooth and clean skin but still manage with getting rid of unwanted hair. Not good for regular use but great for emergency purpose and save you from an embarrassing situation. These are a must-have in every women's bag.  Recommended!

I am hooked to these and already bought another one as back up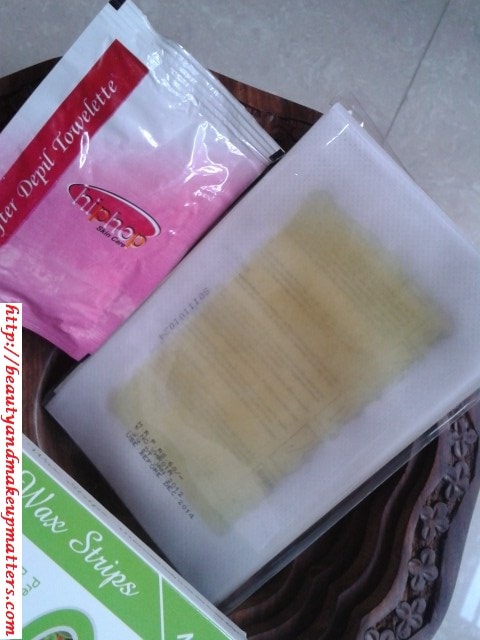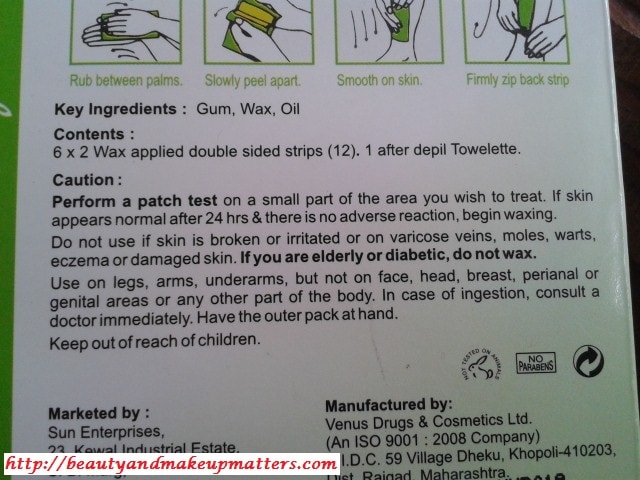 Rating:- 3.8/5
Have you tried HipHop Hair Removing Strips – GreenTea? Which hair removal process you prefer on a regular basis?