Himalaya Rich Cocoa Butter Body Cream
The best thing about winters for me is that I can indulge in rich moisturizers and body lotions. I have a super dry skin so I love to drench in the heaviest of the moisturizers to keep it soft and smooth. I am sure you also look for nourishing creams that moisturizes skin without feeling greasy or heavy. I started Body Lotions, then Body butters and now I have shifted to Body Oils. But I missed on trying the Body Creams. So, today I will be talking about this newest launch from the Himalaya Herbals skincare brand, Himalaya Rich Cocoa Butter Body Cream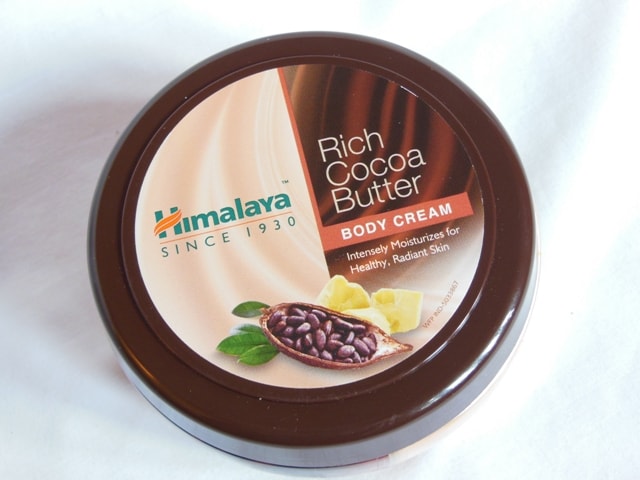 Product Claims: Indulge in this exotically rich body cream enriched with the goodness of Natural Cocoa Butter that absorbs easily, and eliminates dryness and dullness, leaving your skin intensely moisturized, healthy and radiant.
Himalaya Rich Cocoa Butter Body Cream improves the moisture content of skin by helping retain moisture between skin layers and preventing moisture loss. The Vitamin E in Cocoa Butter protects skin from damage due to the harmful effects of the sun and pollution.
Rich Cocoa Butter Body Cream is non-greasy and contains 100% herbal actives.
Dermatologically tested and hypoallergenic.
Key ingredients: Cocoa butter retains moisture, nourishes and protects skin with long lasting hydration, leaving skin soft and smooth due to its intense emollient property. The Vitamin E in Cocoa Butter protects skin from damage.
Directions for use: Apply Himalaya Rich Cocoa Butter Body Cream generously and evenly using a circular motion. Pay special attention to severely dry areas, gently massaging the body cream in.
Best used after bathing when your skin is most receptive to hydration.
Price: Rs 270 for 200ml.
Packaging: Himalaya Rich Cocoa Butter Body Cream comes in a dark brown colored plastic tub with a screw cap. There is an extra lid to keep the cream in the tub and avoid the messy cap situation. The tub has a slightly oval shape which makes it easy to hold and use. I really like the dark chocolatey brown look of this Himalaya body cream. I almost took it to be a body butter only!
My Experience with Himalaya Rich Cocoa Butter Body Cream:
Himalaya Rich Cocoa Butter Body Cream is a milky white colored cream with a medium thick texture. The body  cream feelsbuttery smooth and gives an easy application. The cream gets quickly into the skin without feeling heavy or leaving any oily residue.
I really love that this intensely moisturizing cream has such a light weight texture. The formula is infused with rich cocoa seed butter and Glycerin which are natural moisturizers and give instant nourishment to the skin. It address the dry skin concerns and make skin silky smooth to touch.
Also I couldn't spot any Parabens or Silicones in the formula which makes it even better than any other drugstore moisturizer.
Himalaya Rich Cocoa Butter Body Cream is infused with a rich warm cocoa butter scent. The fragrance is a little overwhelming but I love such warm cozy scents in winters. There is an explosion of its fragrance when I opened the tub. And now I love to do it every now and then 😉
And the best part about this body cream is that it is easy on pocket and anyone can afford it.  Also, Himalaya products are easily available in local stores and chemist shops.
I am really impressed with the performance and formula of this new Himalaya Body Cream cum body butter. I totally love to indulge in its warm cocoa scent in winters and enjoy silky smooth skin!
Rating: 4.5/5
Don't Miss to Checkout:
Have you tried Himalaya Rich Cocoa Butter Body Cream? Which is your favorite Winter moisturizer?
PS: Product sent by brand for consideration but honest and unbiased opinion!