Himalaya Herbals Gentle Refreshing Toner Review
I have a dry skin and Alcohol based toner have a drying effect on my skin so I prefer Alcohol-free toners. I was satisfied with results of my Aroma Magic Aromatic toner but after finishing that up I wanted to try something else just to choose the best for my skin.
My previous experience with Himalaya products particularly its Neem face wash has not been very good but to give Himalaya another chance I thought of giving its "Gentle Refreshing Toner" a try.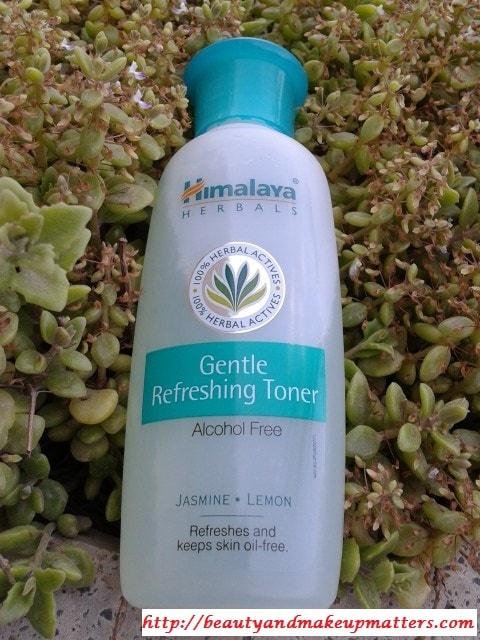 Product Claims: A special blend of herbs that controls excess oil secretion and makes your skin oil-free, It is enriched with Lemon and Jasmine which refresh and cool your skin, Sensitive Plant extracts that controls excess oil secretion, and Sweet Marjoram that nourishes the skin, to keep it healthy and radiant.
HypoAllergic
No Harmful Chemicals
Suitable for all skin types
Direction for Use:- After using Himalaya Herbals Deep Cleansing milk, pour a few drops of Gentle Refreshing Toner on a cotton pad and wipe thoroughly over your face and neck.
Ingredients:-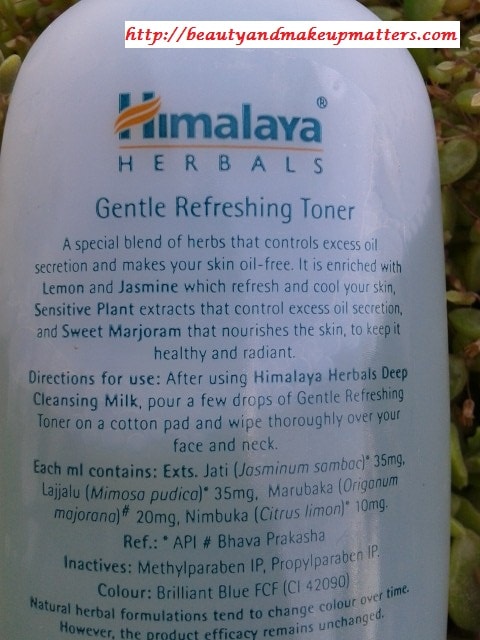 Price:- Rs.70 for 100ml
Shelf Life:- 3 years from the Mfg date.
Packaging:- The toner comes in semi-transparent plastic bottle with green colored screw cap. The bottle has another plastic lid at the opening with a nozzle to control the amount of the toner to be used. The bottle is compact and not bulky which can be easily carried in bag but I still prefer spray bottles for a toner which are more convenient to use.
My experience with Himalaya Herbals Gentle Refreshing Toner:-
Two things that made me buy this Himalaya Herbals Gentle Refreshing Toner, is its "Alcohol Free" tag and its Ingredients List. It was good to see all the Herbal ingredients list which I prefer anytime over the Toner loaded with chemicals because they give good results on the skin with regular use. It has Lemon and Jasmine as active ingredients. Lemon is known for its lightening and brightening effect and Jasmine helps in lightening scars. It really took me high on my expectation from this toner.
The toner looks like a transparent liquid with slightly green tint to it. It has a water like consistency and has a strong herbal smell (has a very light smell). I found the smell really pleasing which give a refreshing feel to my senses.
All good things about this toner have been said and now, coming to its performance on my skin. The toner appeared similar to my AromaMagic Aromatic Toner same consistency and the colorless liquid but the moment I dabbed this toner on my face I can feel the greasy, heavy thing on my skin. It makes my skin look dark and dull. It makes false claims of controlling excess oil secretion and making skin oil free. If that hasn't been enough I could see 2-3 unwanted eruption on my face as the day proceeds. If its not able to control oil its bearable but breakouts.. Noo Never.
Don't Miss to Checkout:
Swatches:-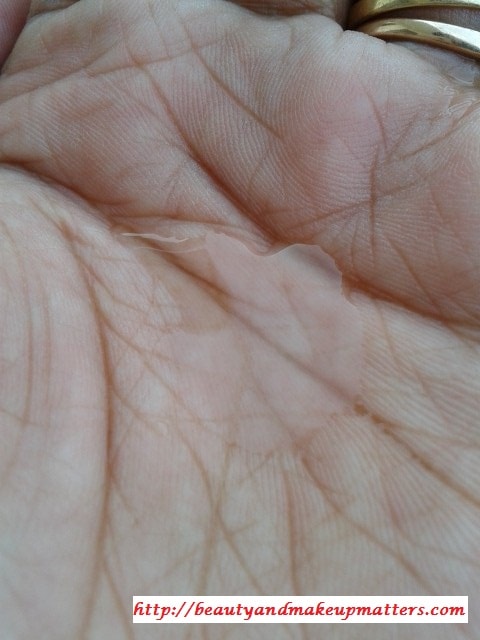 Pros of Himalaya Herbals Gentle Refreshing Toner:-
Alcohol Free toner which doesn't dry out the skin
The bottle is handy and travel friendly with a screw cap which protects the toner from spilling
Hygienic packaging with a nozzle at the opening to dispense the product
Has a lovely mild herbal fragrance
Contains herbal ingredients like Lemon and Jasmine extracts which refresh our skin./keep the skin healthy
Cons of Himalaya Herbals Gentle Refreshing Toner:-
Contains Parabens as an inactive ingredient.
Doesn't give a matte finish to my skin and feels sticky. I really hate that sticky/greasy feel on my face
Makes my skin Oily and blocked the pores
Broke me out
Recommendation:- Himalaya Herbals Gentle Refreshing Toner didn't gave a matte finish or a toned look to my skin but made it oily and sticky. I have a dry skin and this toner has failed on me and broke me out which was least expected from this herbal toner. I will not recommend this toner to anyone.

**Some of Oily skin/Combination skin girls swear by it but this one doesn't work on my dry skin. Cant say if it works better on Oily/combi skin.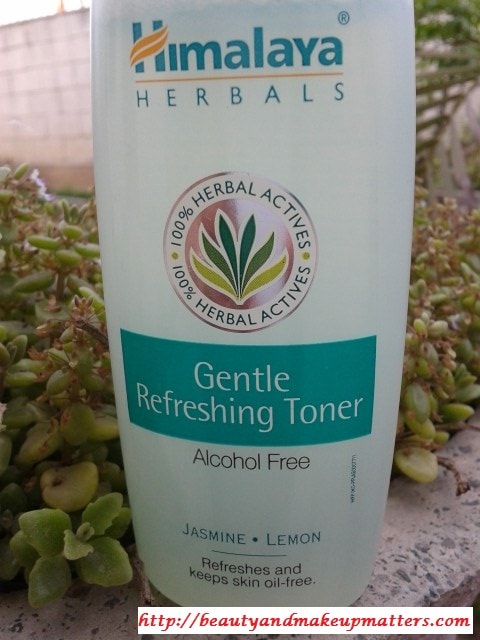 Rating:- 2/5
Have you tried Himalaya Refreshing Toner? Which Himalaya product do you like the most?