Health Supplement: Vista Nutrition Stress Ease Capsules
Hey,
Are you stressed??..
we have such a lifestyle nowadays that I feel everything brings stress.. We get stressed if we gain weight, if we get late to work, not able to keep promises, phone not working, not going out on a trip.. I mean just name it and it will cause Stress. It is advised to do some meditation to calm your senses but if that's not possible take these health supplement capsules, Vista Nutrition Stress Ease Capsules.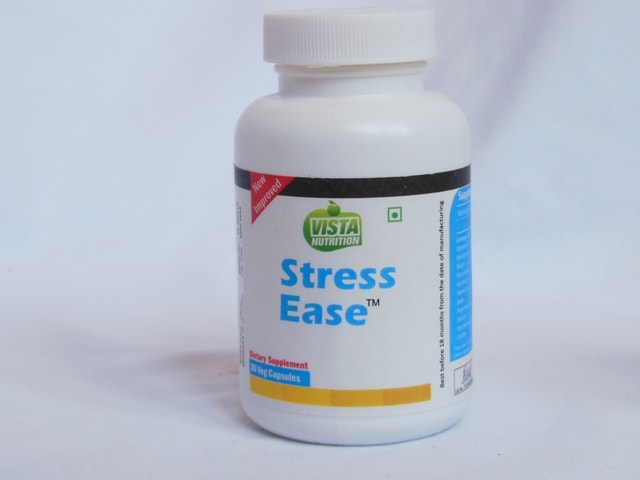 Product Description: Ashwagandha Extract helps promote healthy mood, increased energy levels and strong immune function. It contains potent antioxidants that work to neutralize the effects of free radicals in the body. Ashwagandha root extract is used to promote a sense of calm, relaxation and positive mood. It may also help boost the immune system, increase energy levels.
The B-Complex of vitamins is a group of twelve substances which work closely together. Eight are essential vitamins (must be obtained through the diet) and include Thiamine (B1), Riboflavin (B2), Niacin (B3), Pantothenic Acid (B5), Pyroxidine (B6), Biotin (B7), Folic Acid (B9), and Cobalamin (B12). There is some debate over whether or not Biotin is actually a vitamin. The non-essential elements can be made by the body and include Inositol, PABA, Choline, and Lipoic Acid. Vitabase B-Complex includes all the components except Lipoic Acid.
Individually the elements have their own unique contribution to health. For example, niacin can contribute to lower cholesterol levels, while B6 has a calming effect on the nervous system. The brain relies on thiamine's role of converting glucose to energy to function properly and pantothenic acid is necessary for proper growth and development. Many other potential benefits are associated with the B-complex.
Directions: As a dietary supplement, take 1 capsule daily or as directed by a physician.
Price: Rs 546 for 30 capsules (Buy Here)
Packaging: Vista Nutrition Stress Ease Capsules comes in a white colored plastic bottle carrying all the details. It has screw lid and are sealed with a silver foil.
My Experience with Vista Nutrition Stress Ease Capsules:
Vista Nutrition Stress Ease Capsules are dark brownish yellow colored capsules and are infused with Ashwgandha and Vitamin B-complex.
Ashwgandha Health Benefits:
Ashwagandha also known as Indian Ginseng, has a wide range of health benefits. It has ability to fight against cancer and diabetes, as well as reduce inflammation.
Ashwagandha contains chemicals that help calm the brain and hence reduce stress.
It also helps in arthritis, asthma, hypertension, stress, and rheumatism health conditions.
Also it boosts supply of antioxidants and regulates the immune system.
Vitamin B Complex also has a range of health benefits that helps maintain good health. I have shared details about Vitamin B Health Benefits earlier.
These Vista Nutrition Stress Ease Capsules acts as health Supplement which will help you achieve good Vitamin B levels and maintain mental health. Vista Nutrition makes one of the best nutrition supplements and I like these capsules are Vegetarian and have No Sugar, No Lactose, No Flavour, No Salt, No Gluten, No Color, No Fish and no other preservatives so they are safe for someone who is prone to allergies as well.
Disclaimer: These products are not intented to diagnose, treat, cure  or prevent any disease. Always consult with your professional healthcare provider before changing any medication. Pregnant or lactating women shouldn't take it
Have you tried Vista Nutrition Stress Ease Capsules? Do you take any supplements?
PS: Product sent by brand for consideration but Honest review as always!