Have It All: MadameMadeline.com False Eye Lashes
Hey Gorgeous,
Let's talk about something that I don't usually use.."False Eye Lashes". Who can say no to big fluttery lashes but as I am not blessed with one the only way to make them look bigger and better is using Fake Lashes.
We don't have much option here in India for False Eye Lashes so I was on the lookout to find where I can buy some good one and that's when I stumbled upon Madame Madeline and was just blown away by their collection.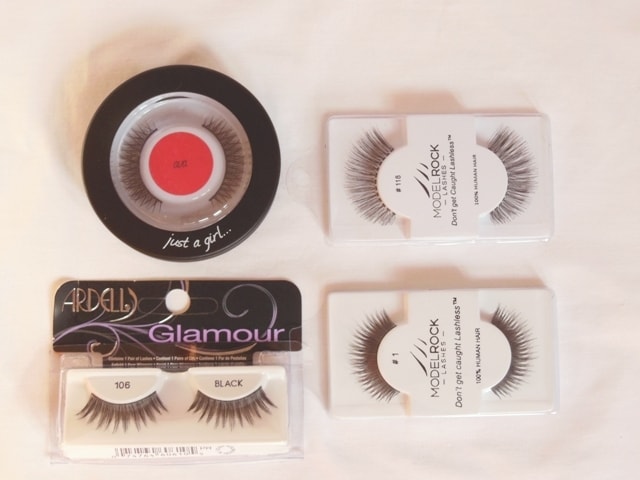 About the Brand: MadameMadeline.com is an online shopping portal exclusively for false eye lashes where you can find each and every brand known for false lashes. The collection is insane and I got to know about so many amazing brands from there. The best thing about MadameMadeline is they stock lashes from every price range so you can find the cheap and luxury lashes at the same place.
My experience with Madame Madeline False Eye Lashes:
I have been wanting to be regular with False Eye Lashes since long but it's such a tedious task to put them on precisely that I always choose to be on the safer side and not use them at all.. not anymore though. I have decided to practice more and more with false eye lashes until I master the application. 😀
I got 4 eye lash styles from 3 different brands – Ardell, BullsEye and Modelrock. Here are all the lashes that I got.
Bullseye Compact – Ava
MODELROCK Lashes Kit Ready #1
MODELROCK Lashes Kit Ready #118
Ardell Lashes #106
Today, I am going to show you the 2 different styles from Modelrock False Eye Lash collection:
MODELROCK Lashes Kit Ready #118 : These aren't thick and just have a single swoosh of hair. These have almost clear band and have knots of hair all over the band. They get really long towards the end so give that stunning dramatic length to my eyes.  These are super light and feel weightless on eyes, so light that I actually forget that I have my lashes on.
MODELROCK Lashes Kit Ready #1: These are again not fluttery and just have a single strand of hair but these look more natural and blended on eyes because the hair are distributed all over the band and not tied in knots like #118. They have a black band as opposed to clear and of #118. They also get longer towards the end but not too long.
The lash band of both the lashes is really thin and blends well with the eyelashes, almost undetectable. They are made of natural hair and quality is good, and if removed and kept carefully, can be reused many times.
Tip: Don't use Mascara on False lashes as it will help in increasing the life eye lashes.
Recommendation: MadameMadeline.com is one of the best online shopping portal for fake eye lashes. Their humongous collection has definitely bowled me over. They have categorized lashes by brands and by style so its to find whatever style you are looking for. I have recently walked into false eye lashes world and am going crazy to try different types of lashes and find what style or type works for me the best. I have tried just a few eye lash styles from them but there are so many in my wish list and I love that they ship internationally so now you can have your false eye lashes stocked up with Madame Madeline. You can save 11% of your ENTIRE order using Coupon Code – "MUA11"
Rating: 5/5
Have you tried Madame Madeline False Eye Lashes? Do you use False Eye Lashes?
PS Product sent by brand for consideration