Hashmi Kajal in Tube Review, Swatches, EOTD
This is one kajal that takes me back to the ages where women used to fill their eyes with Surma. I still remember seeing that small metal pot with beautiful carvings with my grand-mom that was filled with powder and had a sleek applicator which was called Surma. I saw this tube with my cousin and she was raving so much about her Hashmi Kajal and I was totally surprised when I asked her about its price.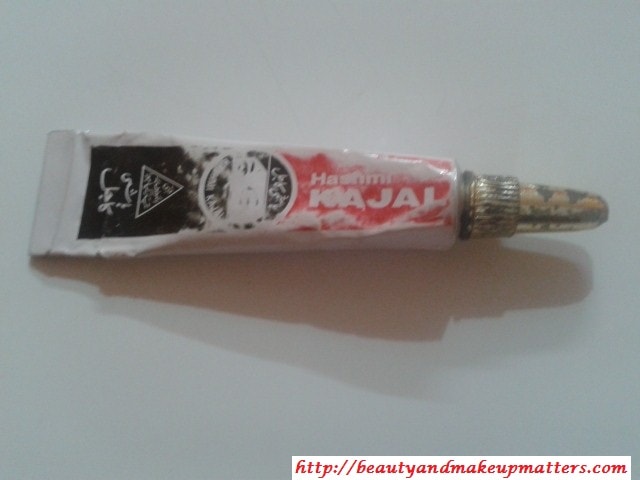 The one thing that stole my heart away was it's application which is very similar to the way we apply Surma. Eariler, I became a little apprehensive about buying this Kajal as I never heard of this brand "Hashmi" and Kajal before but she was going Ga-ga over this Kajal and convinced me to buy one on my next visit to the store.
Product Claims: An oriental herbal preparation incorporating the finest materials and medicinal herbs, presented in the form of black paste in tubes, a creamy formula which applies easily and smoothly. With this you have a long wearing color without any fading and flakes. Easily applied via high definition applicator to attain a precision point across your eyelids. It better shapes and defines your eyelids. It harmoniously blends to supple your eyelids a vivid, tender and sheer look. The applicator glides on smoothly without any flakes and dripping.
How to Apply:- Clean the probe with the help of clean dry cloth. Dip it into the bottle and twist. Take out the probe, tap it gently to remove any excess material. Apply the probe into the eye. Repeat the same process for the other eye.
Ingredients:- Zinc Oxide, Herbs, Waxes, Amorphous Black, Butter oil, Cinamomum, & Camphora
Price:- Rs.35 or Rs. 40 (don't remember exactly)
Packaging:- The kajal comes in a small white colored metal tube with a golden screw cap. The cap has the applicator stick attached to it. The kajal is made by A.Q. & company from Karachi, Pakistan and it also has something written over it in Urdu too.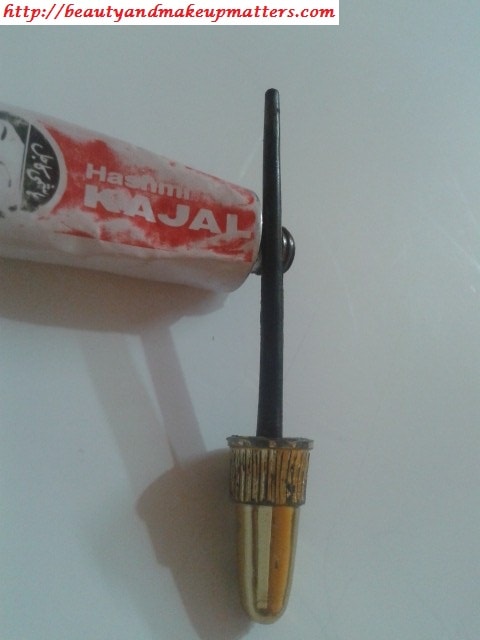 What I liked in Hashmi Kajal in Tube :-
The kajal has a unique stick applicator. The sleek clear plastic stick picks up the kajal from the tube on its surface. Dip the stick into the tube and rotate it sideways, the stick gets covered with a thin layer of kajal. Dip it again to get the desired amount on the stick.
The sleek applicator makes the Kajal application easy. Place the applicator in between both the lids and close your eyes. Swipe it once so that the kajal transfers from the applicator to the lids . Reapeat if want a more intense color on the eyes. Reapplication is easy as I don't feel the need of a mirror for the same.
The kajal is awesomely pigmented and one swipe gives a dark matte black color to the eyes. The color can be darkened up by swiping it again to get that jet black look.
The Kajal is Inexpensive. At just Rs.40, it is the most affordable kajal that I have used.
Doesn't irritate my eyes or causes any redness. So can be safely used on waterline.
Staying power is not super-awesome but definitely commendable. It stays good for first 3-4 hours after which it fades slightly on my watery eyes. It doesn't completely vanish but gets lightened a bit and stays for another 4-5 hours easily.
The kajal doesn't smudge much. If applied tactfully the smudging is almost negligible. With the help of applicator apply the kajal only to the waterline avoiding the lowerlash line and it won't give you unwanted panda eyes.
Don't Miss to Checkout:
Swatches:-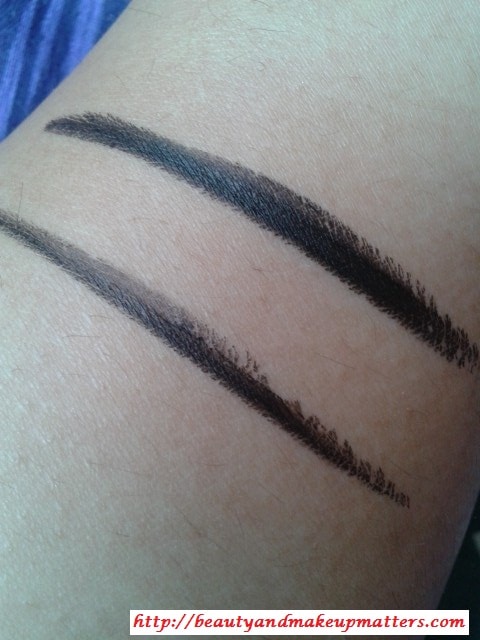 Eye Swatches:- Hasmi Kajal
on waterline
. Maybelline Gel Liner
on upper lash line and
Faces Dark Green Eye pencil
on lower lash line (Review coming upp.. )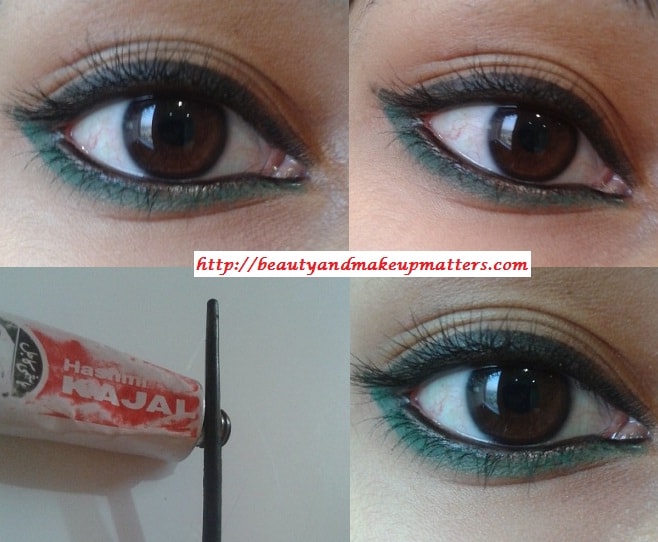 What I disliked in Hashmi Kajal in Tube :-
The kajal inside the tube is not in powder form as it comes over the applicator like I have swiped it over a creamy paste. But when I tried to squeeze the tube to take a look at it and nothing came out of it. So, cant say for sure what is there inside the tube
The availability might be an issue as it might not easily available in every cosmetic store.
You won't be able to the amount of the kajal left in the tube. So, wont get to know when you have finished up the kajal.
Have to be careful while applying the kajal else you can hurt or poke your eyes with the applicator stick.
Some rumors were there about the lead as an ingredient. It is still controversial but there are articles over the non-toxicity of the Kajal on their official Website.
Recommendation:- If you are looking for a decently pigmented black kajal with non-smudging features and available at a pocket friendly price. Go ahead and get this Hashmi Kajal in Tube. At Rs.40 something it is not going to hurt you anyways.
I may not go for a re-purchase but I will definitely use the one have to the core.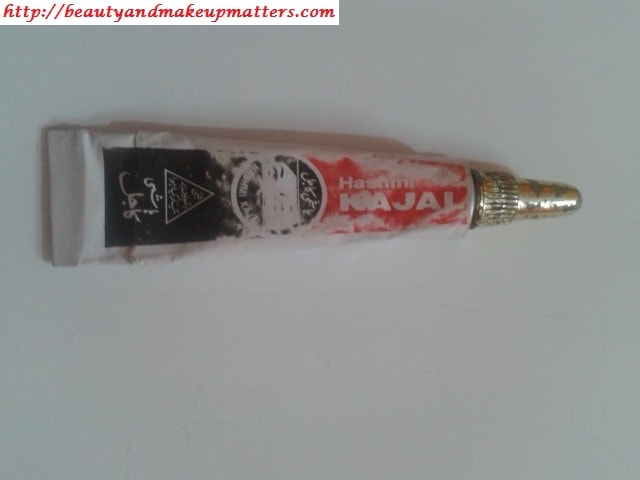 Rating:- 3.2/5
Have you tried Hashmi Kajal in a tube? Do you dare to use such Inexpensive products?