#HarPalHappiness with Asus this Diwali
Hello Everyone,
Its that time of the year again where we celebrate the biggest festival of the year.."Diwali"!!
I love everything about Diwali celebrations whether it is gorging in the Sinful sweet treats, Diwali get-togethers, decorating home with lights and everything beautiful but my favorite part is definitely the Diwali Gifting.
I don't believe in giving some lame gifts to my loved ones which directly goes into the bed storage without being even looked at. I go a little crazy when it comes to gifting because I settle for nothing but the best. I love to gift something they will cherish whole year and think of me every time they look at it.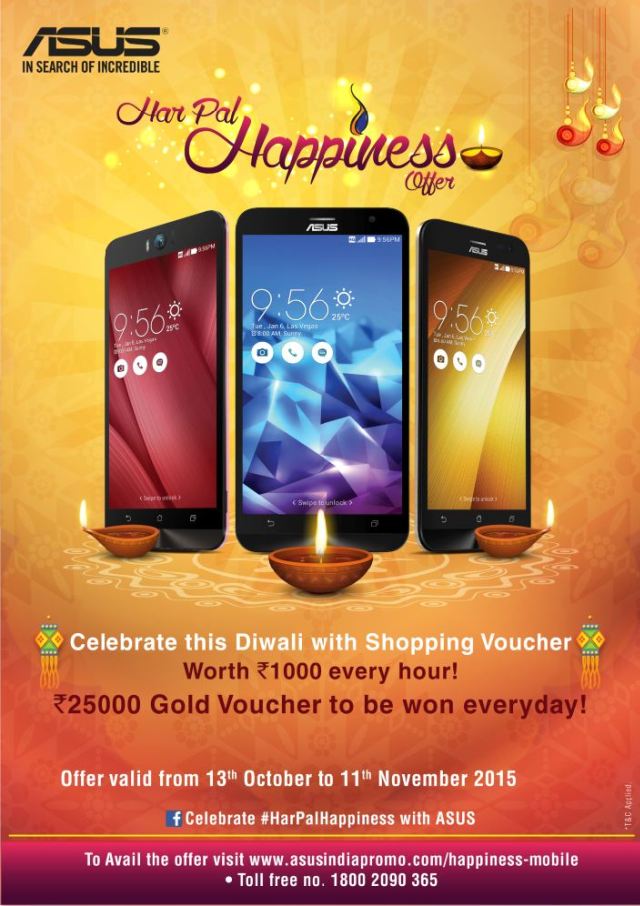 As every one of us is glued to their phones 24×7, gifting a cell phone with be the best ever option. I gifted my Mother in law's a new phone few months back and I love at how happy she feels when she hold her brand new phone in her hands and talk to her loved ones. So, now I am planning to upgrade my Father in Law's phone this Diwali.
Frankly speaking, I am that kind of person who will never buy something for others until she gets her cut.. you know :P. If I am gifting anything to anyone I would have to get something for myself too 😀
My eyes sparkled with excitement when I got to know that Asus India is running an amazing "Har Pal Happiness" Offer where one gets a chance to win Flipkart gift vouchers worth Rs.1000 every hour on the purchase of an Asus Zenfone. And that's not all.. because everyday one lucky customer also stand a chance to win gold vouchers worth Rs.25,000 😀 :D. Isnt it amaze ballzzz… check about the offer Here .
It seems like they read my mind and came up with the amazing offer where I can get gifts for myself too while buying gifts for someone I love.
Its time to Gift Yourself Happiness this Diwali by buying ASUS Zenfone and leveraging this amazing offer which ends on 11th November.
PS: It is sponsored post