Happy Women's Day..R U Sure !!
I know the title of my post would have raised many questions in your mind.. what wrong with this girl :P! But hang on ladiess I have a concern…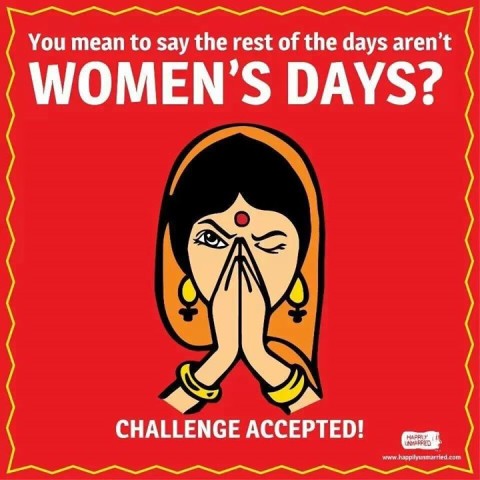 Before getting to the issue.. I would like to say that I feel very strongly about being a women and feel proud to be one! I am not one who just goes with the wind and accepts whatever comes to my way but would better stand up for my rights and ask for better if I deserve! I may be a little sober for first few times but I have a limit to my patience and after that I burst out like hot lava.. :-X
I had a normal day with all the lovely messages from beautiful ladies in my life, feeling empowered, happy and content till I run into an argument.. why is she "Malaika Arora Khan" and not "Malaika Khan" !! Why is it a question at all.. do we ever ask this to a boy who get married to girl with different surname.. why is it considered compulsory for girls to change their surname.
I feel it is our identity and girl should not leave it post – marriage, we already did much sacrifice by leaving our parents , our friends and our home and adjusting to new place and family .. something guys should also do other than sharing their room! 
I apologize if I sound too harsh but I am not in a mood to be polite.. errggghhh!! Please correct me if I am wrong..
Today Question: Why should girls are supposed to change their Surname after Marriage.. I think why we should we change our identity !!  What are your thoughts on this ladies..