Happy Hair with Sebastian Penetraitt Shampoo
Hello Everyone,
It has been long that I have reviewed any hair care stuff.. well because I have been enjoying my Scharwzkopf  Fiber force shampoo a lot but you know when you get a salon brand shampoo sample in your Monthly Fab Bag.. you are bound to give it a shot and that is when I got to try this Sebastian Penetraitt Shampoo. I have been using it for almost a month now and I have also got another bottle of it as a sample, so yayy!! Lets check out why I love it like crazy, Sebastian Penetraitt Shampoo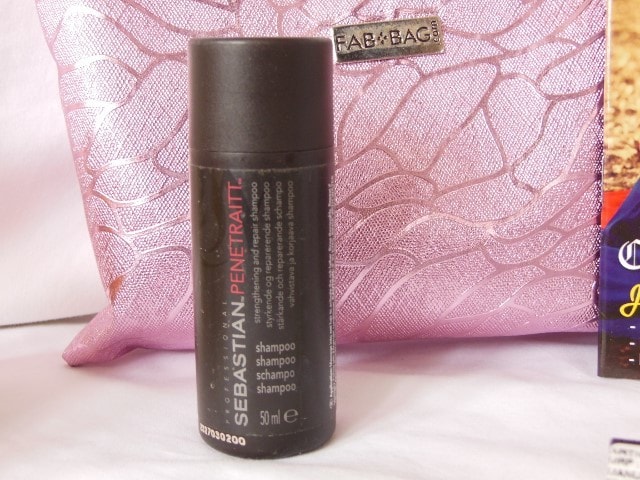 Product Claims: Essential cleansing to strengthen any look, any time. Comes to hair's rescue guarding from stress. Color safe
Direction for Use: Massage into wet hair to activate the rich lather. Thoroughly rinse.
Price: Rs.1400 for 250ml
Shelf Life: 3 years from the Mfg date.
Packaging: Sebastian Penetraitt Shampoo comes in a matte black packaging with a squeezable plastic tube which helps in easy dispensing of the product as hard plastic makes it super tuff to get the product out when I am about to finish the product.
My experience with Sebastian Penetraitt Shampoo:-
Sebastian Penetraitt Shampoo is a pearly white colored shampoo with a medium thin consistency; just to compare it is thinner and runnier than the Dove Shampoos.
The shampoo doesn't lather much so I have to use a good enough amount of the product for each application because I am used to lathering shampoos and don't feel clean until my shampoo gives a good lather.. :-/
I wasn't expecting much from the shampoo because most of these turned out to be just average but this one has changed my mind totally.. I am simply blown over by the results.
Results: I have used this shampoo on both oiled and un-oiled hair and least to say that I am super impressed with the results. My hair feels so soft and silky smooth like they just had a luxurious spa. The shine is just incredible.. so glossy and healthy ( you can refer my recent makeup pictures to see the effect).
Also, the volume part is more than amazing and after each wash hairs are full of life and bounces with joy!! <3 <3
I have used it without any conditioner and my hair still felt soft, smooth and shiny even after multiple washes. My drier hair strands who look like dry hay without conditioner were super managed and felt smoother just with the shampoo.
The oil controlling properties of the shampoo were excellent too as I don't experience greasy scalp for almost 5 days and even after that I can manage without shampoo for 2 more days. ( Don't look like that.. with baby its hard to shampoo thrice a week.. I barely manage once a week :P)
It doesn't help in decreasing fallout or cure dandruff but it hasn't aggravated the condition too.
Recommendation: Sebastian Penetraitt Shampoo has been the most wonderful shampoo I have tried till date. I find it slightly better than Scharwzkopf  Fiber force shampoo, my last favorite because of the Oil controlling abilities. I can skip on oil and conditioner with this shampoo and still enjoy soft, smooth and shiny hair. The shampoo will work equally good on both Dry and Oily hair. It also claims to be suitable for colored hair and I am sure it will definitely do. The shampoo is pretty expensive but if you don't mind the price (and also the list of chemical ingredients) than do invest in this shampoo , your hair will thank you for this. Highly Recommended!
Rating: 4.5/5
Have you tried Sebastian Penetraitt Shampoo? Which is your current favorite Shampoo?