Happy Brushes with Real Techniques Deep Cleansing Gel
Hello Everyone,
I am pretty late to join the bandwagon of Real Technique Brush Lovers, but better late than never. I love how affordable and functional Real Technique brushes are, so I was thrilled when I saw that they have come up with a Brush Cleanser too. I quickly placed my order on Real Techniques website while they were running an introductory offer of a free Real Techniques Expert Face Brush with their Deep Cleansing Gel.. 😀 a steal deal for sure!!
So, lets see if I loved this Affordable Brush cleanser from Real Techniques as much as I do their brushes, Real Techniques Deep Cleansing Gel.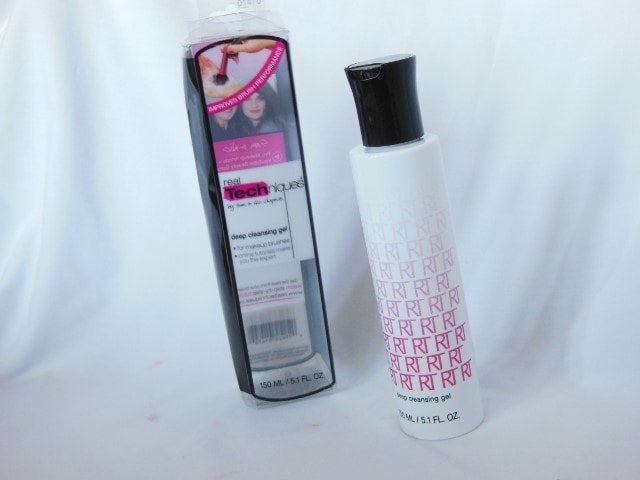 Product Claims: Designed for deep cleaning, with the cleansing power of a concentrate, this formula is laboratory proven to effectively remove nearly all makeup residue*. It removes what you see…and even impurities you can't see for a new brush clean.
Dermatologist tested for gentleness
No alcohol or phthalates
Quick, clean rinse
Tested safe for all Real Techniques brushes
Direction for Use:-
Use weekly
Squeeze a drop of gel onto palm or textured surface
Add warm water to your chosen surface
Swirl bristles into gel and water
Rinse until clean. Careful not to immerse base of bristles
Reshape and dry flat or upside-down
Ingredients: Aqua (Water), Sodium Laureth Sulfate, Cocamidopropyl Betaine, Glycerin, Sodium Chloride, Propylene Glycol, C12-13 Alkyl Lactate, Fragrance, PEG-150 Distearate, Sodium Benzotriazolyl Butylphenol Sulfonate, Tributyl Citrate, Buteth-3, Tris(Tetramethylhydroxypiperidinol) Citrate, Tetrasodium EDTA, Citric Acid, BHT, Methylparaben, Propylparaben, Methylchloroisothiazolinone, Methylisothiazolinone, Benzyl Benzoate, Benzyl Salicylate, Citronellol, Hexyl Cinnamal, Linalool.
Price: $9
Packaging: Real Techniques Deep Cleansing Gel comes in a sleek white colored bottle with a push open cap. The packaging is nice and strudy but I have few issue with it. First, the bottle is slightly hard to squeeze which makes it difficult to get the right amount of product off the bottle. Second, these caps gets dirty with time as products keep saccumulating at the opening. I wish they come up with a pump dispenser or a squeeze tube packaging. 😛
My experience with Real Techniques Deep Cleansing Gel:
Real Techniques Deep Cleansing Gel is a clear gel with slightly thick consistency. Now, with this packaging I have to squeeze the bottle really hard to get it out, which always results in dispensing too much of the product..so either they should change the packaging or the texture of the Cleansing Gel.
How do I Use It:
Dampen my brushes in running water
Dispense the cleansing gel on my hands
Swirl the brush around so that the bristles absorb the product and the dirt and product accumulated loosen up.
Rinse under running water while swirling around so that everything comes out of the bristles.
Repeat Step 2-5 for super dirtly brushes and make sure that no amount of product is left on the bristles.
Based on my experience, I feel I have to use quite a lot of amount with fluffier brushes like a powder or foundation brush which accumulates a lot of product in the bristles. It doesn't foam if there is lots of dirt but starts foaming as brushes get cleaner.
It does a good job at cleaning the brushes but I feel I have to go for a 2nd round of cleaning with it just to be sure that they are clean enough and no residue is left on the bristles.
It didn't help much in quick cleaning especially with face makeup brushes and with eye makeup brushes it does the job as good as any of the mild shampoo I was using in the past.
There are quite a number of options of brush cleanser outside like Dr Bronner's and more but not in India and I guess it is the only proper brush cleanser which we can have in India.  It can be bought easily from the Real Techniques websites. So, now you can have something tailor made to cleanse your pretty brushes
Recommendation:- Real Techniques Deep Cleansing Gel is a good product which does its job of cleansing the brushes really well. The formula is free from phtalates and Alcohol which takes care of your natural hair brushes by keeping them soft. It has a mild formula so I have to use a generous amount for super dirty and fluffy brushes, sometimes go for a 2nd round which is kind of an extra effort. My main issue with this cleanser is its packaging because have to squeeze the product out quite hard to get the product out. I have been using my regular shampoos to clean my brushes till date and I feel it does pretty much the similar job. Its nothing out of the box or super amazing but a decent product. Go for it if you are looking for an affordable brush only cleanser.
Rating: 3.5/5
Have you tried Real Techniques Deep Cleansing Gel? Which is your favorite Blush Cleanser?