Hair For Sure Hair Regrowth Treatment
Hello Everyone,
I was creeping out post-delivery because of the inevitable hair fall that was about to haunt me but instead of crying over the hair loss I decided to took the charge and try out everything to minimize the loss. So, I tried out this hair Regrowth serum as a preventive measure for hair loss, Hair For Sure Hair Regrowth Treatment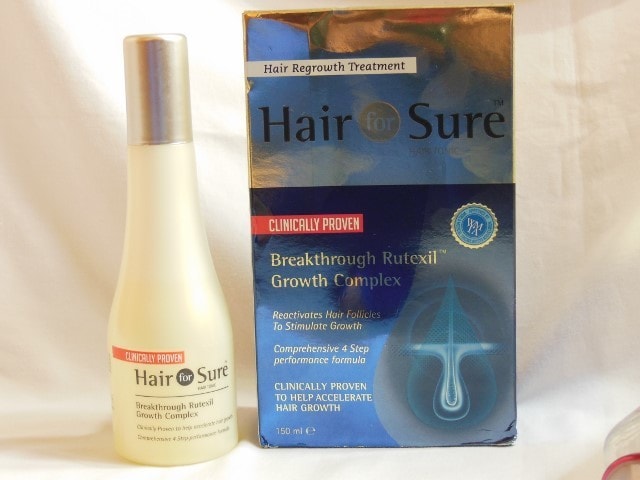 Product Claims: RUTEXIL : THE NEW ERA IN HAIR REGROWTH TREATMENT.
Hair for Sure, featuring the breakthrough Rutexil Growth Complex brings together a broad spectrum of compounds delivering a high performance, clinically proven
Comprehensive 4 Step performance formula to treat follicular dysfunction more effectively, stop hair loss and begin hair regrowth.
1st brand to be approved by the World Medical Trichologists Association (WMTA)
Price: Rs.800 for 150ml
Packaging: Hair For Sure Hair Regrowth Treatment comes in a translucent cream colored bottle with a silver cap. The bottle comes sealed and the dispensing nozzle is placed separately in the packaging which needs to be fixed on bottle before usage. The nozzle has quite an interesting design though 😉
My experience with Hair For Sure Hair Regrowth Treatment:
Hair For Sure Hair Regrowth Treatment is a light yellow colored liquid with a thin watery consistency. I take a small amount in my palms and with fingers just lightly massage it into my scalp. The texture is quite light and it sinks into the scalp pretty fast. It doesn't feel too sticky or oily but it does leave behind a slight residue which makes my hair gets oilier soon.
It's the light weight texture of this hair regrowth tonic that makes it suitable to be used on daily basis. This Hair Serum does have a strong scent which I don't really enjoy but if it is helping me with hair fall I don't mind that!
I also love that it contains Aloe Vera Juice as the 2nd ingredient in the list and I also see that it contains Glycerin too. Though I don't understand why there are Dimethicone there :P.. Silicones!!
Results: Coming to the results, it claims to stop hair loss and begin re growth and I feel it does help slightly with the hair fall though not sure of hair growth. I am using it as a precautionary measure for hair fall and I don't see myself losing more than the usual hair, so it does help a little bit there. I don't have bald patches on my scalp so can't say for sure about the hair regrowth. Also, for some considerable difference I guess I have to keep using it for another few months.
Recommendation: Hair For Sure Hair Regrowth Treatment is a light weight hair regrowth serum which helps with hair fall issues. The texture is light and gets absorbed soon but it does leave slight residue behind which makes hair oily sooner. I love that it contains natural ingredients like Aloe Vera Juice as a main ingredient. It did help me slightly with controlling hair fall but I am yet to experience any results on the hair regrowth front. I also believe that eating healthy and regular exercise will help with results. Also, you need patience with such products to show results and results may vary from person to person
Rating: 4/5
Have you tried Hair For Sure Hair Regrowth Treatment?
PS: Product sent by brand for consideration