Green Goddess: Makeup Geek Eye Shadow Envy
Hello everyone,
I hope you love this series of my eye shadow love for Makeup Geek Eye Shadows. I have reviewed some of the prettiest shades from the collection including gorgeous transition shades, pretty highlighters and lovely all over metallic colors. Coming to the last shade from the regular eye shadow collection from Makeup Geek in my collection, Makeup Geek Eye Shadow Envy.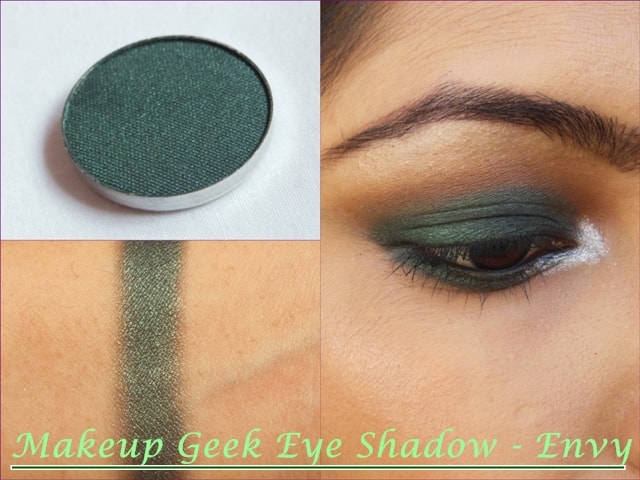 Product Claims:
These are all highly-pigmented – just check out the swatches!
Half the price of high end shadows without sacrificing quality
These pans can be placed in empty palettes such as Z-Palettes.
Eyeshadow pan weight is 1.8G / 0.064 oz
With a separate palette, you can build your own custom palettes
All our shadows are cruelty-free — we do not test our products on animals
These eyeshadows are Talc and Paraben-Free
See full ingredient listing.
We ship worldwide at affordable rates
Price: $6 for 0.064Oz
Packaging: Makeup Geek Eye Shadows comes in round refill pans which are housed in a pretty cardboard packaging carrying all the detail.
My experience with Makeup Geek Eye Shadow Envy:
Shade: Envy is described as "Deep metallic green", is a gorgeous deep dark forest green shade with iridescent green shimmers which gives it a beautiful sheen. The shade looks absolutely stunning in the pan.
Formula: It feels smooth to touch but isn't as smooth and pigmented as other Makeup Geek Eye shadows I have tried. Also, I felt the texture here is slightly stiff and feels a bit dry. The color sheers out on blending leaving just a blackened green hint on lids, so I pack it again after all the blending work. Also, I hate the fallout,  have to clean up underneath the eyes while working with this eye shadow.
Pigmentation: I am more than disappointed with color pay off of this particular shade because it swatches quite sheer even if I pack the color heavily with fingers. The color builds up slightly when patted more but it doesn't look as intense and rich on lids as it does in the pan. Using a primer and colored base underneath shows a great improvement in pigmentation.
PS: Tap the brush after picking the color from pan to kick off excess from the bristles which will reduce fall out on application.
Recommendation: Makeup Geek Eye Shadow Envy is an intense shimmery forest green eye shadow which pulls pretty much matte on lids. The formula isn't as smooth and soft and feels a bit dry and stiff, so there is a slight fallout during application. The color payoff is disappointing as it goes very sheer on lids and needs a solid base underneath for the color to show. The color was so pretty but the results weren't as good as expected, definitely not a must have eye shadow.. there are better shades and formula in Makeup Geek Eye shadow collection. Not Recommended!
Rating: 2.5/5
Have you tried Makeup Geek Eye Shadow Envy? Do you like such colorful eye shadows?
PS: Product sent by brand for consideration