Good and Bad: BornPrettyStore.com Makeup 
Hello Gorgeous,
Today I will be sharing some makeup stuff that I received from BornprettyStore which includes a Brush Set, a Felt Tip eye liner and False Eye lashes. If you don't already know, BornPrettyStore.com is a shopping portal where you find all sorts of stuff including makeup, nails, accessories and what not, all at affordable prices and they provide free shipping worldwide which is awesome. Let's see which one of these I loved the most and why.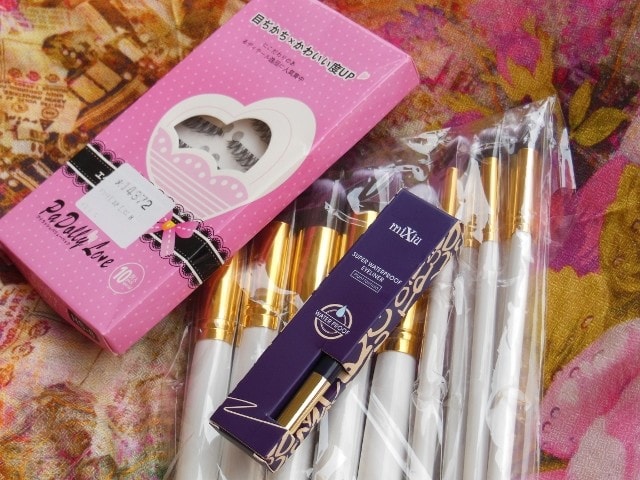 My experience with BornPretty Store Makeup:
10Pcs/set White Handle Brush Kit
Price: $16.97,
I have tried a Blush Brush from Bornprettystore last time and it did a fairly good job, so I got this set of eye and face makeup brushes.  The set has a total of 10 brushes with 5 eyes and 5 face makeup brushes each. The bristles are soft but the packaging doesn't look and feel good to hold.
Face Makeup Brushes: The brushes have symmetry as there is a Flat top and an angled brush accompanied by a similar round top brushes and a pointed tulip shaped brush. I find the size of these brushes is quite small to be used as face brushes. Also, the quality doesn't look convincing. At max, I see myself using the pointed brush as a concealer brush.
Eye Makeup Brushes: Same concept goes with the brush shape here with one flat top and one angled top accompanied with a rounder tops and small pointed brush. The eye brushes are bad as there lots of stray hair. Also, I don't see myself using these at all because they just wont serve any purpose or may be just the pointed brush could be of some use. 😛
Apart from these I experienced a lot of shedding from the first wash which was very disappointing.
Rating:1/5
Mixiu Super Waterproof Eye Liner- Black
Price: $4.23 
I love using felt tip eyeliners as they make drawing winged eye liner so much easier so, I thought of trying this felt tip eye liner from the Mixiu brand which also claims to be water-proof and smudge-proof.
I wasn't expecting it to be the best felt-tip liner I have ever used but still expected a decent performance as a liner. It did swatch pretty nice on arms and that made me expect a good application but the moment I swiped it on my lids I struggled to get an even line. The color payoff was very sheer which isn't expected from a liner but I noticed that the moment I try to swipe it over to intensify the line it wears off and hence gives a patchy application. I didn't find it waterproof at all because whatever gets applied on lids comes off easily with water. Definitely not worth a try.
Rating:0/5
Pa Dolly Love Criss Cross False Eye Lashes
Price: $4.93
Coming to the favorite thing from the store and that are these lashes. I have been turning myself into a big eye lash junkie and now want to try each of the false eye lashes that is there in the market. I am not a pro at eye lash application so have been trying ad learning to apply false eye lashes like a pro.
These eyelashes have a criss-cross pattern which blends them with my natural lashes very easily and gives a very nice natural wispy look to my eyes. The lashes are very light and have a thin band which applies easily and doesn't feel heavy on eyes.  I like that they are shorter in the inner corner and longer towards outer just like our natural lashes are.
So, if you are just starting with lashes.. I will suggest these are pretty good to try and experiment.
Rating:4/5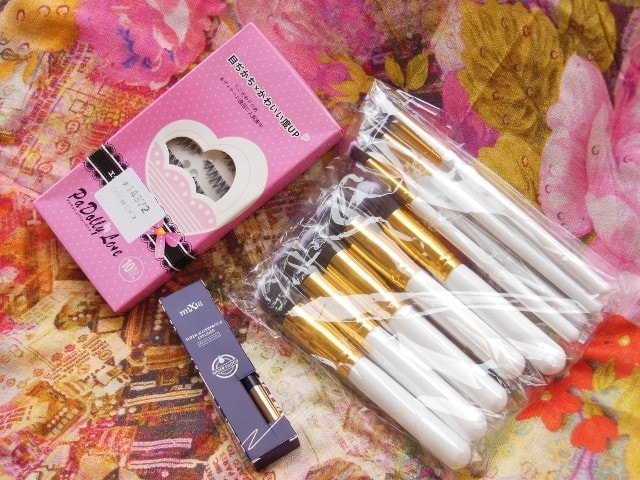 You can try more pretty stuff from the store and enjoy a 10% discount.-PNH10
Have you tried BornPrettyStore Makeup? 
PS: Product sent by brand for Consideration