Golden Glimmer: Makeup Geek Eye Shadows– Mango Tango and Cosmopolitan
Hello everyone,
Continuing to my series of Makeup Geek Eye shadows todayI am sharing two of the most gorgeous eye shadows in my collection both belonging to the peachy pink color family with flecks of gold, the Makeup Geek Eye Shadows – Mango Tango and Cosmopolitan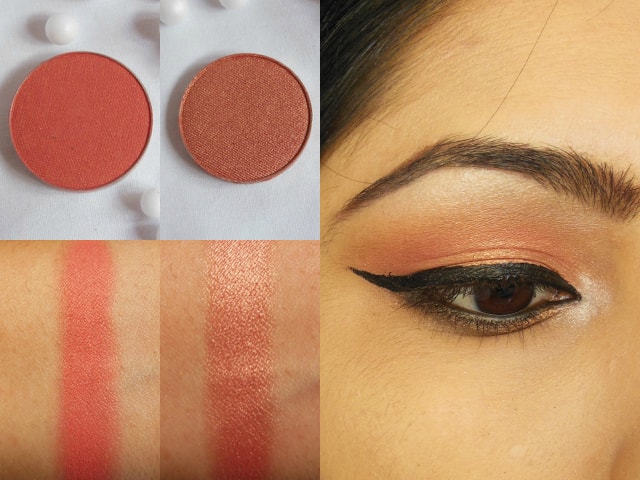 Product Claims:
These are all highly-pigmented – just check out the swatches!
Half the price of high end shadows without sacrificing quality
These pans can be placed in empty palettes such as Z-Palettes.
Eyeshadow pan weight is 1.8G / 0.064 oz
With a separate palette, you can build your own custom palettes
All our shadows are cruelty-free — we do not test our products on animals
These eyeshadows are Talc and Paraben-Free
See full ingredient listing.
We ship worldwide at affordable rates
Price: $6 for 0.064Oz
Packaging: Makeup Geek Eye Shadows comes in round refill pans which are housed in a pretty cardboard packaging carrying all the detail.
My experience with Makeup Geek Eye Shadows- Mango Tango and Cosmopolitan:
Mango Tango is described as "peachy pink with flecks of gold", is a pretty orangey coral shade with fine gold shimmers which gives it a lovely shine. I didn't have any similar shade in my stash so I love it. It can be used to as a lid color but I love to use it in the crease for a bit of fun and hint of color. Perfect to pair with Pink and Orange Eye Makeup look or adding a little twist to the regular brown/neutral eye look
Cosmopolitan is described as "Rose Gold with gold flecks and a shimmery finish", it's a beautiful rosey copper shade with a golden metallic sheen. It is also termed as a dupe of MAC Expensive Pink so in case you are planning to buy that have a look here :D.
Formula: Again the formula of the eye shadows is buttery smooth with Cosmopolitan one being more creamy and silky to touch.  The texture is soft and blends like a dream. There is slight fall out with mango Tango as it has a much softer texture but the Cosmopolitan goes just like a crème eye shadow.
Pigmentation: The color payoff in incredible and with just 1 swipe they give such an intense color. They look pretty awesome in swatches but when applied on lids I have to build it up quite heavily to show up as they are quite close to my natural skin color. I feel the eye shadow apply better when they are used over a base or primer which neutralizes my skin color and gives a smooth surface for application.
Recommendation: Makeup Geek Eye Shadows- Mango Tango and Cosmopolitan are supremely gorgeous shades with golden sheen. While Mango Tango has subtle golden shimmers to add a hint of shine, Cosmopolitan is power packed metallic shade with rose gold reflect. The shades need some packing or a good base underneath to show up on our warm skin tones but they look absolutely stunning on application. They make perfect shades for festive Indian makeup look.. Highly Recommended!
Rating: 4.5/5
Have you tried Makeup Geek Eye Shadows- Mango Tango and Cosmopolitan? Which is your favorite Eye Shadow from these two?
 PS: Product sent by Brand for Consideration