Godrej Expert Rich Creme Hair Color Review
Continuing to my series of Hair care products, today I have something for girls and ladies that suffer from Gray hair and have to color their hair on regular basis. I will be writing this review based on inputs from my mom as I don't have any gray hair ( 2 – 3 strands only ) and believe she would be a better person to judge its effectiveness and povide feedback based on her experience with this Godrej Expert Rich Creme hair color as she has been using it for almost an year now. So lets begin with the review.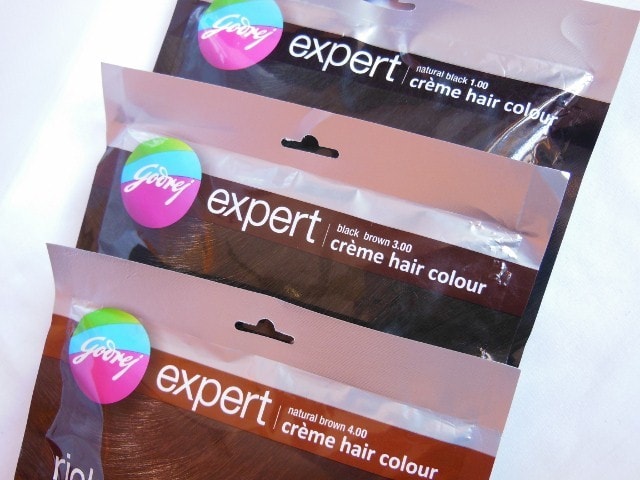 Product Claims:
comes in pre-measured sachets, that makes it easy to use
no ammonia formula helps retain hair protein
keeps hair strong
100% grey coverage
contains a sachet each of colourant (20g) & developer (20ml)
Directions for Use: Pour the developer and the colorant into the mixing bowl and blend them well. Now apply this mixture on clean hair with the brush and leave for 30 minutes before rinsing with water.
Price: Rs 30 for (20+20ml)
Available in 5 shades –
Natural Black
Black Brown
Dark Brown
Natural Brown
Burgundy
Packaging: Godrej Expert Rich Creme hair color comes in simple pouch packaging, containing 2 sachet each of 20ml Developer + 20g creme colorant . The quantities are pre-measured so you don't need to worry about measuring and mixing, just pour the sachets in a bowl and mix. Detailed instructions are mentioned on the pack along with show casing color effect to give a good idea about how the hair will look post-application.
My experience with Godrej Expert Rich Creme Hair Color:
I received it in 3 shades: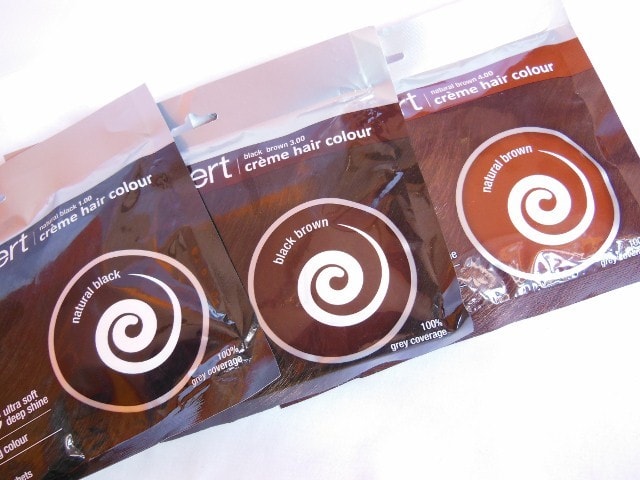 Black: I personally feel "Black" will be too black but if you are in mid twenties or obsessed with black hair then you can try this shade. At first the color will looks stark black, unnatural sorts but after 1-2 washes, it may soften giving a naturally black look to hair.
Black brown: It will be a perfect shades for covering gray hair for naturally dark Indian hair. All middle ages women (especially mom's) who have gray hair issues will find this a perfect match for their hair as it gives a soft blackish brown color to hair .
Natural Brown: I think it is a good option for younger lot who like to experiment with their hair color or suffer from grey hair. Few of my friends during school and college days had gray hair issues (genetic reasons) and they had to get them colored quite frequently, though most of them used to go for natural Heena but it was quite a task. So you can use it as an overall color or if you would like to get streaks.
The sachet comes with pre measured quantities of both Color and Developer and you just need to pour them in a bowl to mix. One sachet will be enough for shoulder length hair or touch ups for longer hair but if you are looking for full coverage for your longer hair length than you would have to go for at least 2 sachets or more depending on your hair length.
I was skeptical at first that the formula would not be up to the mark as it is so cheap compared to other Hair colors available in the market but it truly surprises me. May be it is its no fancy packaging that makes it so affordable but the formula isn't compromised for the price. The hair color has Ammonia-free formula and also the goodness of aloe protein which keeps the hair soft & shiny. It claims to provide 100% coverage and it does that all for my mum. The major plus for her is that unlike, other hair colors which have strong fragrances, Godrej creme hair color is almost fragrance free which makes it easy for her to breathe when the color is one her head!
The color sustains 6-7 washes (20 days approx) after which it starts fading and she has to do a touch up.
Pros of Godrej Expert Rich Creme Hair Color:
Doesn't cause any itching or irritation
Contains Aloe Protein
Extremely convenient to use with pre measured sachets
Doesn't have strong fragrance
Single sachets is enough for one time application
Doesn't make hair dry or frizzy
Add softness and shine to the tresses
Color lasts for 20 days approx.
Ammonia Free formula (wont cause watery eyes)
Affordably priced
Available in 5 shades
Cons of Godrej Expert Rich Creme Hair Color:
Wish it had lasted a little longer
Recommendation: Godrej Expert Rich Creme Hair Color is one of the best and pocket-friendly option to try coloring your hair at home. My mom has used L'Oreal Excellence Creme Permanent Hair color in the past but she actually didn't find much difference between these two and because of affordability and fragrance free formula she prefers Godrej Expert Rich Creme hair color more. Both L'Oreal and Godrej one lasted for 20 days approx. on her. One pouch will be enough for single use and as the packets already have the amount required one doesn't need to measure just mix both Creme and developer. The formula is enriched with Aloe protein and is no ammonia product which is another major plus as it makes the whole coloring experience quite comfortable for her . Reccomended!!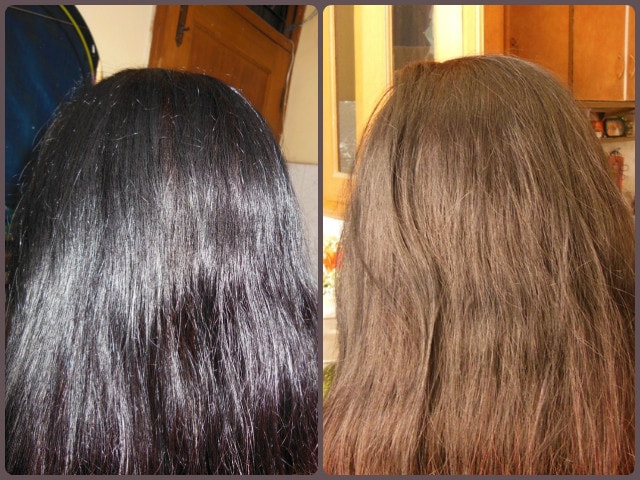 The results are after 2 weeks of color. I will update the post with before/after pics.
(It was hard to make mum pose but she agreed after a little convincing.. :-* :-* and the photo credit goes to my Brother.. who handled that camera for the first time 🙂 )
Rating: 5/5
PS: I don't recommend using hair color if you don't have gray hair already.
PPS: The product was sent by brand for consideration.