Glam up Nails with Maybelline Colorshow Go Graffiti Blue Beats
Hello Everyone,
Today I have a NOTD to share with you and I am pretty excited about it because I have painted my nails in months like seriously I guess the nail paint touched my nails after 5-6 months…isshhh!! And you know when you haven't painted your claws for that long you gotta come up with something good as a single layer of polish will not give that feeling. So, here is how I punked up my nails with Maybelline Colorshow Go Graffiti Blue Beats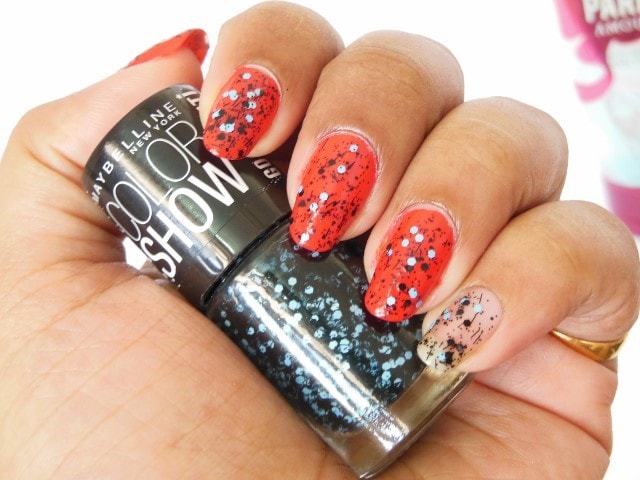 Price: Rs. 145
Maybelline Colorshow Go Graffiti Blue Beats:
I know I have been super dupe late to get these but with so many crazy things going around, I couldn't happen to try these. There are already so many reviews and everything shared online about these nail paints, so I will not go into the details.
Blue Beats is a clear gel polish containing blue and black dots with thin black strips. It contains large blue hexes, small black hexes which really add to the beauty of this nail paint.
Don't Miss to Checkout:
Now, let's just see how I Glammed up my Basic Red Nails with this Blue Beats. You can use any of your favorite base color and add this sparkling beats over for those jazzed up nails. You must seal this with a clear top coat so the glitters last long. I have been wearing it for last 4 days and it is still going strong.
Rating: 4.5/5
Have you tried Maybelline Colorshow Go Graffiti Blue Beats Nail Paint? Which is your favorite from the collection?