Givenchy Le Rouge Lipstick – Irresistible Fuchsia Review
I have been pulling myself out of fuchsia lipstick for quite some time but this beauty brought back my love for them and after a long long break you will see me flaunting fuchsia pink lips.So, today I am going to review this hot fushcia lipstick in town with leather detailing Givenchy Le Rouge Lipstick in Irresistible Fuchsia.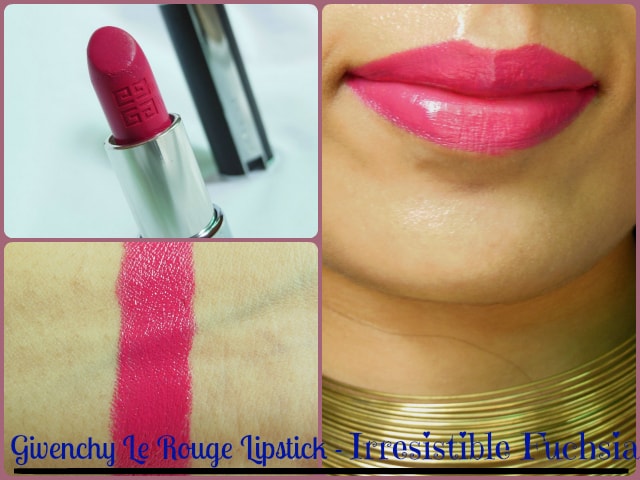 Product Claims :
What it is: A semi-matte lipstick encased in genuine leather.
What it does: Enjoy perfectly defined lips that last as long as you do — and a genuine leather goods item. This lipstick-as-accessory delivers intense colors and a semi-matte finish all in one stroke, and as the first lipstick to come in real leather, it imparts a soft, supple touch and sensual feeling. 
Price: $36 (Sephora)/ Rs 2200
Packaging: Givenchy lipstick comes encased in a stylish leather detailed cap with a pull up mechanism. The shade details are mentioned at the bottom and "Givenchy" logo is etched on the top of the cap and also on the bullet. The lipstick is much chubbier than the usual lippies but I love the uniqueness of the packaging and its luxurious feel. I just wish it had shade indictor so as to make it easy to identify the shade.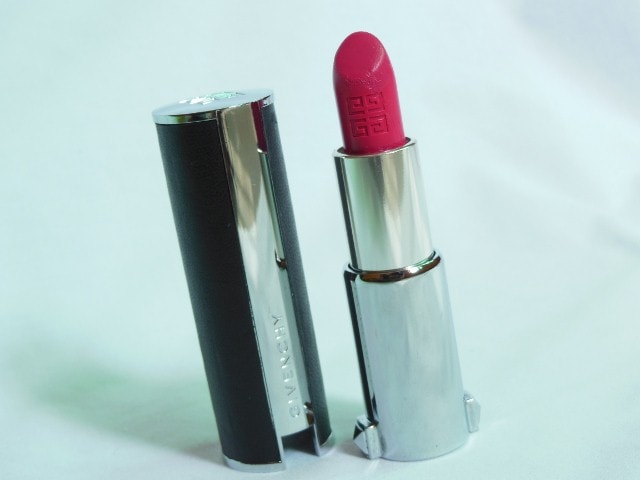 My experience with Givenchy Le Rouge Irresistible Fuchsia Lipstick:
Shade: Irresistible Fuchsia is described as "Vibrant Fuchsia" and is stunning bright and bold fuchsia pink lipstick with intense blue undertones. It has rich fuschia pink pigments but there is a dash of red as well which pulls it slightly red on warm Indian skin tones. The shade is not for everyone but if you like bold pinks than this will be fairly easy to pull off.
Formula: Le Rouge has a rich creamy formula which glides on smoothly on lips without any tugging or pulling. It feels comfortable on lips as it has hydrating texture that keeps lips nourished and doesn't make them dry even after hours of wear.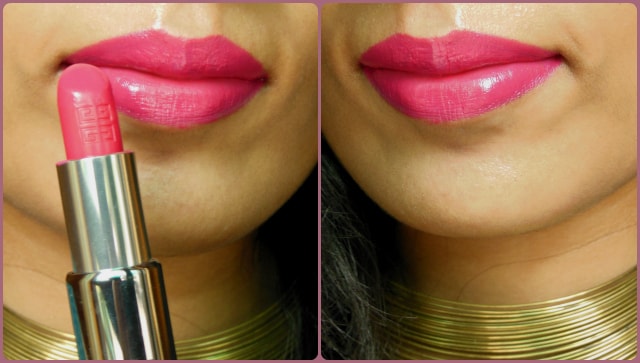 Finish: Irresistible Fuchsia has satin creamy finish with just there sheen to fake smoother and even looking lips. It settles to a semi–matte finish once blotted or an hour post application which reminds of the liquid to matte lipstick formulas.
Pigmentation: Givenchy Irresistible Fuchsia is fabulously pigmented. Each molecule in the bullet is bombed with colored pigments which gives intense color in just one touch on lips and I can see an almost opaque color coverage in single shot.
Staying: Here again has been an impressive show by the lipstick. It has creamy formula which you might feel wont let the color last but it wears like any matte finish lipstick. It started flaking from the center of mouth after 6 hours of wear but left a pinkish stain on the rest of the lip area which had to be taken off with the make up remover.
Pros of Givenchy Le Rouge Irresistible Fuchsia :
Light weight texture
Lovely satin creamy finish
Hydrating and comfortable formula
Incredibly rich pigmentation
Rich opaque color coverage in a single stroke
Doesn't bleed
Makes lips appear smoother
No feathering or flaking for around 7 hours
Does not settle into the fine lines of the lips
Stays on and for 8-10 hours
Luxurious packaging
Cons of Givenchy Le Rouge Irresistible Fuchsia:
Availability in India. I think they are available at shoppers stop or Sephora but not confirmed. You can buy them online at flipkart and amazon but at increased prices. :-/
It has some fragrance which I didn't liked and thankfully it faded within few second of application.
Recommendation: Givenchy Le Rouge Irresistible Fuchsia Lipstick is a bright magenta pink shade with satin smooth texture that fills out all crease lines giving a plump and fuller look to lips. It has awesome formulation that gives a velvety crème finish which can be made semi-matte by blotting. It has color coverage of a super-duper pigmented matte lipstick but applies like a creamy one which feels comfortable and hydrating on lips.

This is one of the best, comfortable creamy to matte lipsticks that I have ever come across. I am already planning to hoard more shade from the range, at least 2  more! Highly Recommended
Have you tried Givenchy Le Rouge Lipstick – Irresistible Fuchsia? Would you mind paying for luxurious packaging?