Givenchy Eyebrow Pencil Dark Brunette and Givenchy Mister Brow Groom Review
Eyebrows are something that I thought need nothing more than the regular grooming at the parlour because like most of the Indian girls I have been blessed with Fuller brows. But what in case of parlor tragedies, when the lady over pluck the brows, eye brow pencils to the rescue. There are many Affordable Eye brow pencils in India which does a fairly good job in filling up spaces and giving them an even shape. Nut today I will sharing Eye brow grooming products from the luxury brand Givenchy, Givenchy Eyebrow Pencil Dark Brunette and Givenchy Mister Brow Groom.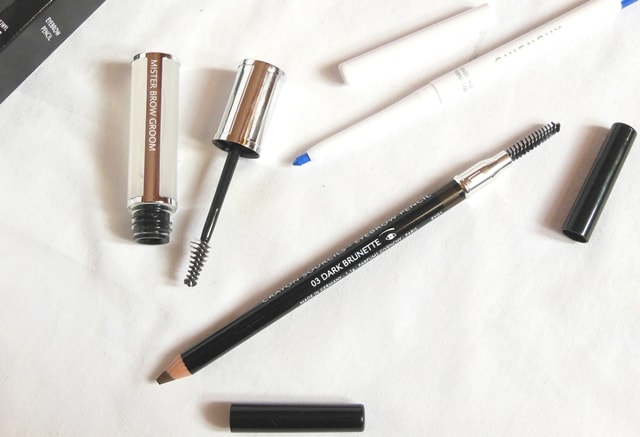 I never ventured into eye brow products until I started with my eye makeup. Eye brow can completely change the look and bring it to another level. Eye brows define the face makes the makeup look more polished.
Both of these products have been launched under the Givenchy Brow Studio 2016 collection.
Givenchy Eyebrow Pencil Dark Brunette
Product Claims: It is a powdery matte-finish eyebrow pencil
This pencil offers precise and natural brow definition.
Perfect application is guaranteed with an ultra-slim, gliding tip for perfectly defined brows.
The formula, developed using talc and intense pigments, leaves a powdery matte finish, and the easy-to-apply texture creates immediate payoff.
The pencil also features a brow brush on the opposite end for an all-in-one brow tool.
It is formulated without Parabens
Shades Available:
01 Brunette
02 Blonde
03 Dark Brunette
How to Use:
Brush brows to reveal their natural shape.
Use the brow pencil to define the edges and fill in for a natural look.
Price: Rs.1975 for 1.1g
My experience with Givenchy Eyebrow Pencil Dark Brunette:
Givenchy Eyebrow Pencil is a dual-ended sharpenable eyebrow pencil with pencil on one side and a spoolie brush on the other. The eye brow pencil also comes with a sharpener. The spoolie or the brow brush makes it super handy as I don't have to carry another brush to perfect my brows. The pencil is very convenient to use and travel with.
Shade: Dark Brunette is a medium dark cool toned grey with brown undertones. The shade is somewhere between brown and grey with makes it apt for warm Asian skin tones. It doesn't look too stark or too warm on me.
Texture: This Eye brow pencil has a sating smooth texture, I would not say creamy but something like graphite pencils. It glides on super easily and gives a natural matte finish. It feels so light weight and the non-creamy formula makes it perfect for summers and Oily skin because now the eyebrows wont bleed.
Pigmentation: The Givenchy Eyebrow Pencil is richly pigmented. I just few light handed short strokes to give the desired shape to my brows. I am telling you to use very light hand or you will end up with pop art eye brows for sure. Work on blending the color a little more wuth the spoolie brush for a more naturally thick eye brow look.
Longevity: I am absolutely amazed by the long lasting power of this eye brow pencil. I wore it for more than 12 hours with Gym and it didn't move at all. It's just like draw once and you are done for the day.
Coming to the price point, I know it is on the expensive side but I just need few swipes for one time application which hardly uses any product. The pencil is going to last really long which makes it very cost-effective.
Recommendation: Givenchy Eyebrow Pencil Dark Brunette is one of the best eye brow pencils I have ever tried. The shade matches my skin tone perfectly and I just need few light handed strokes to get those perfectly defined brows in natural matte finish. The eyebrows stay in place whole day. The quality is amazing and totally worth the price. This eye brow pencils makes the job of eye brow defining quick and easy. I haven't used any other eye brow pencils after this. It is definitely my HG eye brow pencil. Highly recommended!
Brow pencil in Action:

Givenchy Mister Brow Groom Universal Brow Setter
Product Details: It is a universal transparent gel that shapes brows and holds them in place.
Mister Brow Groom helps brows stay groomed all day long.
It naturally shapes and structures brows and holds them in place. Its long-lasting, translucent formula leaves no sticky residue and dries quickly.
Enriched with vitamin B5, it coats the brows, ensuring volume and density for an ultra-natural makeup result.
It is available in a single, universal shade that is appropriate for both men and women.
The innovative curved brush follows the eyebrow's natural shape, for an intuitive application that anyone can master.
Directions To Use: Start from the inner corner and apply following the arch, moving toward the end.
Price: Rs.1975 for 5.5g
My Experience with Givenchy Mister Brow Groom Universal Brow Setter:
Givenchy Mister Brow Groom is essentially is clear brow mascara.
Formula: The mascara is enriched with Vitamin B5 and has a non –sticky formula which dries instantly and keeps the brows tidy throughout the day.
Results: This Universal Brow Setter will not only tame unruly brow hairs but will also help to add density and volume. It covers the eye brows giving them volume and a little bit density for a natural makeup look.
It is basically to add the perfect finishing touch to your look. Ideal for those with naturally thick and unruly brows as the Mister Brow Groom will ensure your brow hairs always look well groomed and never stray.
This Givenchy Mister Eye brow groom is great for a natural, no makeup makeup look. Just brush your brows with this and you are good to go.
Also, if you are planning to have a day out at a water park or on a beach, this brow mister will ensure that your eye brows stay in place owing to its water-resistant formula.
Recommendation: Givenchy Mister Brow Groom Universal Brow Setter is perfect for someone with fuller eye brows but unruly hair. So, if your eyebrows move around a lot use this Brow Gel or Brow Mascara to tame those nasty hairs and give a polished look to your brows. Or you can easily pair it with eye brow pencil to rock brows on fleek whole day without worrying about rains or sweat.
If you want to pick just one product I will say go Givenchy Eye Brow pencil but if you are obsessed with your brows and want perfection, go for both! Givenchy is available at Sephora across India and also at few Shoppers Stop outlets.
Rating: 5/5
Don't Miss to Checkout: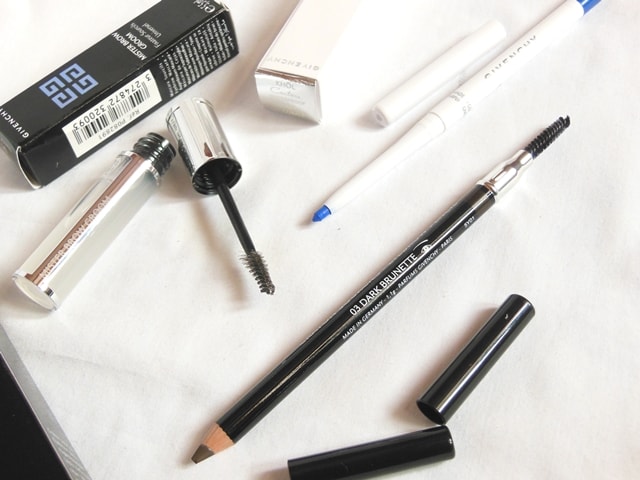 Have you tried any of these Givenchy Eye Brow Grooming Products? Which is your favourite brow product?
PS: Product sent by brand for consideration but honest and unbiased opinion.