Give Me Peach: Givenchy Prisme Again! Blush Euphoric Orange
Hello Dolls,
I don't usually buy Luxury makeup stuff because.. well it costs a bomb!! But once in a while when I spot them on a great discount or a Blog Sale, I grab them for sure and this is how Givenchy Blush made it to my stash. Let's see whether I loved it or not, Givenchy Prisme Again! Blush Euphoric Orange.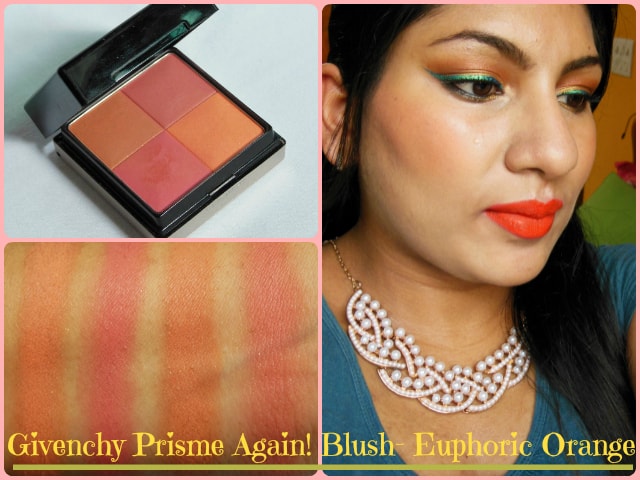 Product Claims: A compact featuring four blush shades.This gorgeous quartet is a treasure-trove of concentrated, radiant color for your cheeks. The unique harmony of four brilliant colors will make your cheeks blush with beauty. Contains wild rose extracts to soften and smooth and ginkgo biloba to help maintain that youthful glow
Price: Rs 2500 for 6gm
Packaging: Givenchy Prisme Again Blush comes in a small black colored square packaging with a signature G's on the lid and a silver base. I love that there is a tiny mirror under the lid and a separate compartment under the blush which houses the blush brush for emergency use. The lids shuts tightly and won't open but if you got more than one of these you will have a hard time indentifying the shade as there is no shade indicator on the packaging.
My experience with Givenchy Prisme Again! Blush Euphoric Orange:
Shade: Euphoric Orange is actually a mix of 4 different shades and pretty looks like an eye shadow quad. The shades contain a soft orangey peach, a light rosy pink, bright orange and a Coral Pink. All of these shades have finely milled golden shimmers which aren't visible on application but adds a hint of sheen on application. All the shades swipes together gives a beautiful coral- peachy color which will work for almost all skin tones except dark-olive tones. Euphoric Orange will make a gorgeous day time blush and will be a great companion to balance out bright eyes or dark lip look by adding just the right amount of color on cheeks
Formula: The texture as expected is super smooth and has a silky satin feel to it. It doesn't feel powdery or chalky and comes up nicely with a brush. It blends effortlessly into the skin so you intensify or lighten up as desired with a swirl
Pigmentation: It is not an intensely pigmented blush so you cannot go wrong with the application even if you are heavy handed with blushes. Start with a light application and than build it up for a more gorgeous and flawless finish.
Staying Power: Even though it is a light shade it doesn't fade away that fast and with a base it lasts for goof 6-7 hours on me with slight fading. The formula adheres so beautifully to the skin that you don't feel the need to touch it up before 6 hours.
Recommendation: Givenchy Prisme Again! Blush Euphoric Orange gives a very natural peachy coral flush to the cheeks and the shimmers in it just reflects the light hitting your face which makes it a beautiful day time blush. The buildable formula is bliss for makeup beginners and even those go heavy handed with blushes as it will never look clowny on face. It blends in beautifully and lasts pretty long on my dry skin. It is indeed a luxury blush but I loved that quality makes up for that. If you do plan to invest in some good blushes, so take a look at Givenchy Collection. I would love to add a few more too. Recommended!
Rating: 4 /5
Have you tried Givenchy Prisme Again! Blush Euphoric Orange? Which is yoru favorite Luxury brand Blush?