Give a Collagen Boost to your skin with Za Perfect Solution Youth Whitening Serum
Hello Everyone,
There are quite a lot of anti-ageing serums but most them turns out be just the usual moisturisers with tall claims. I am going to enter into my thirties ( gosshh… cant believe I am that old already 😛 ) and hunt for that perfect ant-ageing serum is still on! Lets see if this Za Perfect Solution Youth Whitening Serum works for me the way I expected.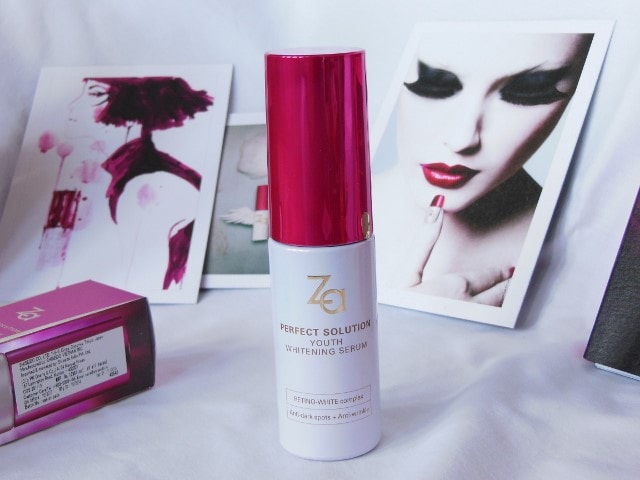 Product Claims:
With Revolutionary Retino-White Complex, this Powerful Serum delivers unmatched Radiance and retains Youthful Luminosity in just 7 days.
Retinol Derivative reduces visible wrinkles caused by UV damage and aging, while its Breakthrough Intensive Triangle Technology improves skin's resilience & clarity.
Dramatically reduces excess melanin and signs of aging giving Radiant, Youthful & Perfect Skin. Now get best of both worlds in a single Bottle:
Skin Clarity + Youth Retention!
Direction for Use:-
Apply morning and evening, after toner and before moisturizer.
Push pump twice to dispense serum onto palm and smooth over face.
Price:- Rs. 1299 for 30 ml
Shelf Life: 3 years from the Mfg date.
Packaging: Za Perfect Solution Youth Whitening Serum comes packed in a bright pink box with all the details. The serum is housed in a white metallic bottle with a fuchsia pink cap and a frosty white pump dispenser for easy application. The packaging is heavy and looks pretty but the cap doesn't lock properly and the bottle can slip from down under.
My experience with Za Perfect Solution Youth Whitening Serum:-
Za Perfect Solution Youth Whitening Serum is a translucent white colored serum with super thin runny consistency. I quite liked the texture of it as usually the serums are either too creamy or too light; this one fits just in between. The serum has a mild floral fragrance which is quite pleasant and fades away pretty soon post application
The formula is on the lighter side and I use about 3-4 pumps for a single application. I massage it all over my face with fingertips for a minute and it's gone. There is slight stickiness initially but that also goes away in next few minutes giving a beautiful dewy glow to my skin. It doesn't feel greasy or anything of that sorts. It gets absorbed completely without leaving any residue behind.
I am using it a night serum but it can used as a day moisturizer as well and it will definitely work nicely during summers owing to its light-weight texture. I am happy that it didn't irritate my skin or cause any breakouts but I wish for lesser alcohol and silicones in the formula.
Results: I have been using it for 3 weeks now and I can barely notice any difference in fine lines on my forehead and around lips but my skin does look clearer and even toned. I don't have acne marks as of now, so can't comment on its efficacy on them. To see how it works on fine lines I might have to use it for 3-4 months for a visible difference.
Recommendation: Za Perfect Solution Youth Whitening Serum feels absolutely comfortable on skin and will work for all skin types in summers as for winters I have to layer it with something more moisturizing to cater to the needs of my super dry skin. It has thin texture which sinks easily into the skin making skin smoother and brighter. If you are looking for an anti-ageing serum without expecting miracles, this can be given a shot. It is surely one of best serums in the price range and can be given a shot if you are ok with alcohol and silicones in the formula. I might repurchase this.. 😀
Rating:- 4/5
Have you tried Za Perfect Solution Youth Whitening Serum? Which is your favorite Anti-ageing Serum?
PS: Product provided by brand for consideration