Gia Bath and Body Works Whipped Body Butter Review
It is extremely important for me to take care of my dry skin not only in winters but round the year and I cant commit the crime of skipping lotion any single day or my skin will sue me except a few some super-sweaty summer days. Nevertheless, I love this fact about my skin as I get to try endless Body lotions and body butters. I love anything that says handmade or chemical free and even more if it has a personal touch and all of my desires (and my skin's too) are satiated by Gia Bath and Body Works. Today, I am sharing another such awesome product which is keeping my skin and me Happy, Gia Bath and Body Works Whipped Body Butter.
Direction for Use:-Apply on wet skin after a shower, take a final rinse and dab your body dry.
Ingredients:- Shea Butter, Jojoba Oil, Vitamin E and Fragrance and Essential Oils
Price:- Rs.300 for 100gms , Rs.590 for 200gms
Also available in Cocoa Butter
My Experience with Gia Bath and Body Works Whipped Body Butter:
The term Whipped in Body Butter made me really anxious to try and test how it is different from the regular creamy body butters. The first thing that places Whipped Body Butter stand out of the league is its unusual soft texture which feels like I have beaten butter into froth and then placed in refrigerator to freeze. The texture is a lot different and feels absolutely comfortable on skin better than any of the creamy butters I have tried till date (Yess that includes the much favorite The Body Shop and Bath & Body Works Body Butters.. 😉 ).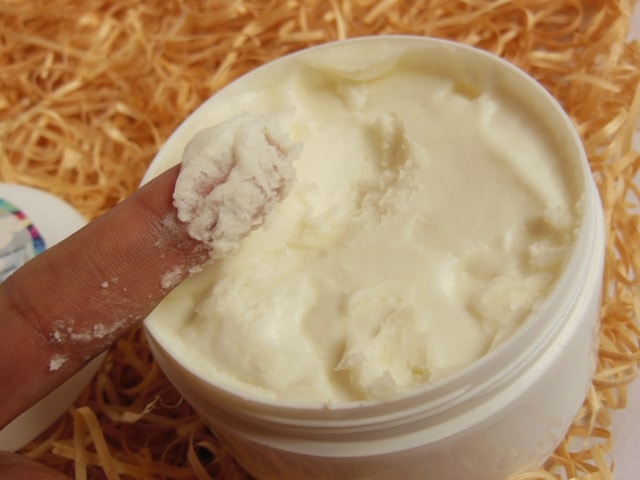 The butter scoops out quite easily and unlike other body butters that transits from creamy to liquid on application before melting completely into the skin this one doesn't seems to show any transition phase as it gets absorbed almost instantly. I couldn't detect any melting of the butter on application because as soon as it gets in touch of the skin, it sinks in.
The butter has a sophisticated warm fragrance with exotic spicy notes (I love..) sans any regular sweet, floral ones. It is quite hard to explain how it smells exactly but definitely it is something that anyone can enjoy in winters. The amazing fragrance faints post-application but doesn't fades-off completely and linger on for hours on me.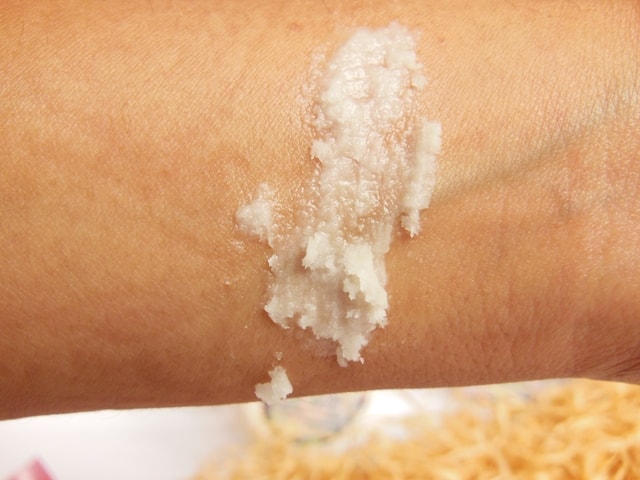 The butter is perfect for people with dry skin as it keeps skin nourished whole day. I apply it once a day just after shower and my skin stays smooth and moisturized for the rest of the day. It is like a special treatment that I would to give my skin every day especially in drier weather

Pros of Gia Bath and Body Works Whipped Body Butter:
Light-weight formula
Non-greasy Texture
Fantastic fragrance
Absorbs really fast
Skin friendly ingredients
Extremely moisturizing.
Perfect for dry skin.
Value for money
Cons of Gia Bath and Body Works Whipped Body Butter:
Nothing .. 😀
Recommendation: Gia Bath and Body Works Whipped Body Butter is a moisture luxury for dry skin like mine. It has crumbling soft texture that disappears quickly into the skin moisturizing it deeply without leaving any residue behind. The fragrance is class apart and its absolutely chemical free formula is an added bonus. All of my Bath & Body Works Body Butters are waiting for their chance to be used as GIA Body Butters wins my heart with their exotic fragrances and easy to work with texture. These have become an integral part of daily bath care regime but in summers I have to switch to lighter ones and put these wonder boxes in refrigerator for hibernation. Highly Recommended!
Rating: 5/5
 Which is your favorite Body Butter fragrance? Which was your favorite Body Butter this winter?