Gia Bath and Body Works Shower Gels – Sastuma, Sandalwood and Rose Absolut Review
Hello Girls,Today I will be reviewing my latest favorite and totally addictive shower Gels in three amazing fragrances.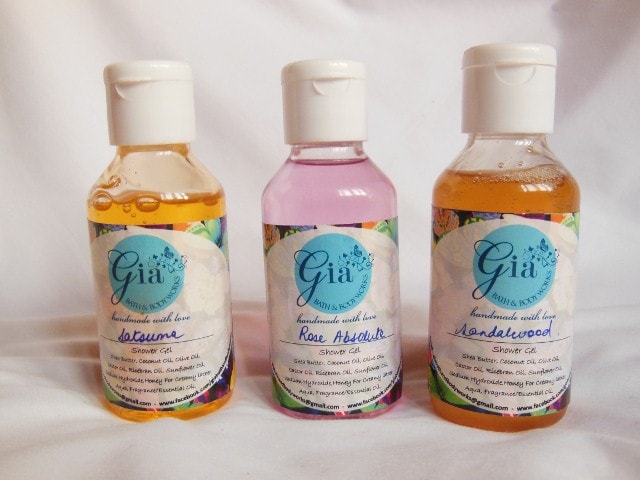 Ingredients: Shea butter, Coconut oil, Olive oil, Castor oil, Ricebran oil, Sunflower oil, Sodium hydroxide, Honey for creamy Lather, Aqua, Fragrance/ Essential oil.
Price:- Rs. 200 for 100 ml, Rs. 350 for 200ml each
Packaging:- The Gia Bath and Body works shower gels come in a small transparent plastic bottle with a white colored flip-top cap which can be unscrewed to reach to the mouth of the bottle.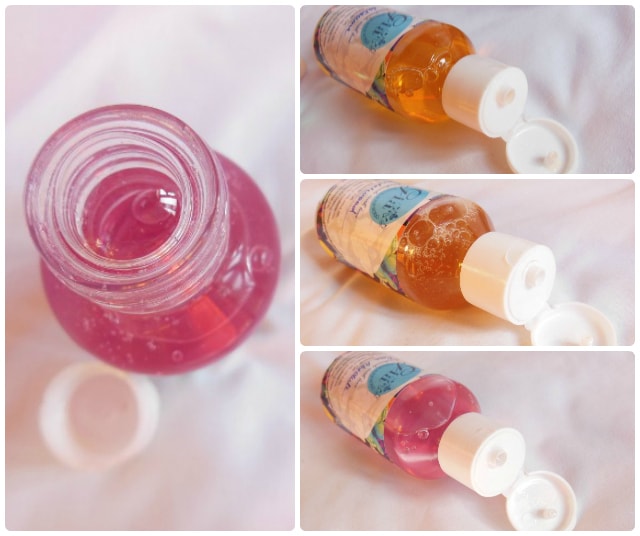 The packaging is pretty simple but is convenient to use and these little bottle comes handy for travel purposes. The ingredients and the flavor fragrance of the shower gel is mentioned on the bottle.
My experience with Gia Bath and Body Works Shower Gels:-
I bought these in three different fragrances and the thing that appealed me most is their natural ingredients list which is full of nourishing and healing components like Shea Butter, Honey and all sorts of natural, luxury oils.
Sastuma Shower Gel: It is lemony-orangey colored liquid with slightly runny consistency. It has a delicious fruity fragrance which makes me feel like having myself drenched in some fresh fruit juicy syrup. The fragrance is pretty mild and pleasant to my senses. Sadly, it doesn't linger on for long.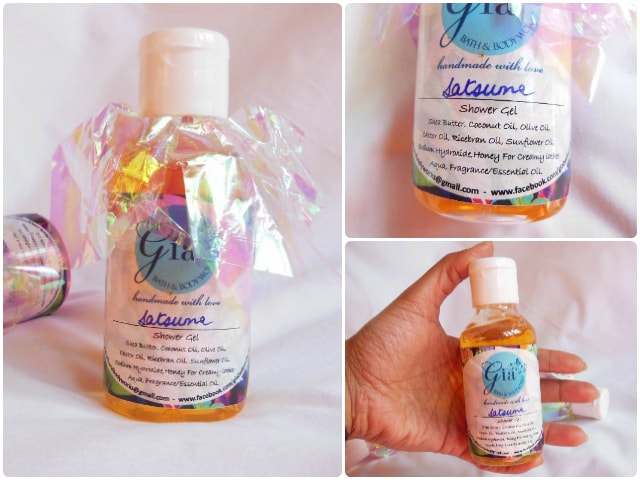 Sandalwood Shower Gel : It has a creamy dark orange colored liquid with a tad thicker consistency but it flows out pretty nice out of the opening. Intitally, the fragrance is bit stronger for my liking but later it diffuses to a very light pleasant one which feels aromatic. It lingers on for almost an hour post shower. There are subtle spicy-woody notes to it which I like more in winters.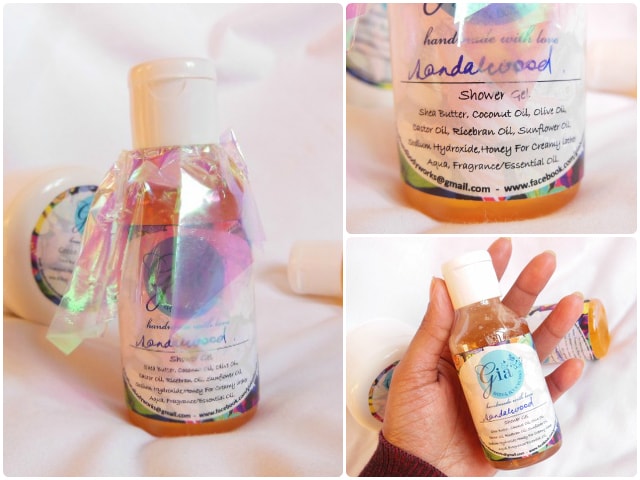 Rose Absolute Shower Gel: It is a pretty pink colored liquid with medium-thick gel like consistency. It has a exotic floral aroma, not exactly of roses but very feminine. It's my favorite fragrance out of these three. The fragrance isn't strong or overwhelming but quite soothing. I love it <3 <3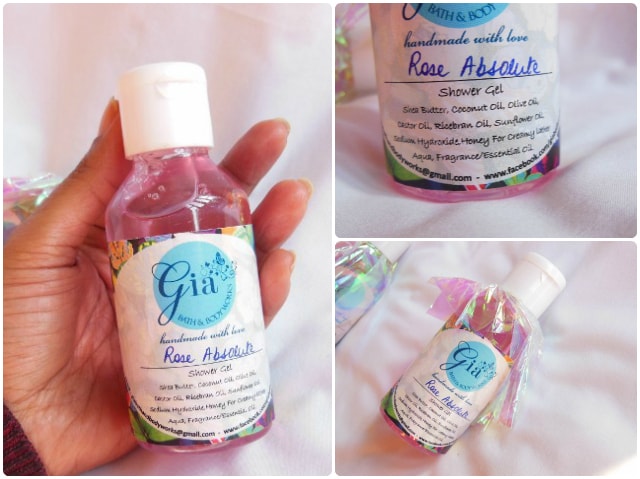 The formula lathers amazingly well with a loofah and I don't need to apply it generously to get the desired lather. I use a palm full of it, just like any SLES bases regular shower gel.  It cleanses skin very gently and I don't feel even a bit of stretchiness. It leaves my skin nourished which feels super smooth to touch (but not soapy). I have a super dry skin so I need to follow with a light moisturizer. (Sometime I do skip this moisturization step and it doesn't hurt at all) but girls with normal/oily skin can easily skip on the moisturizer part.  The fragrance lasts for a while post-shower but doesn't stay long on me.
The shower gel is laden with all the skin-friendly ingredients which doesn't dry out my skin and will be suitable for all skin types. I love these in my shower rack and would love to name them as "Treasure of Aroma". At times, I keep them close to me to sniff their beautiful fragrances.
Pros of Gia Bath and Body Works Shower Gels:-
Little quantity is required for each use
Lathers well
Refreshing, pleasant fragrance
Doesn't dry out the skin
Leaves skin soft and smooth
Rinse off easily
Made of only natural skin-friendly ingredients
No Parabens or Sulphates
Doesn't contain any harmful Chemicals
Suitable for all skin types
Available in drool-worthy fragrances
Travel friendly packaging
Cons of Gia Bath and Body Works Shower Gels:-
Wish the fragrance had lasted a little longer
Recommendation:- Gia Bath and Body Works Shower Gels are completely natural with no SLS, parabens or other harmful chemicals. It lathers like any regular body wash without requiring using loads of it. It's skin-friendly ingredients conditions skin and leaves it soft and smooth. These are one of the best shower gels and I would to get myself indulged in many more.  Highly Recommended!

Now, I am going to save from The Body shop and probably Bath and Body works budget and instead splurge on Gia Bath and Body Works. 😀 :D. They are available in myriad fragrances and you can definitely find one of your choice be it floral, fruits, herbal, rosy, musky, natural… so many to choose form. I want to try Cup Cake Soaps next from her, though not sure if I am gonna put them to use anyways… They are so pretty to be used.. :P.
PS: Gayatri from Gia Bath and body Works also deals in Soaps, body butters, Body Mists, Body Polishes. So, you can head to her facebook page and have a look at her pretty and awesomely fragrant products.
Rating:- 4.9/5
Have you tried Gia Bath and Body Works Shower Gels? Do you prefer handmade products over commercial ones?