Gia Bath and Body Works Mocha Creme Soap Review
I like to keep my skin care stuff natural and free from chemicals, therefore I am always in the search of good handmade products. I have already ranted about my recent discovery of 100% natural handmade bath and body products, The Handcrafted Luxury "Gia Bath and Body Works". Today I am reviewing a soap from my assortment, Gia Bath and Body Works Mocha Creme Soap.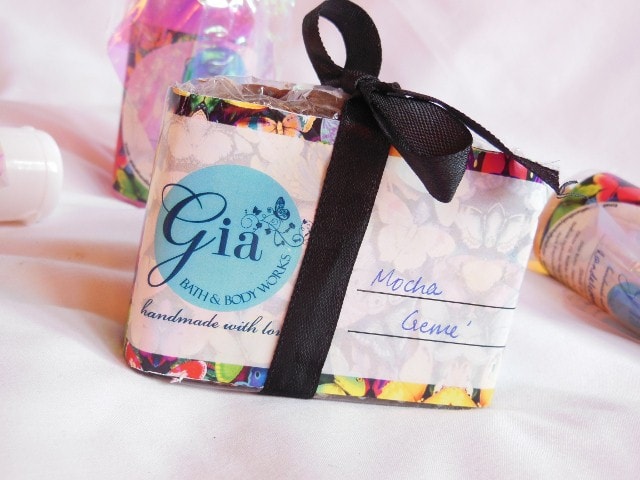 Ingredients: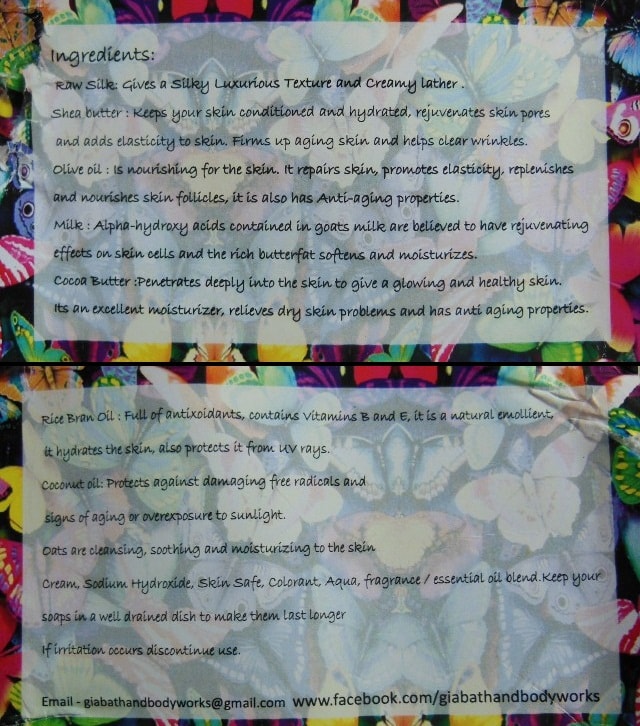 Price:- Rs.250
Packaging:- Out of all I liked the packaging of soap the most. Black ribbon with a knot on the top gave a precious gift kind of a feel to me. Starting, with polka dotted transparent plastic paper, layered with paper mentioning the name of the soap and the brand. The soap was wrapped nicely so that it stays untouched during transit.
My experience with Gia Bath and Body Works Mocha Creme Soap:-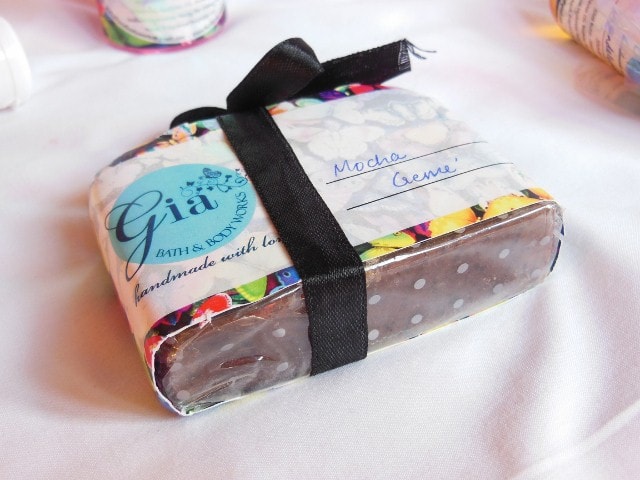 Mocha Crème is a brown colored soap with dark coffee brown scrubbing granules. The scrubbers are distributed evenly in the entire soap which pop out their head in first use and start with the scrubbing action. The fragrance again took hold of my senses and made the shower-time absolutely pleasing. It has a lovely mix of coffee and warm cocoa notes which is perfect for winters. It lingers on for few minutes post shower or until u smooth on your body lotion/butter.
Once done with scrubbing the body parts by gently swiping the soap all over, start with a loofah to make lather and get a soapy feel. It gives a soft lather when worked up with a loofah. The soap cleanses excellently and rinses off in a whiff and I can easily do away with only 2 mugs of water :P.
Coming to the not so favorite part of the soap, the after-effects. Unlike shower gels and chocolate scrub which were immensely moisturizing, the soap didn't give me such feeling. It wasn't drying at all and may be it's my super dry skin but I didn't feel similar moisturization and was missing the smooth nourished feel.
It is a completely natural soap and the whole list of natural skin-friendly ingredients, make me love it even more. 🙂
Tips: To keep the soap from melting, keep it in a porous soap-dish, so that excess water gets drained out.
Pros of Gia Bath and Body Works Mocha Creme Soap:-
Has scrubbing granules
Warm Coffee+Cocoa fragrance
Gives Decent Lather
Rinses off quickly
Will last a long time
Not Drying
Value for Money
Doesn't melt easily
Luxurious ingredients list
Free from chemicals
Cons of Gia Bath and Body Works Mocha Creme Soap:-
Bit pricey for a soap
Not enough moisturizing for my dry skin
Recommendation:- Gia Bath and Body Works Mocha Creme Soap is a delicious looking soap which doubles up as a body scrub. It smells like a warm cup of coffee.. isn't it tempting :P. The scrubbing granules buff away dear skin cell while the soapy lather cleanses away the rest of the dirt and impurities leaving you with squeaky clean skin. I am not unhappy with this but the Shower gels and the Chocolate scrub has held the standards very high and the soap wasn't able to perform good on the moisturization front.

I like to scrub my skin regularly and if I am short on time and don't want the mess around, I pick this soap. If you face issues with body scrubs falling all over the bathroom floor than you have to give this a shot. It exfoliated just like a scrub but nothing falls from it. Recommended!
Rating:- 3.8/5
Have you tried Gia Bath and Body Works Mocha Creme Soap? Do you prefer creamy or scrubby soaps?