Gia Bath and Body Works Cocoa Body Butter Review
Hello Beautiful,
I have already ranted much about my latest addiction โ€œGia Bath and Body Worksโ€ products which are โ€œNatural Therapy for My Bodyโ€ and Today I am pinning down the last product from my collection, Gia Bath and Body Works Cocoa Body Butter.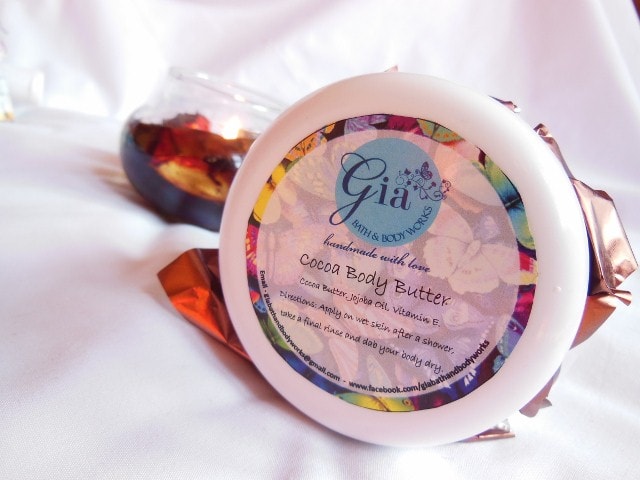 Direction for Use:-Apply on wet skin after a shower, take a final rinse and dab your body dry.
Ingredients:- Cocoa Butter, Jojoba Oil, Vitamin E
Price:- Rs.300 for 100gms , Rs.590 for 200gms
Packaging:- The Body butter comes in a in a round opaque white colored plastic jar with a screw lid. The packaging isnโ€™t fancy and like other tub cases not very hygienic to use but I donโ€™t mind that. It comes sealed with some plastic wrappers in between the lid to avoid any spillage or leaking of the product but I would have really liked if there is some sort of separator under the lid too. (Asking too much.. ?? ๐Ÿ˜› )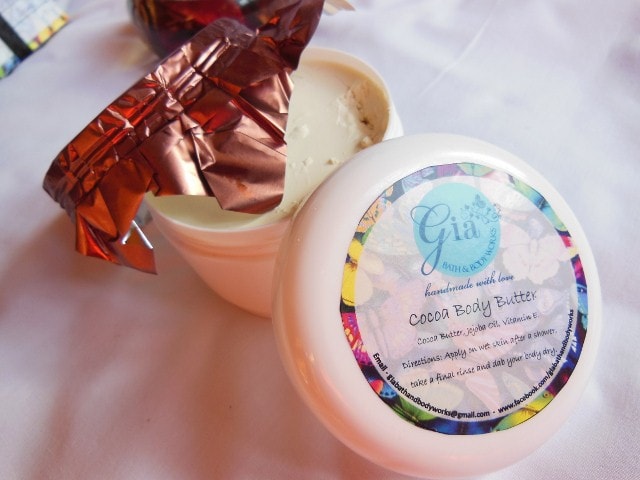 My experience with Gia Bath and Body Works Cocoa Body Butter:-
Cocoa Body Butter is light almond brown colored body butter with frozen mousse cream kind of a texture. It has a rich warm cocoa scent with subtle sweetness which is mild enough to be liked by everyone. It gives an aroma-therapy sort of a feel to me, couldnโ€™t ask for a better fragrance in wintersโ€ฆ its heav.. heavenโ€ฆ heavenly!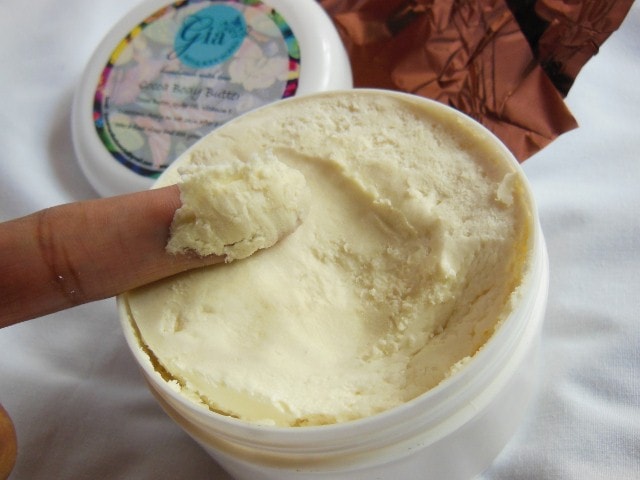 Due to freezing winter temperatures the butter turns solid in the tub but it melts in jiffy when applied. Just scrape off a little amount with fingers tips, rub it in between palms and apply all over the body. It melts at body temperature and with a little bit of rubbing it disappears completely leaving me with immensely moisturized, soft skin diffusing alluring cocoa buttery fragrance. The fragrance lasts long, but wish it lasted whole day (just being greedy here).
Though it is advised to rinse post-application but my dry-skin like it as it is. Oily-skinned girls may find it a bit greasy for them so I would suggest use it as directed but if you have a dry skin like mine, you will be good without any rinse post application.
It is made with only natural moisturizers like Cocoa Butter with blend of luxurious Jojoba Oil and Vitamin E which nourishes skin in a healthy way and keeps it soft and smooth whole day.
Pros of Gia Bath and Body Works Cocoa Body Butter:-
Melts easily at body temperature
Soaks quickly into the skin
Alluring Cocoa Fragrance
Fragrance lingers on for hours
Keeps skin nourished
Excellent moisturizer for dry skin
Doesnโ€™t feel greasy/sticky
Contains goodness of Cocoa Butter, Jojoba Oil and Vitamin E
Value for money
Cons of Gia Bath and Body Works Cocoa Body Butter:-
NONE .. ๐Ÿ™'
Recommendation:- Gia Bath and Body Works Cocoa Body Butter is a treat for body and nose with it super- nourishing formula and delightful aroma.ย  It is an excellent moisturizer that melts at body temperature, leaving the skin feeling soft and silky smooth. It is my favorite Body Butter and will soon be ordering more as backups. Highly Recommended!

Make your bathing a luxurious experience with these affordable handmade body care products from Gia Bath and Body Works!
Rating:- 5/5
Have you tried Gia Bath and Body Works Cocoa Body Butter? Which is your favorite Body Butter this winters?